Clive Owen in Lionsgate's THE CONFIRMATION coming to DVD/Blu-ray 6/7/16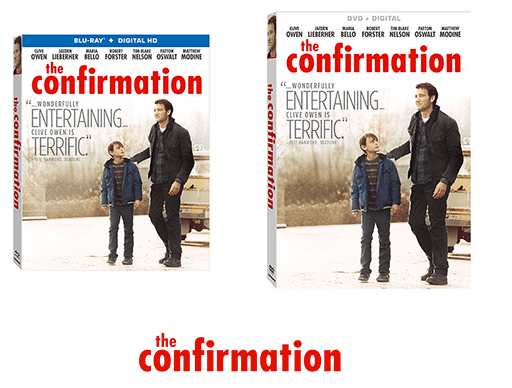 Becky
Newly middle-aged wife of 1, Mom of 3, Grandma of…
A father and son's bond is the most important thing of all…in the Confirmation
An all-star cast headlines this touching drama coming soon to Lionsgate Blu-ray, DVD, and Digital HD. Clive Owen stars as Walt, an out-of-luck carpenter who suddenly finds himself caring for his estranged son Anthony (Jaeden Lieberher) for a weekend while his ex-wife (Maria Bello) and her new husband (Matthew Modine) head to a Catholic retreat. Neither father or son is initially happy about the arrangement, but through a series of events the two start to see each other in a different light. With understanding comes healing, and both embark on the journey of love that makes them stronger together and allows Walt to become the father he needs to be. The Confirmation will be hitting Blu-ray, DVD, and Digital HD on June 7th, 2016!

"Wonderfully Entertaining"
– Pete Hammond, Deadline

Street Date: 6/7/16
DVD SRP: $19.98
Blu-ray™ SRP: $19.99
PROGRAM DESCRIPTION
Academy Award® nominee Clive Owen (Best Supporting Actor, Closer, 2004), and Jaeden Lieberher (St. Vincent) star in the moving drama, The Confirmation, arriving on Blu-ray (plus Digital HD), DVD (plus Digital) and Digital HD on June 7 from Lionsgate. Written and Directed by Oscar® nominee Bob Nelson (Best Original Screenplay, Nebraska, 2013), the emotional story of family bonding is available On Demand. Centered on 8-year-old Anthony (Lieberher) and his father (Owen), This movie brings together an unpredictable bond of love between father and son. The Confirmation will be available on Blu-ray and DVD for the suggested retail price of $19.99 and $19.98, respectively.
Clive Owen shines in this irresistible comedy about an estranged father and son, who spend a weekend together for the first time in forever, as the boy's mom (Bello) and her new husband (Modine) leave for a retreat. The mutual unease is exacerbated when the father's truck breaks down, he gets locked out of his house, and his toolbox, which provides his living, is stolen. As father and son begin to search for the toolbox, their bond leads to something they never imagined: a true family connection.
CAST
Clive Owen: The Bourne Identity, Children of Men, Inside Man
Jaeden Lieberher: St. Vincent, Aloha, Midnight Special
Maria Bello: A History of Violence, Flicka, Grown Ups
Robert Forster: Jackie Brown, Mulholland Drive, Me, Myself & Irene
Tim Blake: Nelson Fantastic Four, The Incredible Hulk, Lincoln
Patton Oswalt: TV's "King of Queens", TV's "Agents of S.H.I.E.L.D"
Stephen Tobolowsky: Memento, Groundhog Day, TV's "The Goldbergs"
Matthew Modine: The Dark Knight Rises, Transporter 2
BLU-RAY/DVD/DIGITAL SPECIAL FEATURES*
· "A Father-Son Story: Inside the Characters of The Confirmation" Featurette
· "The Performances of The Confirmation" Featurette
*Subject to Change
PROGRAM INFORMATION
Year of Production: 2015
Title Copyright: The Confirmation © 2015 Sapphire Fire Limited. All rights reserved. Artwork & Supplementary Materials © 2016 Saban Films LLC. All rights reserved.
Type: Theatrical
Rating: PG-13 for Some Mature Thematic Elements
Genre: Comedy, Drama
Closed-Captioned: N/A
Subtitles: English and Spanish, English SDH
Feature Run Time: 101 minutes
Blu-ray Format: 1080p High Definition 16×9 Widescreen (1.85:1)
DVD Format: 16×9 Widescreen (1.85:1)
Blu-ray Format: English 5.1 DTS-HD Master AudioTM
DVD Audio: English 5.1 Dolby Digital Audio
Becky
Newly middle-aged wife of 1, Mom of 3, Grandma of 2. A professional blogger who has lived in 3 places since losing her home to a house fire in October 2018 with her husband. Becky appreciates being self-employed which has allowed her to work from 'anywhere'. Life is better when you can laugh. As you can tell by her Facebook page where she keeps the humor memes going daily. Becky looks forward to the upcoming new year. It will be fun to see what 2020 holds.