EatSmart Precision Elite Digital Kitchen Scale – 15 lb. Capacity Review


EatSmart Precision Elite Digital Kitchen Scale – 15 lb. Capacity Review
*Disclosure: I was given an EatSmart Precision Elite Digital Kitchen scale in order to complete my review. Opinions are 100% my own and have not been swayed by received said item. Affiliate link may be included below.
The EatSmart Precision Elite Scale:
This EatSmart scale is so awesome! The scale area is big enough to hold a bowl and still be able to see the weight calculations, where as some scales you can't see the digital display once a bowl is set on top. This scale includes batteries and weighs up to 15 pounds. This is wonderful if you like to weigh your meat portions before freezing, or portion your food by weight for weight loss.
If you like to weigh items such as apples, oranges, sugar, flour and more, this scale is for you!
Details on the EatSmart Precision Digital Elite Scale:
Professional food scale – Extra large lighted display and stainless steel platform
Max weight 15lbs; Displays ounces/lbs/grams/kgs; Graduation .05 oz / 1 gram
Includes FREE EatSmart Calorie Factors guide – Portion control and calorie counting made easy!
Tare feature eliminates the weight of a plate; 3 Minute Auto-Shutoff lets you prepare ingredients while maintaining battery life
4 AAA batteries included; 100% EatSmart Guaranteed Satisfaction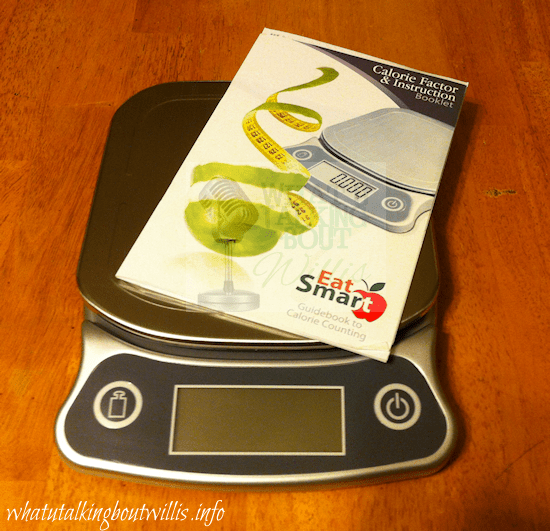 You can purchase this scale which is currently on sale on Amazon:
This scale normally Lists for $69.95, Normal Price on Amazon is $49.95
Currently ON SALE for $36.95 & Free Shipping. You can purchase it by clicking the link below.
EatSmart Precision Elite Digital Kitchen Scale – 15 lb. Capacity, UltraBright Display and Stainless Steel Platform
You can follow EatSmart Products by going to the links below for Facebook, Twitter, Pinterest, Google+ and visit their site!
LIKE EatSmart Products on Facebook (link: http://on.fb.me/d3MFHO
Twitter @EatSmartScales (link: http://www.twitter.com/eatsmartscales)
Pinterest http://pinterest.com/eatsmartscales/
Google Plus https://plus.google.com/b/ 104341333849696827089/ 104341333849696827089/posts
Follow the EatSmart Blog: http://eatsmartblog.com/