Home Improvements To Increase The Value Of Your Home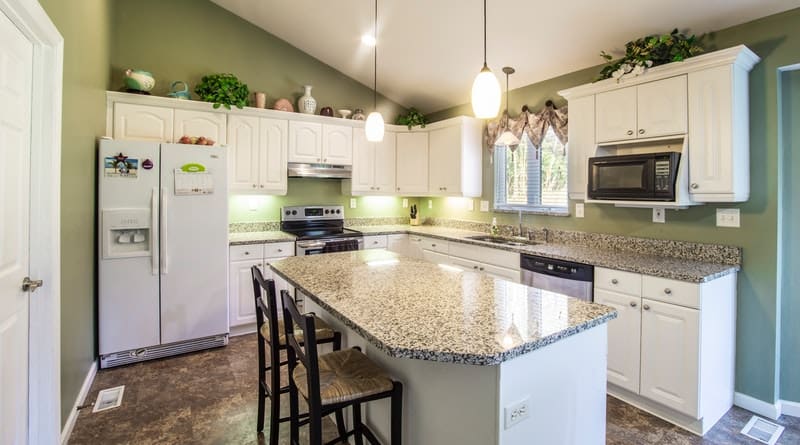 Becky
Newly middle-aged wife of 1, Mom of 3, Grandma of…
With the housing market being continually more difficult to crack, more and more people are looking to stay put for longer and concentrate on adding value to their homes. People are finding that sales will often fall through because the buyer is now looking for a more complete house, that's kept up to date and doesn't involve any projects. Getting your home 'move-in' ready for others is becoming more of a necessity than ever if you're looking to climb the property ladder. 
When choosing projects to tackle, it's important to still consider the effect it has on the value of the property if you were to put the house on the market. Some projects don't add value so if you're just delaying a sale until the markets improve it's probably best to research which projects are going to achieve this for you. There are some improvements that can have a negative effect on market value such as specific taste decorating, unique bathrooms and kitchens and expensive landscaping, this is because they can easily become too much to the current owners' taste and need complete renovation in the eyes of a buyer. 
So which home improvement projects should you be tackling and investing in? Below are a few ideas to get you started in the right direction when it comes to projects that will add value to your home: 
Renovating The Kitchen 
The kitchen is often considered to be the heart of the home. It's the place where people spend most of their time, whether it's cooking, having a cuppa, getting the kids ready for school or entertaining, a lot of time is spent here. And with the increase in open living spaces, they are becoming even more used and are starting to gather more of a living space feeling rather than a utility space. You can expect around a 60-120 percent investment return on anything you spend on a kitchen, just as long as you don't take things to far. You should make sure your kitchen keeps in key with your location and the overall design of the rest of the home. Simply updating areas such as the sink, cupboard doors, handles or work surfaces can be enough to make a huge difference. Have a look here for some inspiration www.annieandoak.com/blogs/design-style/fireclay-farmhouse-sink-review. 
Additional Bathroom
Adding a bathroom to your home if you only have the one can lead to a significant increase in value. Buyer is most definitely after the use of an additional bathroom, whether it's an ensuite to the master bedroom or a toilet room downstairs for guests. Have a look at any unused spaces, utilize spaces such as under the stairs or that awkward corner spaces in the bedroom. The cost of adding an additional bathroom relies on several factors like the space you're using, the plumbing needed to complete the task, the design of the bathroom so make sure you focus on what you want to achieve and stick to a budget, it can be very easy to go overboard with a project like this. 
Recreate Existing Spaces 
It can be very easy to sit and think that the only solution to reinventing the inside of your home is to take on huge projects such as an extension, however these projects have a very easy way of getting out of control and if you're sticking to a budget, the budget is more often than not, blown, especially when you run into unexpected costs and problems. If you want to make a change you should look to work with the space you have already and recreate it. It will not only save time but will save money. It can also have just as much of an effect on value as taking on an extension. Have a look at areas such as the loft space, the garage, and the basement. These are all areas of the home that too often go unused when with a little work could be an additional room and additional space. Make sure that before you knock down any walls you're sure that the new space is going to be desirable for any potential buyers in the future as well as you now. 
Rooms such as basements make great living spaces, such as an additional family room, a games room or a living room. You can even section of an area for that additional bathroom and utility space. Some people even turn this space into an apartment-style area for the aging family. Adding an additional master suite to the loft is another proven way to increase the value of your home and make it more desirable on the market. 
Adding Energy-Efficient Windows And insulation
More and more buyers and homeowners are now looking for a home with energy efficiency high on the list of priorities. Having old, drafty windows that are outdated just isn't going to do anything for your home and it will most likely have a huge effect on any offer you are going to receive as any buyer will look to get them replaced as soon as possible. Getting your windows done should be essential when looking to sell your home and achieve a good energy rating. In some cases, you may be eligible for energy schemes with the local government as there is a focus on green living. 
Another great area to focus on to increase the energy efficiency and value of your home is o make sure you have good insulation installed. Inspectors will be sure to include a lack of insulation on any of the reports they complete for potential buyers and this could have a knock-on effect with an offer, making it a necessity to complete. Make sure you focus on any areas that are commonly known for letting heat escape such as around the windows and doors, where there is a boiler installed, through cavity walls or through your loft space. 
This is just a short guide to get you started on some of the easiest areas to increase the value of your home. There are other projects that you could look to complete too. Is there anything that you've completed on your home lately that has led to an increase in value? Please let us know in the comments below. 
Becky
Newly middle-aged wife of 1, Mom of 3, Grandma of 2. A professional blogger who has lived in 3 places since losing her home to a house fire in October 2018 with her husband. Becky appreciates being self-employed which has allowed her to work from 'anywhere'. Life is better when you can laugh. As you can tell by her Facebook page where she keeps the humor memes going daily. Becky looks forward to the upcoming new year. It will be fun to see what 2020 holds.