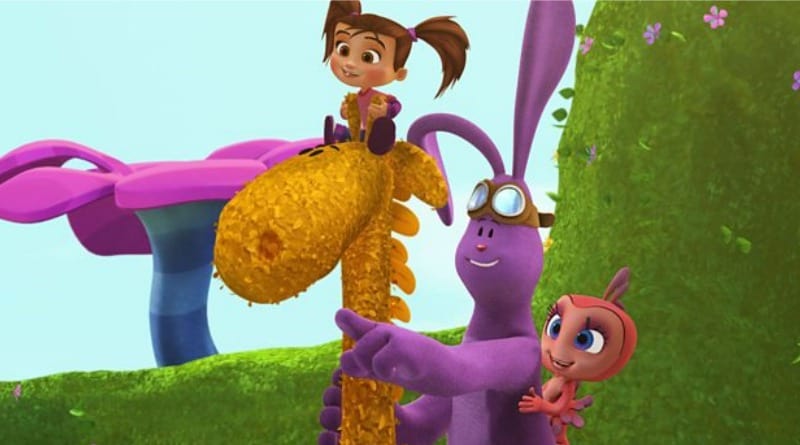 Becky
Wife, mother, grandma, blogger, all wrapped into one person, although…

Have you Heard of Kate & Mim-Mim?
ANIMAL ADVENTURES AWAIT IN THE NEW KATE & MIM-MIM DVD "THE MIMILOO ZOO"
DVD Available from Public Media Distribution, LLC September 20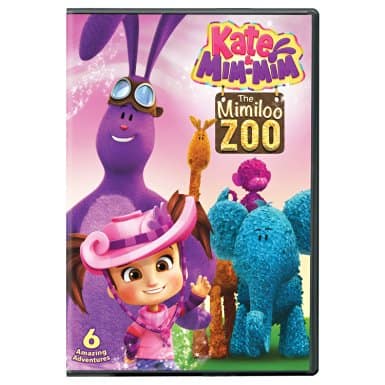 Public Media Distribution, LLC announced today it is releasing six stories from the popular series "Kate & Mim-Mim" on the new DVD "THE MIMILOO ZOO." In addition to including six fun-filled tales, this DVD features a bonus video called "Mimiloo's Creatures." Join Kate and Mim-Mim and their friends Lily, Gobble, Tack, and Boomer as they encounter an amazing assortment of curious creatures including baby humming turtles, a unicorn, lemmings, and mitty kats!
In the story "The Mimiloo Zoo," Kate's trip to the zoo gets canceled because it's raining, so it's off to the fantasy world of Mimiloo! In Mimiloo, animals made out of bushes are being created for Gobble and Tack's AMAZING new fruit garden inside their AMAZING new hedge maze. When Mim-Mim accidently spritzes the animals twice with Gobble's powerful presto potion, they come to life and things quickly get wild! With the animals creating a bit of havoc, the gang needs to find a place for them to live and Kate knows the perfect location. This DVD also features the story "Lily and the Unicorn." Lily has always wanted to see a unicorn and now is the perfect time as beautiful shimmer flowers, which unicorns love to eat, are blooming. After searching all day, the gang final locates a whole garden of flowers. When the garden starts to float away, with Lily, who can save her?
"THE MIMILOO ZOO" will be available on DVD September 20, 2016. The DVD run time is approximately 65 minutes and its SRP is $12.99. The stories included within "THE MIMILOO ZOO" are below.
"The Mimiloo Zoo"
Kate's family trip to the zoo is canceled when it starts raining. In Mimiloo, Kate and Mim-Mim help their pals make animals out of bushes. But after two spritzes from Gobble's presto potion, the animals come alive, and things quickly get a little too wild!
"Kate's Turtle Drive"
When Kate's ant farm breaks, she wonders how to get the ants back in their home. In Mimiloo, Lily has found hatching humming turtle eggs! Cowgirl Kate must find a way to round up the baby humming turtles and lead them to their mama in the Singing Seas.
"Lily and the Unicorn"
Kate is looking for fireflies, but they keep flying away without lighting up. In Mimiloo, Kate, Mim-Mim, and Tack's Sniffer Finder, a rambunctious robot dog, help Lily look for her favorite magical animal, a unicorn, by tracking its favorite food – shimmer flowers!
"To Catch a Critter"
Enchanted by its hopping, Kate captures a grasshopper, but as soon as it's in the jar, it stands still. In Mimiloo, Kate and Mim-Mim help Lily and Boomer try to capture some amazing new Mimiloo critters to learn all about them.
"Follow the Leader"
A bird has flown into Kate's house, and Kate has an idea to get it out – but her parents can't hear her over the commotion. In Mimiloo, a group of lemmings are in trouble and decide that Mim-Mim is their leader. They ask him to find them a new home – but a soft-spoken little lemming has a great idea herself!
"Kittens & Mittens"
While Kate and Mom are looking after a box of kittens, the box tips and they run all over the house. In Mimiloo, a flurry of mitty kats have overtaken Lily and Boomer's house! Kate cleverly spots something they can use to round up the mitty kats and lead them home to the Winter Waterfalls.
About "Kate & Mim-Mim"
Inspired by a real-life little girl, "Kate & Mim-Mim" follows the fantastical adventures of five-year-old Kate, who, together with her toy rabbit Mim-Mim, travels to the fantasy world of Mimiloo where Mim-Mim comes alive as a larger-than-life playmate. In each story, Kate and Mim-Mim and their group of loveable friends discover exciting new places and set off on adventures, all in the hope of solving a puzzling problem Kate has encountered in the real world.
Exploring themes of friendship, adventure, and problem solving, "Kate & Mim-Mim" encourages children to use their imaginations and work together, believing no problem is ever too big to solve!
About FremantleMedia Kids & Family
FremantleMedia Kids & Family Entertainment (FMK), a division of FremantleMedia, is one of the most dynamic independent producers, licensors, and distributors of engaging and ground-breaking content in the sector. A worldwide leader in family entertainment, with offices in the UK, US, Australia and Asia, the division works with leading international partners to build global franchises that connect with children and families across multiple platforms and touch points.
FMKs varied and distinctive portfolio includes the smash-hit comedy action animation Danger Mouse, pre-school girls' sensation Kate & Mim-Mim and heroic boys' preschool property Tree Fu Tom. Its rich archive of family classics contains over 5,000 hours of programming including cult magazine show Rainbow, the original Danger Mouse andCount Duckula. FMK is part of FremantleMedia, one of the leading creators, producers, and distributors of TV entertainment brands in the world.
About Public Media Distribution, LLC
Public Media Distribution, LLC, is a leading media distributor both domestically and internationally. We offer high-quality, distinctive programs to our customers, including documentaries (The Sixties), dramas (Fortitude), and popular children's programming under the SkipRope brand (Kate & Mim-Mim) in multiple formats including DVD, Blu-ray, digital download, and digital streaming.
KATE & MIM-MIM: THE MIMILOO ZOO
Street Date: September 20, 2016
Genre: Kids
Run Time: Approx. 65 Minutes
SRP: $12.99
Pre-order on Amazon
Becky
Wife, mother, grandma, blogger, all wrapped into one person, although it does not define her these are roles that are important to her. From empty nesters to living with our oldest and 2 grandchildren while our house is rebuilt after a house fire in 10/2018 my life is something new each day.