Make Halloween More Enjoyable for Toddlers in 7 Steps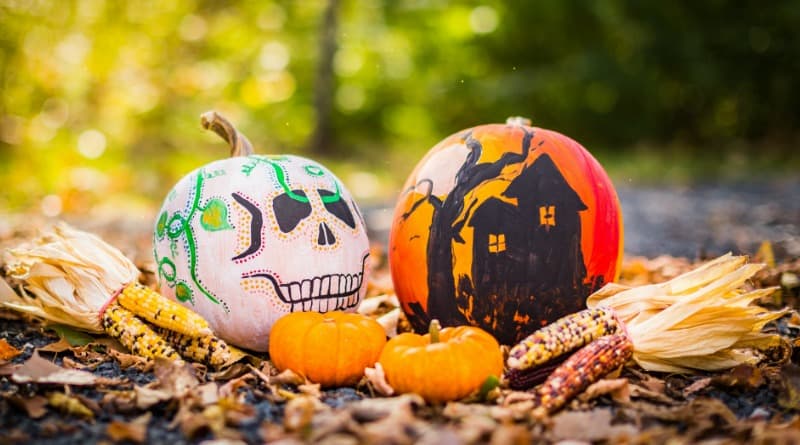 Becky
Newly middle-aged wife of 1, Mom of 3, Grandma of…
Halloween is deemed to be one of the best holidays out there because it's a night of ghouls, monsters, and a whole lot of fun. Some people think that it can be a little inappropriate for the young ones, but your little toddlers can still celebrate it with you. All you need to do is to turn the spooky dial down a bit so they can enjoy it.
Halloween-themed activities are so popular during that time of the year. In fact, fall is so celebrated that there are seasonal things and activities dedicated to it. With that said, there's no reason you can't bond with the whole family even if you have toddlers and older children together. Here are some activities that you can enjoy with kids and even toddlers.
Halloween-Themed Breakfast
You know what feels like Christmas morning but in October? Halloween-themed breakfast! Not a lot of people know about this, but it is becoming a trend among families who want to start the day right by using breakfast as a fun introduction for the festivities later.
This activity may sound expensive, but you can actually have the usual fare, like pancakes. Just add embellishments and some decorations to make faces, or craft something spooky or ghoulish like creepy crawlies and ghosts. A perfect example would be Halloween-themed pancakes with faces made from chocolate chips or raisins.
Pumpkin Decorating
Pumpkins are always so popular during Halloween that it's almost like a tradition to have one and decorate it during the holiday. Everyone in the family can have fun decorating their own pumpkin just as long as the carving will be done by adults and older children. Toddlers can help scoop the insides and do the decorating with paints, googly eyes, beads, paper, and whatever you have that they can use.
Monster Cookies
If you need to prepare for a Halloween party later, why not make something that your kids can help you out with? Cookies are easy, and they are perfect to be outfitted as a Halloween-themed party food. Children have a lot of imagination, so take this opportunity to give them the floor to decorate the cookies however they want to.
You can handle all the mixing and baking to lessen the mess. Give your children some good decorating options, like different-colored icing, chocolate buttons, edible googly eyes, and candies. It can be a group activity to see which monster cookie looks the most creative.
Papier-Mâché Ghost Decors
Apart from jack-o'-lanterns, paper ghosts are also a wildly popular decor for Halloween. There are many ways to create this decor and even using the materials you already have at home. You can choose to research for tutorials online or make do with what you have and create your own.
You can ask the kids for any input they may have for what the ghosts can look like. You can choose to leave the decor white or decorate it with other colors, like orange and black. This activity is fun, inexpensive, and runs a lot on imagination.
Halloween Lantern
If pumpkins are not available for some reason but you want something to light on your stoops during the night, a Halloween lantern made with empty glass jars is a good alternative. The great thing about this project is that you don't have to carve anything and there's less cleanup compared to cleaning up the innards of a pumpkin.
You can use orange-colored tissue paper to simulate the color of pumpkins and design it with faces. The materials for this project are ones you probably own already. Painting the jars can also be an option if you want a more durable lantern.
Pipe-Cleaner Spiders
When it comes to Halloween decors, everything is fair game. Aside from being actually useful, pipe cleaners make good spider legs because they can be bent into any shape you like. What comes next is up to your imagination.
When you make a Halloween spider, a good way to know what direction to take is to decide if you want to hang it or to display it. You can use paints, paper bowls, yarn, googly eyes, and what-have-yous to decorate it as you like. You and your kids are guaranteed to have fun no matter the outcome.
Detail the Memories
It's inevitable that kids grow up with every year that passes; that is why it's important to be there with them every step of the way. It's also a good idea to capture some moments here and there for the memories.
Time passes quickly, so make every moment special if you can, and if you want something to have and hold even after decades have passed, why not curate all the photos in customized photo albums?
You can choose to have one photo album for each child for every holiday or combine all the photos. You'll never have to worry about digital files getting deleted when you have printed photos that are safely tucked in a shelf. They're durable, and you know that they will last for such a long time that you can see yourself looking through the memories in the future.
What enjoyable activities do you do on Halloween? Share your experiences in the comments below.
Becky
Newly middle-aged wife of 1, Mom of 3, Grandma of 2. A professional blogger who has lived in 3 places since losing her home to a house fire in October 2018 with her husband. Becky appreciates being self-employed which has allowed her to work from 'anywhere'. Life is better when you can laugh. As you can tell by her Facebook page where she keeps the humor memes going daily. Becky looks forward to the upcoming new year. It will be fun to see what 2020 holds.