My #IronMan3 Red Carpet Experience at the El Capitan Theater #IronMan3Event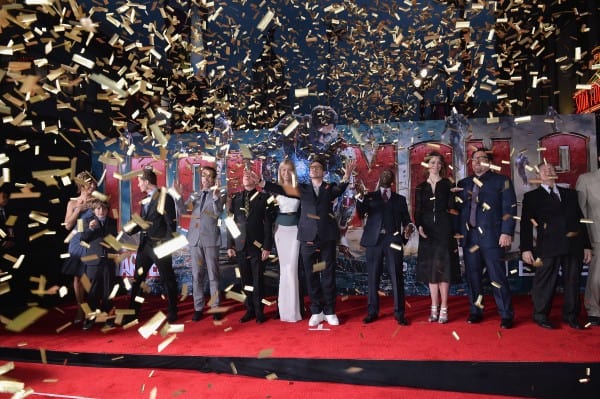 Becky
Newly middle-aged wife of 1, Mom of 3, Grandma of…

My #IronMan3 Red Carpet Experience at the El Capitan Theater #IronMan3Event
Disclosure: My flight, hotel accommodations and food for the #IronMan3Event were paid for by Disney, but all of my opinions are 100% my own.
Have you ever had that surreal feeling? Like one you could not ever imagine happening to you; actually happening to you? Well I experienced that feeling this past Wednesday night at the Iron Man 3 Red Carpet Premiere in Hollywood California at the El Capitan Theater.
If it wasn't exciting enough getting ready for the Red Carpet in my hotel room, the feeling in the lobby with the other 24 bloggers on the trip heightened the excitement. Once we arrived at the location, we all got out and you could feel the excitement in the air as we awaited Robert Downey Jr's arrival. Marshall wanted us to be able to walk the Red Carpet once Robert Downey Jr. was there so we might be able to catch a glimpse of him up close. What we weren't expecting was for RDJ to drive by us with his hot red car and his motorcade of police escorts.
I honestly didn't think I would get excited seeing actors in person. I just have never been one to swoon or get all giddy, but I have to admit it was just so unreal to be in such close proximity to the people that would be in the movie I would be seeing. The energy on the sides of the street was such high energy; fans screaming for an autograph. People dressed up as Iron Man with their posters, t-shirts and memorabilia just waiting for their chance to have "Tony Stark" sign their items.
While we were trying to get our pictures on the Red Carpet, you couldn't help but try to look around for a glimpse of a star. They were literally all over the place; being interviewed, getting photographed and looking as awesome as ever. My heart was pounding as I was trying to keep smiling, get my picture, take my friend's picture. All the while the security was yelling "move it, move it, ladies keep moving"-they obviously didn't realize we were trying to enjoy the moment and get our pictures taken. (LOL)… Yeah I know, they didn't care, but it was still fun and exciting.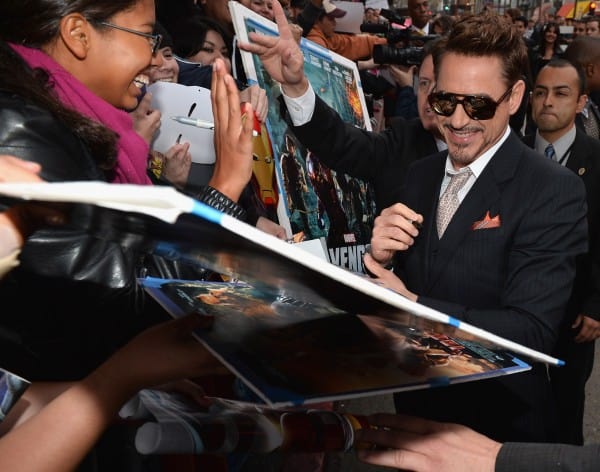 I do have to comment on the picture above. Watching Robert Downey Jr.'s excitement while autographing was electric. The joy I saw in his smile and face showed that he truly loves his fans. He reminded me of a kid on Christmas, and that this is why he does what he does. I am not even sure I can explain it, it was just amazing to say the least.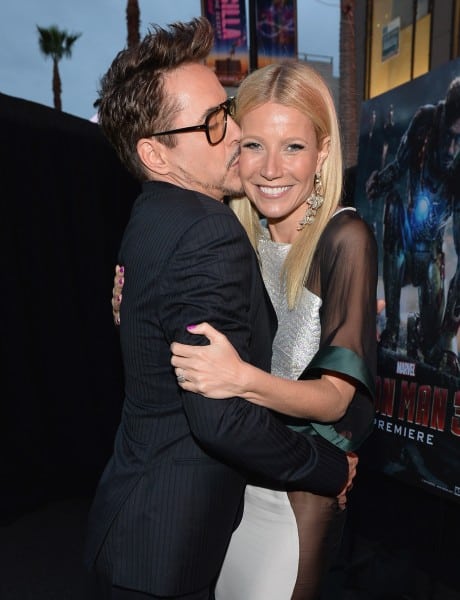 I also can't forget about Gwyneth Paltrow. She looked so stunning in her dress and she also has an amazing smile. I was able to see a few stars that weren't in the movie as well as many that were in the movie. When we finally got off the Red Carpet and made our way up the El Capitan stairs we had to turn in our phones/cameras with our ID so they could hold them for us until after the movie. We were also given a pair of 3D glasses (nice ones) after we showed our red wrist band showing we were invited to the premier. Then we made it up the stairs to the balcony, were given a rather generous Iron Man 3 cup of popcorn and a soda complimentary. All 25 of us had a row to ourselves at the top of the balcony (I was so glad that I opted out of my black heels and wore my black flats as I am not sure I would have made it at that point). Finally when I got up to my seat, I got comfortable and breathed a sigh of relief….. I had made it and was ready for the movie to start.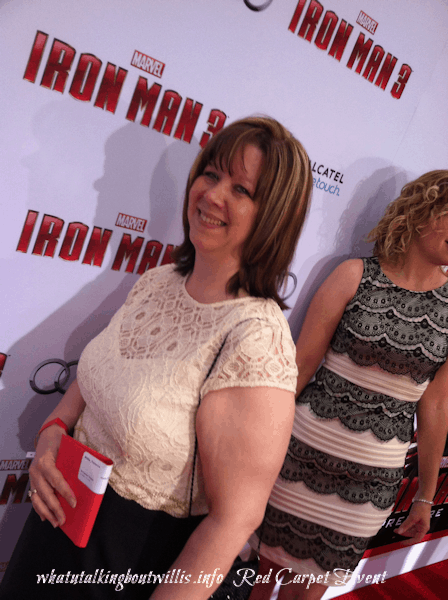 I almost forgot, here is me on the Red Carpet, thanks to my friend Brandy from Newly Crunchy Mama of 3 who snapped a shot for me, (you can see her post here). It was so rushed so I didn't even think about posing. This was an experience I will NEVER forget!! I want to Thank Marvel & Disney, as well as Marshall Weinbaum for including me in the surreal event!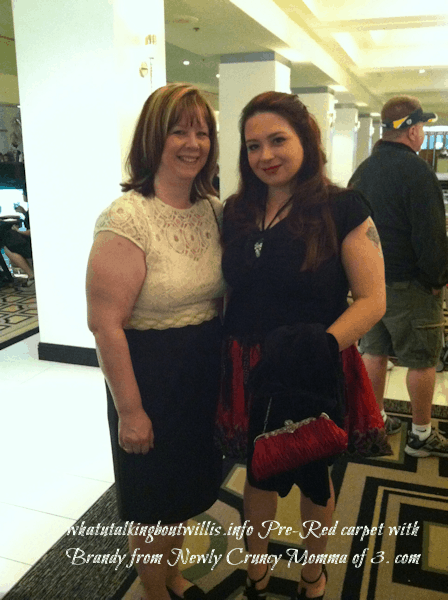 Visit the website: http://marvel.com/ironman3
"Like" IRON MAN 3 on Facebook: https://www.facebook.com/ironman
"Follow" IRON MAN 3 on Twitter:@Iron_Man
IRON MAN 3 releases in theaters on May 3, 2013!
');
Becky
Newly middle-aged wife of 1, Mom of 3, Grandma of 2. A professional blogger who has lived in 3 places since losing her home to a house fire in October 2018 with her husband. Becky appreciates being self-employed which has allowed her to work from 'anywhere'. Life is better when you can laugh. As you can tell by her Facebook page where she keeps the humor memes going daily. Becky looks forward to the upcoming new year. It will be fun to see what 2020 holds.