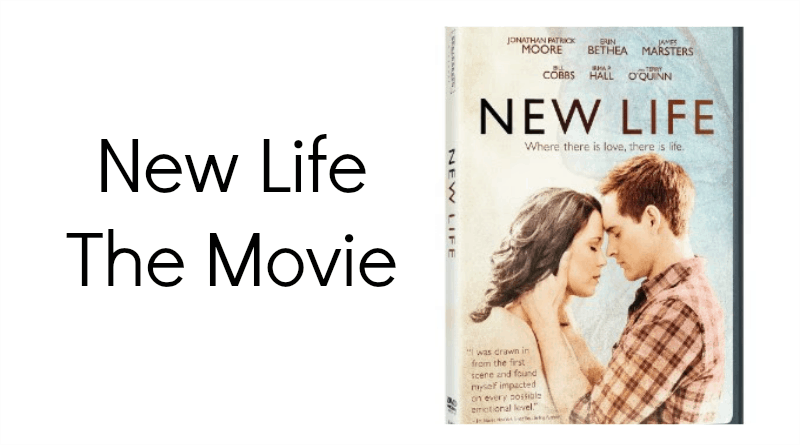 New Life The Movie
**Disclosure**I received a copy of the movie above in order to facilitate my review. All opinions are my own.
If you want to talk about a movie that you will cry in, you need to check out New Life. Love from first sight for the two characters. However, life isn't as easy at it may seem. I was crying during this movie, the whole time. Not in a bad way because there are plenty of happy moments to enjoy as well as sad moments.
If movies that move you are on your list, then you totally need to check out New Life. I promise you will love it from start to finish. Grab it when it comes out on DVD!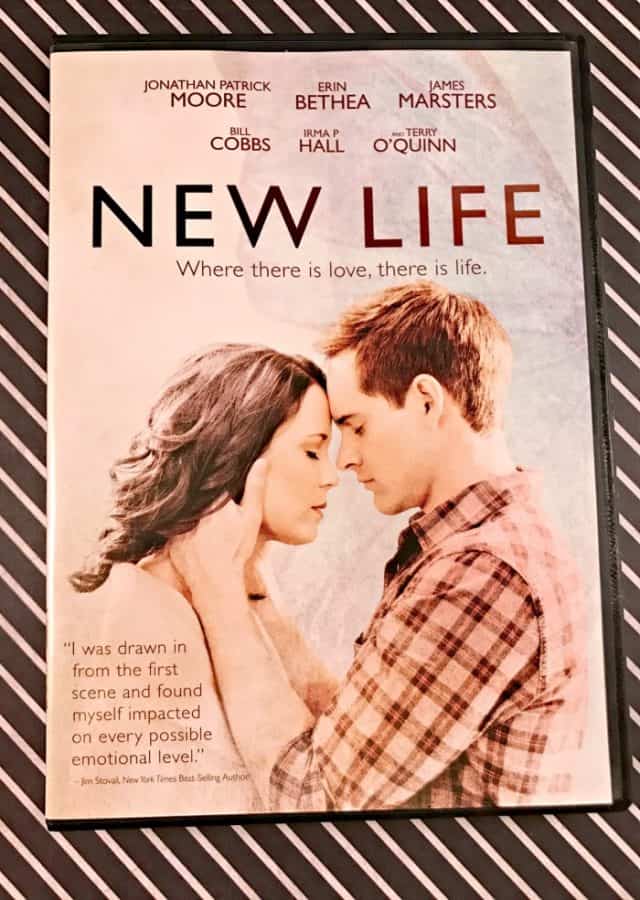 "A bittersweet tale of undying love" ~ BARET NEWS
"I was drawn in from the first scene and found myself impacted on every possible emotional level." ~ Jim Stovall, New York Times Best-Selling Author
WHERE THERE IS LOVE, THERE IS NEW LIFE
Where there is love, there is life new life starring Jonathan Patrick Moore, Erin Bethea, James Marsters, Bill Cobbs, Irma P Hall and Terry O'Quinn available on DVD and Digital March 7
Debuting on DVD and Digital on March 7, explores the ups and downs of life and love, showing that in good times and bad, life can be approached with hope and the opportunity for something new. In the vein of The Notebook and Love Story, Jonathan Patrick Moore ("Blind Spot") and Erin Bethea (Fireproof) star as Benjamin and Ava, in the Dove approved (for ages 12+) romantic drama. The film follows them from the innocence of childhood friendship through adolescent attraction and to a mature adult relationship as their love strengthens and grows. When life takes a turn neither of them expected, their entire future is called into question. Also stars James Marsters ("Buffy the Vampire Slayer"), Bill Cobbs (Night at the Museum franchise), Irma P Hall (Collateral), Barry Corbin ("Modern Family") and Terry O'Quinn ("Lost").

The New Life DVD is loaded with bonus material, including deleted scenes, audio commentary with Director Drew Waters and Erin Bethea, a 5-part look "Behind the Scenes" and two featurettes, "Ava's Journey" and "About New Life."
Synopsis:
Seven-year-old Benjamin Morton's life changed forever the day he met the little girl next door. Ava was and always would be the girl of his dreams. What began as a childhood friendship grows into a meaningful relationship as the two plan out their lives together. When life takes a turn neither of them expect, their entire future is called into question. Now they must decide what it really means to make the most of life.
NEW LIFE (DVD)
Director: Drew Waters
Cast: Jonathan Patrick Moore, Erin Bethea, James Marsters, Bill Cobbs, Irma P Hall,
Barry Corbin, Terry O'Quinn,
Writers: Erin Bethea, Candice Irion, Drew Waters, Josh Spake,
Producers: Drew Waters, Erin Bethea, Jay Michaelson, Jon Wroblewski
Executive Producers: Dane & Mary Louise Miller, Dan & Pam Hann, George & Mary Clemens, Adam Falkoff
Rating: PG for thematic content
Runtime: 89 minutes
Get social with New Life The Movie on their website
Facebook | Twitter | Instagram
TECHNICAL INFORMATION:
Layers: Dual Layer
Aspect Ratio: Widescreen 1.78:1
Spoken Languages: English
Subtitles: English SDH & Espanol for feature only
Sound: Dolby Digital 5.1, English Descriptive Audio
About Broad Green Pictures:
Broad Green Pictures, founded by Gabriel and Daniel Hammond in 2014, is a fully-integrated movie studio with unparalleled development support, production infrastructure, and marketing resources to execute their vision from script to screen. Through collaborative partnerships, Broad Green shares incredible stories with the widest possible audiences. The studio creates and distributes theatrical films derived from in-house development and production, as well as acquisitions and co-productions across a multitude of platforms. The studio's upcoming slate includes WISH UPON, Terrence Malick's SONG TO SONG starring Ryan Gosling, Rooney Mara and Michael Fassbender, STEP SISTERS, and VILLA CAPRI. Previously released films include BAD SANTA 2, a co-production with Miramax, A WALK IN THE WOODS, THE INFILTRATOR, Amazon Studios' THE NEON DEMON and THE DRESSMAKER, the critically-acclaimed 99 HOMES, I SMILE BACK, LEARNING TO DRIVE, KNIGHT OF CUPS, and THE DARK HORSE.
Jess Weaver
Jess is a mom of 4 kiddos, wife to a handsome bearded man, she loves writing, sleeping, and sunshine.