Open For Business in Less than 4 Hrs Start to Finish or Less with Godaddy GoCentral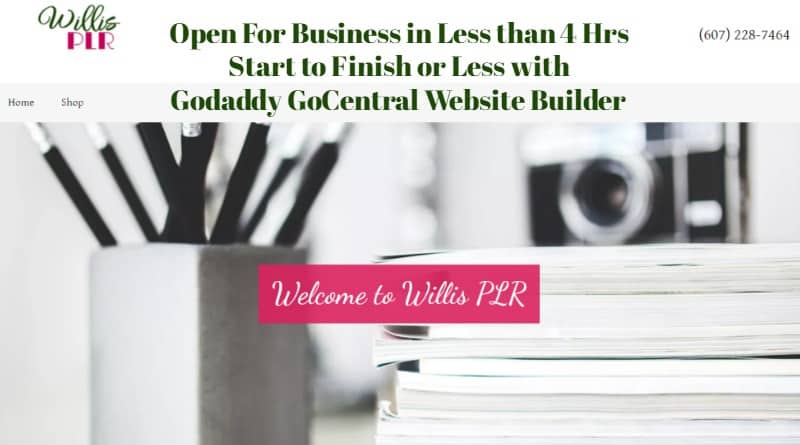 Becky
Newly middle-aged wife of 1, Mom of 3, Grandma of…
Disclosure: A promotional item was provided to me for today's discussion. The host for this event is Still Blonde after all these Years. 
There was a time when building your own website took months. It felt like we would never be open for business on the world wide web. The first website I made was for my sister's country storefront.  She sold candles, wax melts, lotions, drink mixes and I was confident I could make one and it would be great!  The problem was it took me hours a day for months to get it to where it could be used.  I learned HTML and although I wouldn't trade that knowledge for anything, being able to put a site together in 1 hour or more (depending on the complexity of it) is incredible.
Enter Godaddy Go Central Website Builder
With Godaddy GoCentral Website Builder taking months has become a thing of the past! From now until August 11, 2017, you can try Godaddy's website builder for free for 1-month trial!  Your trial starts from the time you sign up and goes for 30 days.  At that point, you can decide whether or not you want to keep it.  You can also add your domain to this site for a professional look (at an extra cost).
You will go to http://bit.ly/GoCentralTrial  to take advantage of the 30 day Free Trial (no credit card required) where you can either sign-up or use your existing Godaddy account if you buy your domains through them.  If you have never used Godaddy you can sign up with your Facebook account OR sign up with your email and make a password that you can remember.
This is How You Start Out
Then it will take you to this screen where you will put in what your site is about.  I decided to set up a PLR site (a site for writers to purchase pre-written content for their website).  I named it Willis PLR for the purposes of trying out their website builder.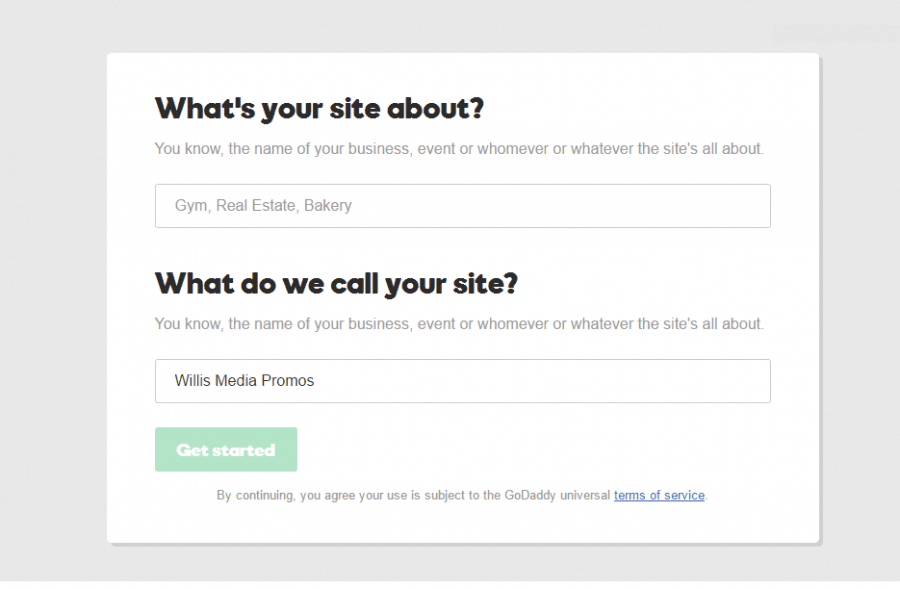 Next, it took me to their welcome page where I could choose my colors and fonts.  This is also where I filled out my 'about' page for my business.  I was able to choose if I wanted my logo to be printed or upload an image.  I chose an image that I made, but to be simple you can easily just use the name of your new business for starting out.
Always Preview Your Changes
In this area, you can preview your changes, create your subscribe to your newsletter area, contact, and footer area. Also as you will see in the upper left-hand corner you can add a page or more and choose what type of page you are adding. For example a product page, blog style page or an informational page.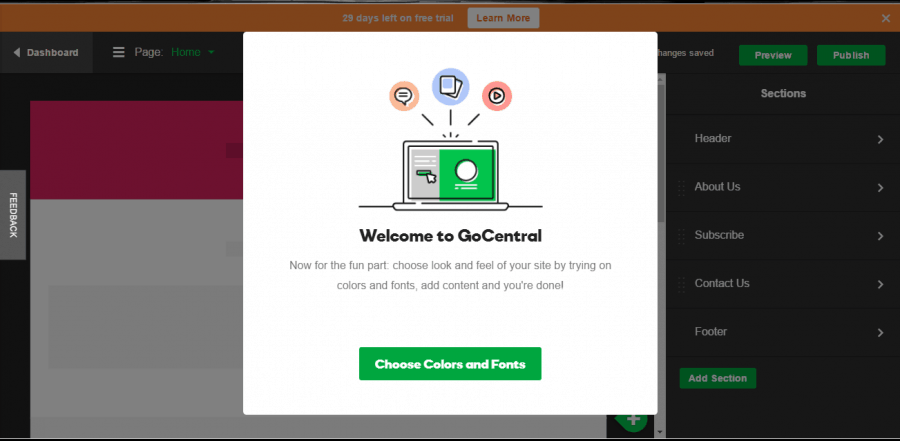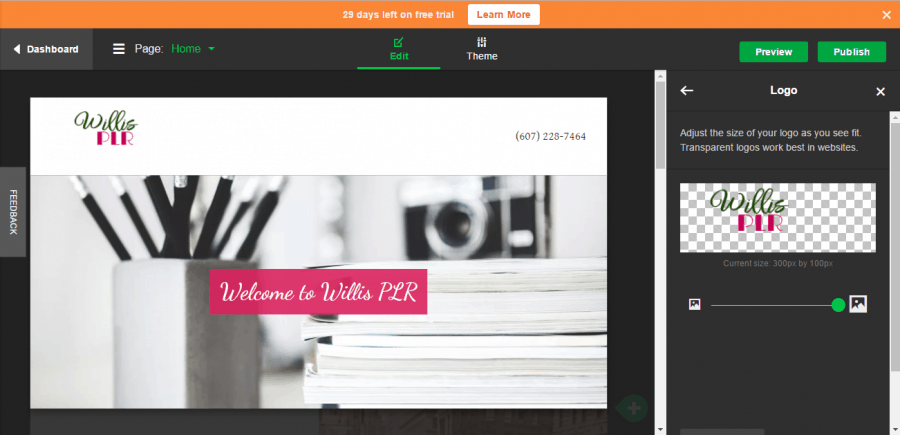 Up above you can see I uploaded my own logo, and it filled in my phone number on the right-hand side with a welcome page.  I love that they have unlimited designs, easily integrated marketing, and even an eCommerce choice.  Included in this package you can add PayPal buttons, or upgrade for a more in-depth shop.  Since I am being pretty basic right now I opted to just add PayPal buttons at this time.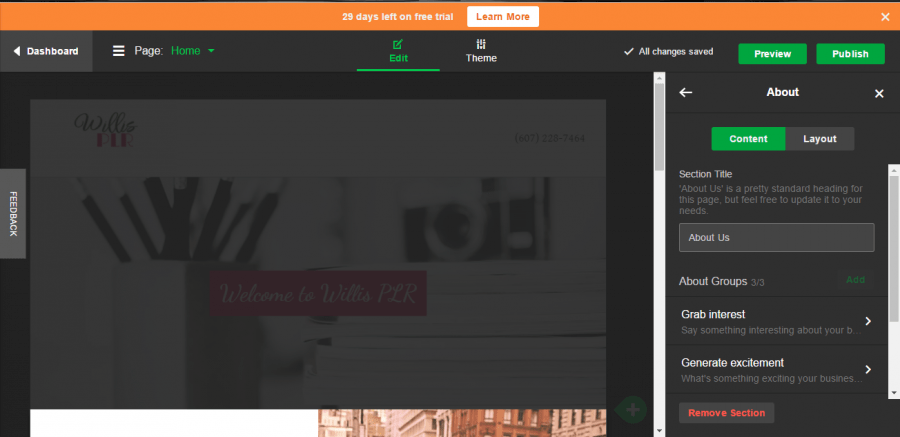 Above you will see that I was able to add my "About Us" content.  It is like step-by-step since it says "Grab interest" and gives you an example that you can then replace with what you want it to say.  Then "Generate Excitement" and more.  It also offers a layout choice area.  I stuck with what they already had for it because I liked it.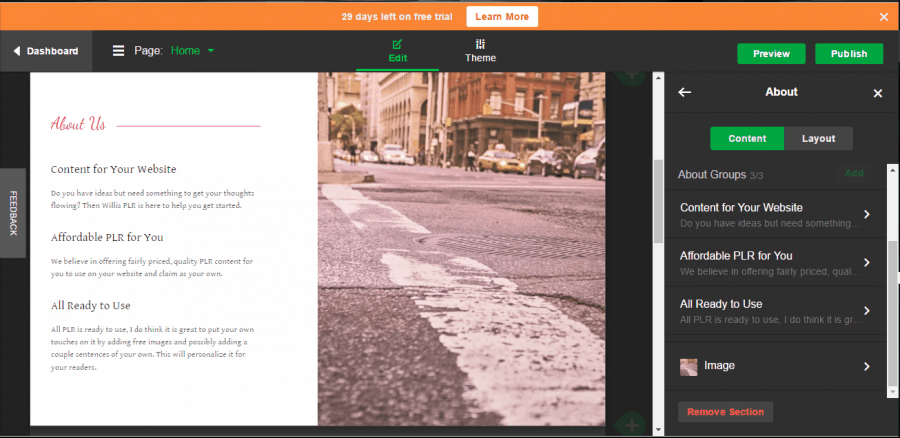 Quick and Easy is the Solution with Godaddy GoCentral Website Builder
I love how quick and easy it was to get to this point.  The image that it offered reminded me of a street here in my hometown so I kept it as I liked how it looked with the font and set up.  You can choose from their unlimited area of stock photos or upload your own.  Godaddy GoCentral Website Builder is all about helping you get your business up and running and having an online presence.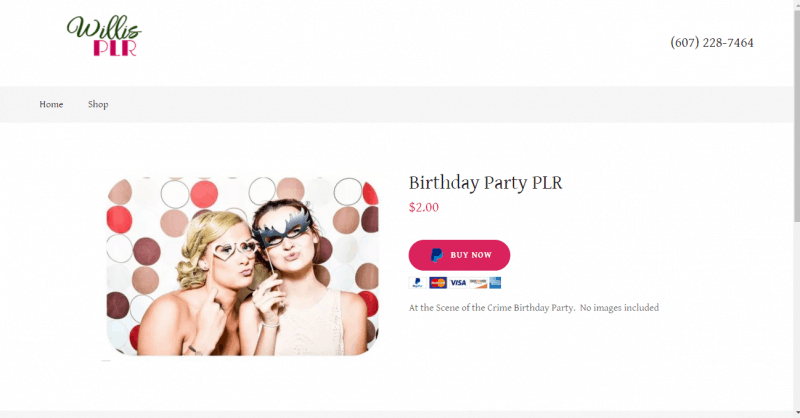 You can visit my free trial site here Willis PLR.  You can see one of my shop sections above that I added quickly and easily.  PayPal buttons are already there, you just have to input your price and make sure the email you use is your PayPal ID.   This part I loved as it made it simple enough that anyone could have their shop set up in an hour, depending on how many items their shop has.
If you would rather make your site on your cell phone, you can do that too.  Also for the Free 30 day Trial. NO CREDIT CARD is required!! That is so nice and truly makes it a free trial.
Free Trial Link: http://bit.ly/GoCentralTrial
Disclaimers or Restrictions for offer: The Free Trial is an opportunity for you to use a GoDaddy Product free of charge for one (1) month, beginning on the date that you accept the Free Trial offer.  The Free Trial will expire one (1) month from the date you accept the Free Trial offer, regardless of whether or not you use the Product during the Free Trial period. No credit card is necessary. The free trial is now available in all markets we sell the product.
Disclaimer:  A promotional item was provided to me for today's discussion. The host for this event is Still Blonde after all these Years. 
Becky
Newly middle-aged wife of 1, Mom of 3, Grandma of 2. A professional blogger who has lived in 3 places since losing her home to a house fire in October 2018 with her husband. Becky appreciates being self-employed which has allowed her to work from 'anywhere'. Life is better when you can laugh. As you can tell by her Facebook page where she keeps the humor memes going daily. Becky looks forward to the upcoming new year. It will be fun to see what 2020 holds.