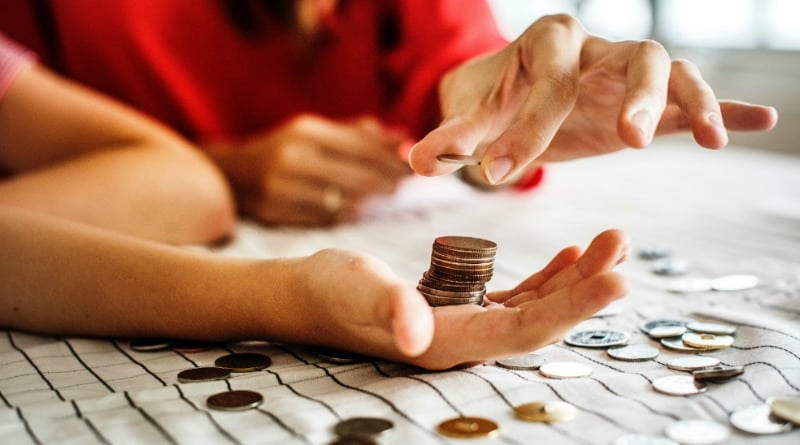 Photo by rawpixel.com from Pexels
Becky
Wife, mother, grandma, blogger, all wrapped into one person, although…

Let's be real here: sticking to a budget is hard. Whether you're trying to pay off debt or build up your savings, following a budget day in and day out can be a frustrating challenge. Even with the best intentions, it's easy to justify periodic frivolous spending with, "It's just ONE fancy coffee." Unfortunately, these seemingly harmless indulgences add up quickly, and before you know it, it's the end of the month and you're broke.
Being able to meet your budget each month involves mindfulness of where your money goes. This doesn't mean you can never have fun again. It just means you have to plan ahead so you can allow for it in your budget. Where and how often you open your wallet matters, so here are five genius ways to help you meet your budget each month.
1. Pay Down Debt with a Loan
It may seem counterproductive to add more to your already existing debt, but with low-interest loan schemes, you can get the money you need to pay down debt while still sticking to your budget. These loans have (as the name suggests) low-interest rates and flexible terms that allow you to pay them back quickly and easily. Rather than struggling to pay student loans, a car payment, or credit cards on a tight budget, get a small cash loan to get out from under these high-interest payments faster.
2. Write Everything Down
From that pack of gum, you bought at the corner convenience store, to the car payment you sent out last week, write it all down so you can see exactly where your money goes. When you have a visual of all the things you spend your money on, you'll be able to pinpoint frivolous spending and make a conscious decision to stop shelling out cash for things you really don't need.
If carrying a notebook and pen seems a tad old-school for you, look for an app on your smartphone that enables you to track your spending habits in the same way.
3. Carry Cash
Nobody carries cash these days because plastic makes paying for things so convenient. Unfortunately, it also makes it very easy to overspend. To curb your desire to whip out your credit or debit card for everything, carry cash instead to purchase everyday items. The concept here is, when you run out of cash, you're done spending – it's as simple as that.
4. Act Like You Don't Have Credit Cards
Credit cards are handy to have in an emergency, but for things like eating out, getting coffee with friends, and other small purchases, they can spell trouble. The small things add up and before you know it, you've got a large balance you can't pay off at the end of the month.
Do yourself a favor and leave your credit cards at home when you head out on a normal day. Stick to what you've budgeted for and save the credit cards for large purchases or unexpected emergencies.
5. Grocery Shop with a List
Never, ever go into a grocery store without a list. Make a list beforehand and stick to it. Avoid buying anything that's not on the list and make a conscious effort to avoid the aisles that tempt you most.
Sticking to a budget is hard, but with a little conscious effort and some willpower, a budget can become less of an annoyance and more of a way of life. Use the tips mentioned above to make sure you meet your budget every month.
Becky
Wife, mother, grandma, blogger, all wrapped into one person, although it does not define her these are roles that are important to her. From empty nesters to living with our oldest and 2 grandchildren while our house is rebuilt after a house fire in 10/2018 my life is something new each day.