Time Spent with Director Peter Docter and Producer Jonas Rivera #InsideOutBloggers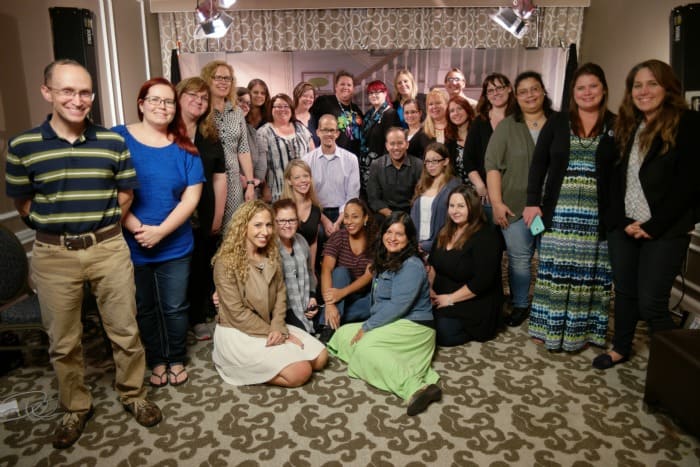 Becky
Newly middle-aged wife of 1, Mom of 3, Grandma of…
**Disney provided Me With A Full Expense Paid Trip To San Francisco For The #InsideOutBloggers, #GoodDinoEvent, #MilesEvent & #Waltagram Press Trip. No Other Compensation was Given. The Opinions In My Posts Are 100% my Own.**
Time Spent with Director Peter Docter and Producer Jonas Rivera
I always enjoy sharing my experiences from my visits to California. Another exciting time that we spent together (myself and 24 awesome bloggers) while in San Francisco was the day we sat down and listened to the director and producer of Inside Out. While you wait for them to come in you sit there and realize that you are about to listen to two people who are responsible for bringing these awesome movies to life. You get the ability to be in awe of their talent and their thought processes. You also get to realize that although they lead a different life than you do, they are still people, parents and have some of the same thoughts that you as a person do on a day to day basis.
It always seems that one of the first questions that are asked is if there is going to be a sequel. Although neither were against the total idea of one, they are more looking forward to the next new idea.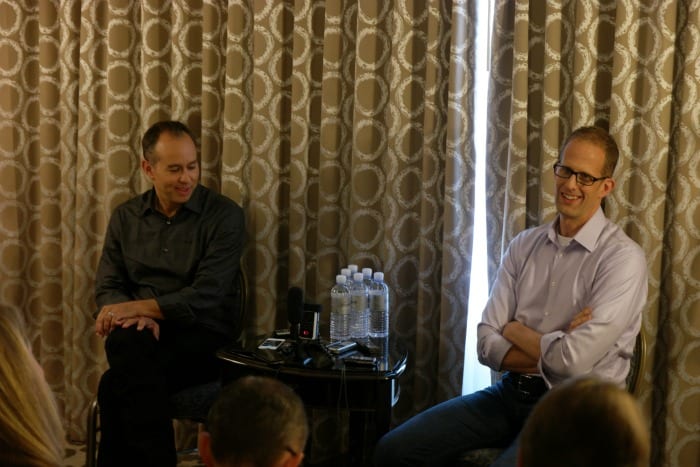 Peter Docter, the director of Inside Out says that if he were to pick a character that he could relate to in the movie it would be mainly Joy. Although there are days that he could definitely feel fear or anger. Joy is the emotion he felt was easiest to relate to.
He also did not realize that the concept of Inside Out would be so warmly welcomed. Even after researching tribes in Papa New Guinea, it was evident that everyone experiences the same emotions. That is what makes this movie so universal.
Peter's initial idea was to have a control center much like you would see in a spaceship. But they decided to get away from that idea so that they didn't have it look like something that had been done before now. So headquarters is what they worked on first, some of the ideas didn't make it very far, where others took off.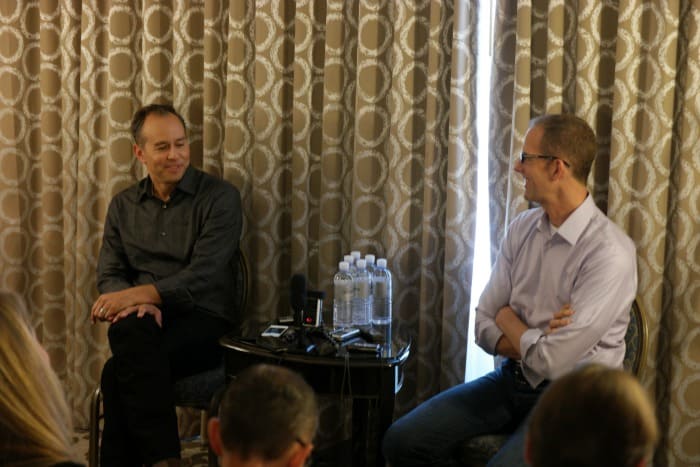 There wasn't an expectation for this film to be more than just a funny film. It has gone above and beyond that with how it has parents and children alike talking more about emotions. They were told that it has helped some children with Autism. They will lay out the characters and have the child pick which one they are feeling that day. So this is more than Peter had imagined could happen.
Jonas also shared how he has 3 children, ages nine, seven and a four-year-old. His daughter Ava who is four has the character socks. Some days when she comes out she has a different emotion on each foot because she has already made the decision how she is going to feel that day. So even at this young age of four she 'gets it'.
Jonas also spoke about the character of Bing Bong. Jonas said that he was a real fun character. It is obvious that working with Richard, he was the perfect casting. Richard Kind was their version of Tigger or something to that idea. Listening to Richard was really fun but then really poignant and rich.
Peter mentioned that Richard didn't even read for the part of Bing Bong, he was cast for it before he even came in. They were just sure he was who the part was meant to be for without question. Richard was a bit nervous because he didn't know how they would know for sure that they wanted him. But after he started reading the first few lines Jonas and Peter knew that he was perfect.
After talking about Richard, they did also mention how Phyllis Smith was perfect for Sadness. She just has that quality. I felt she was warm and caring, so this did make perfect sense that this character was just meant for her.
At the end of the day, it was most important to make this about Riley. ……….we realized what's really at stake in this film is Riley's personality you know. That's the thing that we as parents value without we don't want our kids to change because we love who they are. And so we needed some way to physicalize that.—-Peter Docter
This is where the islands came into play and it was very important that they were arranged in the correct order to correlate with the flow of the movie. There were characters that didn't make it to the movie itself, such as a few different emotions, a friend of Bing Bong etc. This just tells me that they weren't meant to be. After watching Inside Out I really can't imagine it to be any other way that it was.
Listening to Jonas Rivera and Peter Docter was, to say the least, inspiring. I can look at them and say, "what a dream job", and although I am sure it is, it doesn't go without hard work. They have each been at Pixar for 20 years and with many credits under their belt, I have the feeling that the best is yet to come.
Make sure you get your copy of Inside Out when it comes to Blu-ray/DVD/HD on November 3, on Amazon or at most any store that carries movies. While you wait make sure to take a look at the trailers/clips below.
Who is your favorite character? Who can you most identify with? Joy? Sadness? Anger, Fear, Disgust or even Bing Bong? Leave me a comment below if you would like to share.
About the Inside Out
To Keep an eye out on the information for INSIDE OUT you can connect with them on their Social Media Below.
Facebook | Twitter
Do you ever look at someone and wonder what's going on inside their head? Disney-Pixar's "Inside Out" takes an exciting and hilarious journey into the mind to find the answer. Based in Headquarters, the control center of 11-year-old Riley's mind, five emotions are hard at work, led by lighthearted optimist Joy. She strives to make sure Riley stays happy as she operates alongside fellow emotions Fear, Anger, Disgust and Sadness. It's "an instant classic," raves Richard Roeper, Chicago Sun-Times. Experience it like never before on Disney Blu-ray!

CAST: Amy Poehler ("Freebirds," TV's "Parks and Recreation") as Joy; Bill Hader (Monsters University, TV's "Saturday Night Live") as Fear; Phyllis Smith ("Bad Teacher," TV's "The Office") as Sadness; Lewis Black ("The Aristocrats," TV's "The Daily Show with Jon Stewart") as Anger; Mindy Kaling ("Wreck-It Ralph," TV's "The Office") as Disgust; Richard Kind (A Bug's Life, TV's "Spin City") as Bing Bong; Kyle MacLachlan (TV's "The Good Wife," "Twin Peaks," "Marvel's Agents of S.H.I.E.L.D.") as the voice of Riley's Dad, Diane Lane (Batman vs. Superman: The Dawn of Justice, Under the Tuscan Sun, The Perfect Storm) as the voice of Riley's Mom & Kaitlyn Dias (voice cast debut) as the voice of Riley.

Inside Out Memory Ball-Spanish
Inside Out Memory Ball-English
Inside Out Board Game -Spanish
InsideOut board game
Inside Out Nail Art-Hispanic
Inside Out Nail Art-English
InsideOut Coloring Sheets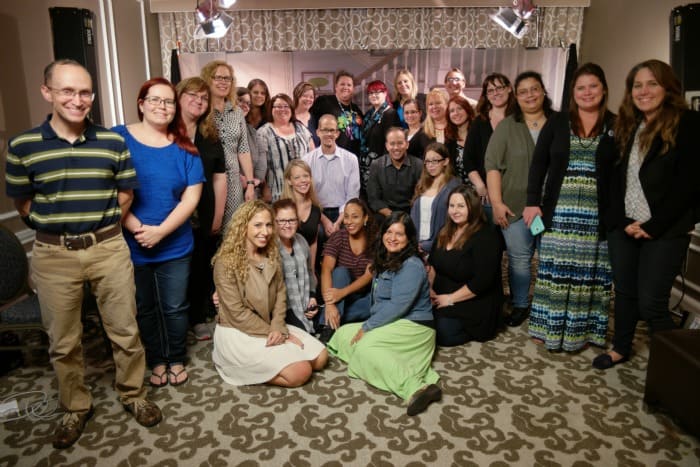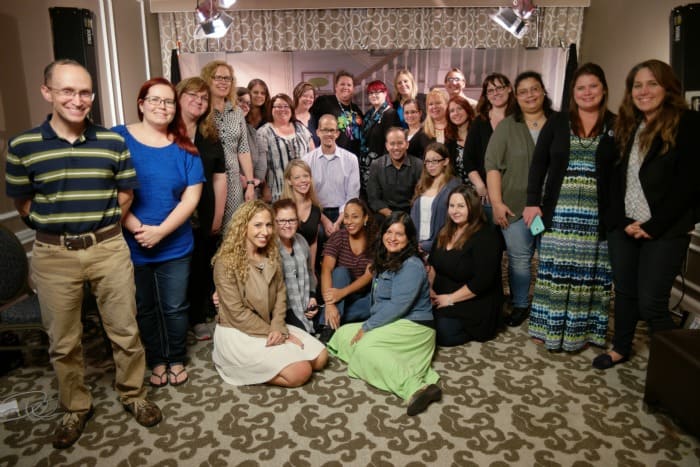 Becky
Newly middle-aged wife of 1, Mom of 3, Grandma of 2. A professional blogger who has lived in 3 places since losing her home to a house fire in October 2018 with her husband. Becky appreciates being self-employed which has allowed her to work from 'anywhere'. Life is better when you can laugh. As you can tell by her Facebook page where she keeps the humor memes going daily. Becky looks forward to the upcoming new year. It will be fun to see what 2020 holds.