How to Plan the Perfect Family Glamping Trip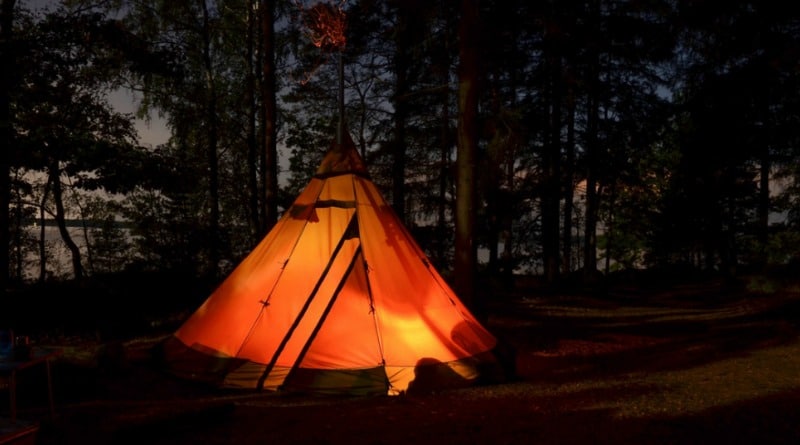 Becky
Newly middle-aged wife of 1, Mom of 3, Grandma of…
When I first started dating the man that's now my husband, I was impressed by his outdoor adventure lifestyle. An avid hunter, fisherman, and hiker, the wilderness felt as comfortable to him as slipping on a favorite pair of slippers.
Now, don't get me wrong, I enjoy communing with nature, too. But camping can be difficult for anyone. From the flimsy tent to the zero-degree-rated sleeping bags that still don't keep everyone warm, not everyone is a fan.
Fortunately, glamping can be a great solution. Read on to learn more about what a glamping trip looks like and why you and your family need to add it to your bucket list.
What Is Glamping?
Known as "glamorous camping," glamping lets families experience nature without foregoing life's chief pleasures like bathrooms, showers, heat, and electricity.
Glamping is one of those modern conveniences, like the spork, that can be hard to wrap your head around at first. But once you experience glamping for yourself, you'll wonder how you ever lived without it…
The same goes for sporks, which make eating everything from salad to yogurt on-the-go a breeze. (In fact, you should probably pack sporks for your glamping adventure.) But more about what to pack in a bit.
During your glamping experience, you'll stay in one of the following amenity-filled accommodations:
A cabin
A tipi
A yurt
A treehouse
A Conestoga covered wagon
These accommodations will help you feel close to nature and let you "rough it" without actually getting too much dirt under your fingernails.
Glamping Accommodations 101
Let's take a closer look at how glamping accommodations differ and the impact each one will have on the overall feel of your family's personalized glamping adventure.
Cabins
Cabins provide extra protection from the elements. They prove a great idea when glamping during the colder months.
They're also perfect for anyone who gets a little weirded out by the thought of canvas alone providing a barrier against bears and other wildlife.
Tipis
Tipis refer to conical-shaped tents that look similar to the lodgings once used by some Great Plains Native American tribes.
Designed to house a campfire in the center, today you're more likely to find heaters and stoves due to fire codes and safety requirements. And that's okay because they feel even more comfortable with modern heating units and zero smoke inhalation.
Yurts
Like tipis, yurts are inspired by the nomadic peoples of Mongolia. Instead of a conical shape, however, they look circular and offer spacious accommodations.
Treehouses
Some glamping spots even offer the chance to stay in a treehouse, a one-of-a-kind experience that's sure to take you right back to the magic of childhood.
Imagine spending days sleeping in the forest canopy, enjoying a bird's eye view of the action below. Despite the unconventional view, you'll remain comfortable while enjoying all of the latest amenities.
Conestoga Covered Wagons
Near Yosemite National Park, you'll even find glamping experiences in Conestoga covered wagons. That means you and your family can experience "roughing it" Oregon Trail style without broken axles, dysentery, or dead oxen.
(Sorry, couldn't help the reference to the mildly disturbing computer game of the early 1990s.)
But in all actuality, covered wagons provide a great way to experience Americana lodgings at one of the most beautiful locations in the country.
Glamping Amenities
Which amenities can you expect to enjoy at a glampsite? That depends on the accommodations that you choose and the location.
That said, for it to be glamping, bathrooms and showers must be located nearby. Some glamping locations go the extra mile with full bathrooms inside each unit. Many also include a basic kitchen setup.
Make a list of the amenities you absolutely can't live without and then look for glamping accommodations that fit the bill. That way, you'll feel comfortable with the decision you make, both now and during the actual experience.
Your Glamping Packing List
While glamping comes with many of the same advantages of staying at a hotel, you'll need to think differently when packing your luggage.
A Power Source
First and foremost, don't forget a portable solar unit to power your electronics. Check out these reviews about portable solar solutions to find the perfect one for your next trip.
Pillows & Blankets
Bring plenty of pillows, blankets, and/or sleeping bags. Even though you'll most likely have a heating unit in your tent or cabin, don't expect the facility to provide you with bedding as a hotel or homestay would.
Think Layers
Pack plenty of clothes that you can layer as temperatures fluctuate throughout the day. The same goes for footwear. Bring lots of socks you can layer as well as a comfy, warm pair of slippers for indoor use.
Cooking Supplies & Food
Your tent or cabin will likely have some form of a rudimentary kitchen, whether that be a dedicated room or a BBQ located outside. But don't expect much in the way of cooking utensils.
Bring the basics: knives, cutting board, tongs, spatula, mixing spoons, and, of course, sporks.
Glampsites often prove remote. In fact, that's a huge part of the charm. But that also means limited or no access to restaurants and grocery stores. So, pack lots of food including snacks to tide you and your family over during your stay.
Fire Making Supplies
No glamping trip would feel complete without a campfire at night. Bring a lighter or matches.
But leave the firewood for last minute. Since it's illegal to bring wood across state lines in the US, buy a load or two of firewood at a supply or grocery store as you near your final destination.
While you're at it, don't forget all of the makings for s'mores. Your kids will cherish the chance to bond over chocolate, marshmallows, and graham crackers. And so will you!
An Epic Glamping Trip for the Whole Family
Whether you opt for a cozy little cabin or a spacious yurt, you and your family will love the adventure of a glamping trip. The outdoorsy members of your family can make the experience as rustic as they like, while you'll enjoy the comforts of home.
It's the perfect compromise. What's more, you and your family will soon be hooked. The United States (and the rest of that world for that matter) are dotted with glamping spots. So, the possibilities remain endless.
Glamping proves a great way to see the world at an affordable price point, especially for families on the go. Ready for more vacation inspiration? Read on to find out why you should travel more often.
Becky
Newly middle-aged wife of 1, Mom of 3, Grandma of 2. A professional blogger who has lived in 3 places since losing her home to a house fire in October 2018 with her husband. Becky appreciates being self-employed which has allowed her to work from 'anywhere'. Life is better when you can laugh. As you can tell by her Facebook page where she keeps the humor memes going daily. Becky looks forward to the upcoming new year. It will be fun to see what 2020 holds.