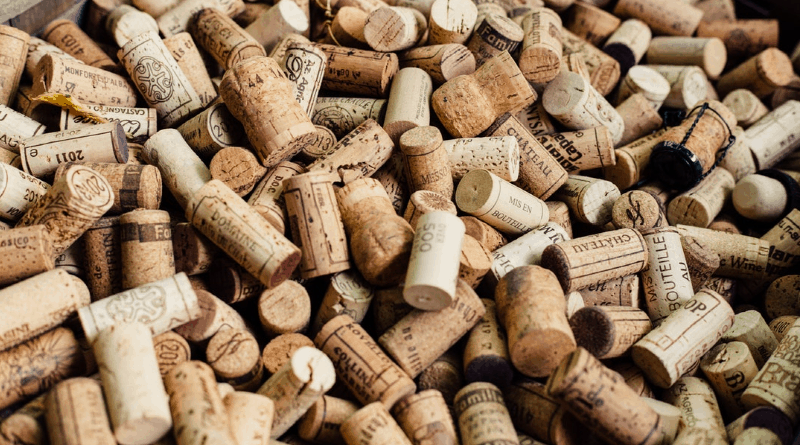 Becky
Wife, mother, grandma, blogger, all wrapped into one person, although…

Did you know that America drinks 4.24 billion bottles of wine in just one year?
That's a lot of leftover corks.
Instead of throwing your old corks straight into the trash, why not have a go at some of these fun wine cork projects?
You could make trendy coasters, practical fridge magnets, or even cute planters – keep reading to get inspired.
1. Make a Notice Board
Ever owned a traditional cork board?
Make a much prettier version by slicing corks in half and attaching to a wooden base using superglue.
Add pins and stick up your favorite photos, postcards, and letters.
2. Turn Them into Cute Snowmen
Paint corks white, add black eyes and a carrot nose, and you've got a super cute Christmas decoration.
This activity is great for kids, and you could even try making reindeer, too.
3. Stick Them onto Wooden Letters
Purchase a set of wooden letters from your local craft store and glue corks onto them to create a really cool piece for your living room.
Words like, 'love', 'home', and 'welcome' work well for this project.
4. Turn Them into Keyrings
It's not hard to bore a hole into your old corks and attach to a keyring. This is a fun way to remember special bottles you drank on important occasions.
Even if there's nothing special about the cork you choose, you'll be much less likely to lose your keys.
5. Use as Plant Markers
Use a sharpie to write plant names on your corks, then poke a metal stick into the end. Push into the soil next to your plants and you'll never wonder what's what again.
This trick is especially useful for herb gardens, and corks will hold up indoors or outdoors.
6. Make Cute Placeholders
Slicing into a cork leaves a thin gap that's perfect for pushing a little name card into. Halved corks work best as they'll stand up more easily.
Use this trick at your next dinner party to impress your guests and show that you've got the style.
7. Use in Glass Candle Holders
Put one glass container inside another, then fill the outer container with corks. Pop a candle in the center and enjoy a warm, rustic glow.
Paint the corks if you fancy something different to the traditional wooden look – white works well.
8. Decorate and Turn Into Wine Charms
Wine charms are the best way to avoid getting your drinks mixed up.
Slice corks in half, decorate with gems, shells or feathers, then attach to metal wine charm clasps.
These make lovely gifts and they're perfect if you often give wine as a present.
9. Create a Jewelry Organiser
Follow the same process as making a notice board, but attach hooks instead of push pins. Use these to hang rings, necklaces, and bracelets for a cute storage solution.
You could even stick corks around your mirror to keep your favorite pieces close at hand.
10. Soak in Acetone to Use as Candles
Soaking corks in acetone for a week or so allows you to light them and use as miniature candles. Let them dry fully before lighting, and keep in glass containers.
These can be dangerous, so use outdoors only and keep away from children and pets.
11. Decorate a Photo Frame
Slicing corks in half and sticking onto an old photo frame can turn it into something really special. Experiment with different arrangements to create a whole collection.
These frames look really rustic, and they're great if you want to add personality to a room.
12. Glue Together to Make a Vase
Use a round object, like an old can, to form the shape of your vase. Superglue corks together around the shape of the can then fill with flowers for a cute boho look.
13. Create a Memory Jar
Each time something special happens, write it onto a cork, along with the date. Throw into a jar and you'll soon have a lovely collection of long-lasting mementos.
14. Turn into a Cork Mat
Slice corks in half and glue onto a plastic placemat for a really cool surface protector.
Do the same using a rug mat to create an awesome cork bath mat.
15. Push onto Stilettos as Heel Stoppers
Sick of sinking into the soft ground while you're wearing stilettos?
Keep a few old corks in your bag and push onto your heels whenever you need to go off-road – they're a total lifesaver.
16. Fashion Them into Coasters
Buy some cheap coasters and top them with halved corks for cute coasters that will match great with the placemats you made earlier.
17. Paint and Glue Together for Modern Art
Painting the ends of corks in different colors and then gluing them together is a simple way to make some impressive modern art for your home.
18. Hollow out for Tiny Flower Pots
Use a drill to carefully hollow out your corks, then use them as planters for mini succulents. Perfect for a doll's house.
19. Slice and Use as Tiny Canvasses
Slice your corks to create tiny round canvasses. Test your miniature painting skills using cocktail sticks – practice makes perfect.
20. Use as Stampers for Painting
Cutting shapes into the end of your stampers is an excellent way to make a fun painting accessory. Try hearts, stars, flowers, and leaves.
These'll last much longer than potato stampers!
21. Repurpose as Fridge Magnets
Sticking magnets to the back of your old corks have to be the easiest project ever, but the finished result looks so cool. You'll instantly add some crafty, retro vibes to your kitchen.
Why Spend Time on Wine Cork Projects?
If you love drinking wine, you've probably accumulated tons of corks over the years.
Instead of letting them go to waste, have fun with the wine cork projects above. Not only are you creating awesome, unique items for your home – you're also living a more eco-friendly lifestyle.
If you don't drink but want to get hold of corks for a special project, it's worth getting in touch with a company like WidgetCo.
Want to check out more cool home hacks? Visit our blog today.
Becky
Wife, mother, grandma, blogger, all wrapped into one person, although it does not define her these are roles that are important to her. From empty nesters to living with our oldest and 2 grandchildren while our house is rebuilt after a house fire in 10/2018 my life is something new each day.