How to Sand and Refinish Your Real Wood Flooring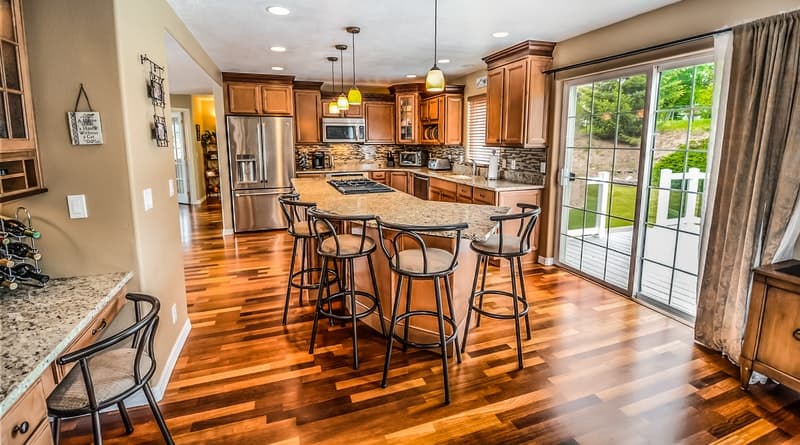 Becky
Newly middle-aged wife of 1, Mom of 3, Grandma of…
Real wood flooring is without a doubt a favorite choice amongst homeowners everywhere. No matter which species you choose, you're sure to receive boundless personality, unique textures, and intricate grains. It's no surprise that real wood has been used in homes for generations, but character and charm are not the only benefits of this material.
Real wood flooring has a plethora of practical benefits, proving low maintenance, easy to clean, and highly durable. With the right care and attention, your hardwood floors can last over a lifetime with ease.
One of the biggest advantages of solid wood flooring is that it can be sanded and refinished time and time again. Put simply, this means that damages on the surface can be removed without the need for reinstallation. This restores the board to its former glory, so your real wood flooring will always look pristine.
Whilst some homeowners choose to hire a professional to complete this procedure, sanding is actually very simple, and can be done effectively with limited know-how. If you're looking to get more hands-on around the house, this is a perfect place to start!
Whether you're a DIY enthusiast or a home improvements rookie, this quick-to-read guide will help get you on the right track. Find our beginner's tips below!
Before You Start
Make sure you've got all the tools for the job. Let's start with protective gear. Sanding is loud, dusty, and will require you to get down on your hands and knees, so make sure to wear goggles, ear muffs, and knee pads. You will also need to wear garments such as overalls, gloves, and a dust mask.
Secondly, you'll need a small amount of equipment. The three main sanding tools you will be using are a drum sander, edging sander, and corner sander. Each type has a different purpose, allowing you to get the best results. Use medium-grit sandpaper throughout.
A sweeping brush is essential, as all dust will need to be removed before a finish is applied. To seal the dust inside your workspace, invest in plastic sheeting and suitable tape. Wood filler may be required; however, this is subject to the condition of your boards.
For the finishing process, the methylated spirit will need to be applied before you can start. There are many types of finishes available, so make sure to shop around to find a product that matches your exact needs. A paintbrush and roller will prove invaluable during the application of your finish.
Sanding
Once you have gathered everything you need, you can begin the sanding process.
Start by sealing the room, preventing any dust from escaping into other areas of your home. This is achieved by taking your plastic sheeting and taping it over doorways and other thresholds. However, don't forget to leave the room well ventilated.
Sweep your flooring, making sure that no debris is present on the surface.
First, apply the medium grit paper to your drum sander. Once ready, begin sanding diagonally at a 45-degree angle to your boards. When you have reached the wall of your room, lift the sander by tilting backwards, turn, and then repeat in the opposite direction.
Once this has been achieved, sand for a second time, this time working along the grain.
Now move onto your edging sander. Place this beside your skirting board, sanding away the areas you previously missed. Use your corner sander where each wall meets to complete the process.
Sweep the floor to finish, inspecting the quality of the sanding. In some cases, you may have to repeat this process.
Finishing
Your freshly sanded boards need to be cleaned before your desired finish can be applied. After an initial sweep, rub each board with methylated spirits to remove any oil, grease, or residue.
If your boards have visible nails, indentations, or cracks, you may wish to apply a wood filler. This will make for a smoother finish, but is an optional step that is not always necessary.
Your real wood boards are now prepared.
It's important to note that some finishes may vary. When coating your flooring, make sure to consult the manufacturer's instructions to avoid any mistakes
Using your paintbrush and/or roller, cover your boards with the finish of your choice in a thin and even layer. Work along the grain in smooth strokes at all times. Make sure to coat every area, as any missed spots will appear visibly different in colour if left.
Once your first coat has dried, inspect the boards for any rough patches, and sand locally.
Repeat the finishing process, applying a second and third coat if necessary.
Once dried, your project is complete! Easy!
Becky
Newly middle-aged wife of 1, Mom of 3, Grandma of 2. A professional blogger who has lived in 3 places since losing her home to a house fire in October 2018 with her husband. Becky appreciates being self-employed which has allowed her to work from 'anywhere'. Life is better when you can laugh. As you can tell by her Facebook page where she keeps the humor memes going daily. Becky looks forward to the upcoming new year. It will be fun to see what 2020 holds.