Pictopia™ Star Wars, The Good Dinosaur and the Peanuts Gang Fun for the Whole Family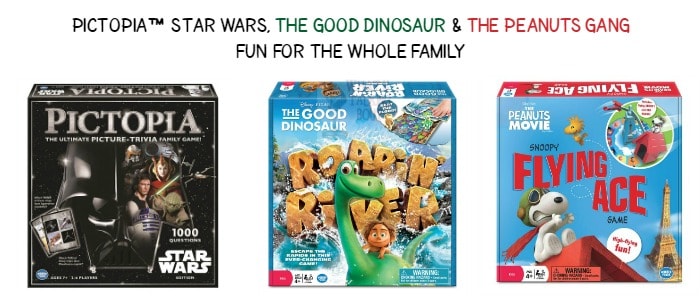 Becky
Newly middle-aged wife of 1, Mom of 3, Grandma of…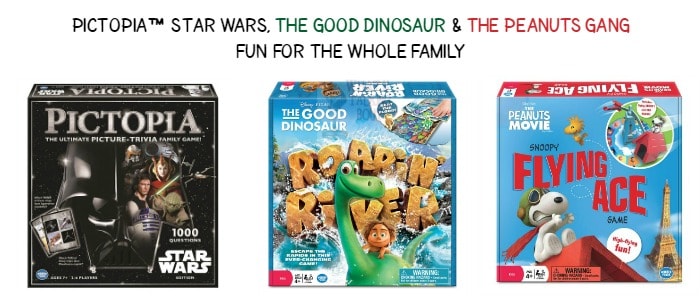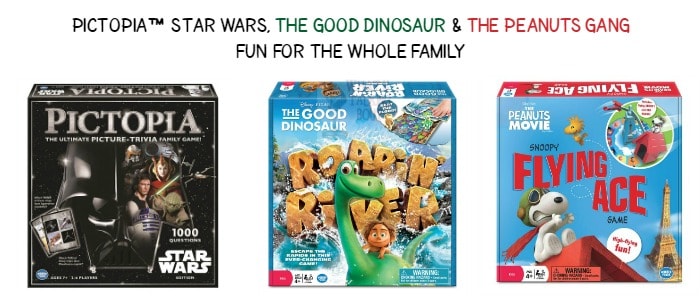 With the holidays around the corner what could be more fun than playing games with the family? With Pictopia™ Star Wars Edition Family Trivia Game, The Peanuts Movie Snoopy Flying Ace Game, and Disney Pixar Good Dinosaur Roarin' River Game there will be fun for the whole family!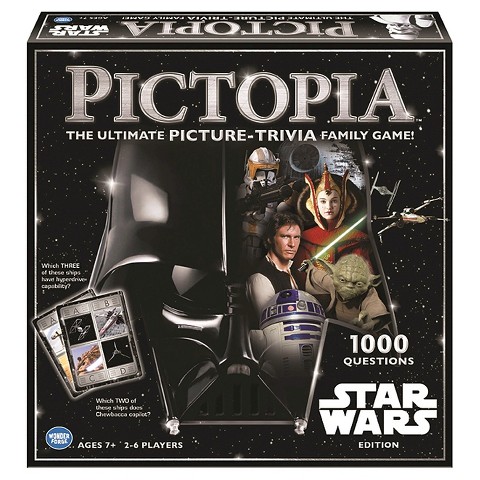 Let's start out with Pictopia™ Star Wars Edition Family Trivia Game: This game is perfect with Star Wars: The Force Awakens coming to theaters December 18, 2015. For any Star Wars fan that knows their trivia, or wants to learn more this game will be a must-have this holiday season. With 1,000 trivia questions, ages 7-adults will enjoy their time spent with their fellow Star Wars enthusiasts.
About this Pictopia™ edition:
Make family game time epic with the Star Wars Pictopia Trivia Game. Prove whether you are a Padawan or Jedi Master when your knowledge of Star Wars is tested with 1,000 questions on the iconic planets, ships, villains, and heroes from a galaxy far, far away. It's a game of teamwork but with a competitive edge!
Sometimes you'll work together and other times answer alone, but you'll wager every time. How much you risk depends on how well you know your Star Wars trivia! Feel the Force questions add an exciting twist by revealing how much you sense about other players. Become a true Jedi Master with the Star Wars Pictopia trivia game.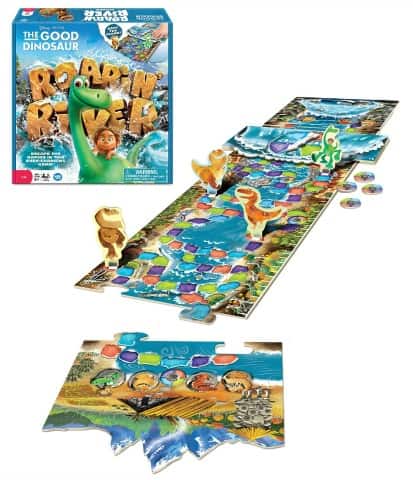 Then we have a fun game from Disney-Pixar's The Good Dinosaur, "Disney Pixar Good Dinosaur Roarin' River Game". You will surely see a smile on your children's faces when they find out you have purchased this fun game! The movie is coming out on November 25, 2015 in a theater near you! So why not either pair this game for after the movie, or wait until the holidays and enjoy this with the whole family. This game is perfect for ages 4-years-old and up and 2-4 players.
About Disney Pixar's Good Dinosaur Roarin' River Game:
Arlo and Spot have been stranded far from home. Help them make their way down the river to safety! Follow the winding river paths; dodging obstacles along the way. As everyone moves farther down their chosen path the game progresses by laying down the next piece of the game board. But look out! The ROARIN' RIVER is coming up from behind and might overtake you and your friends!. *This game has small parts, so it is not recommended for children 3 years and under.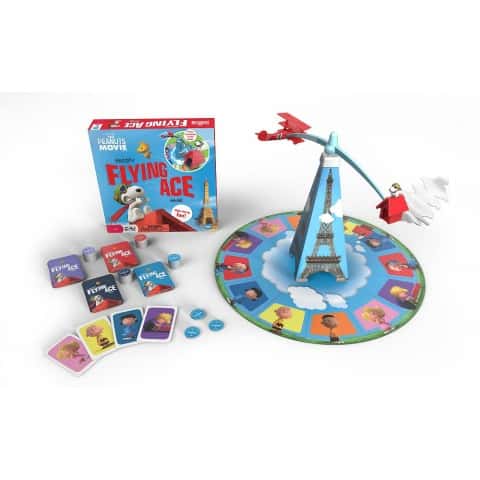 Last but definitely not least (we play no favorites here on What U Talking Bout Willis?) we have another fun game from The Peanuts Movie which released on November 6, 2015. It's Peanuts Snoopy Flying Ace Game! Join Snoopy and the Red Baron as well as the Peanuts game for loads of fun. It's high-flying fun for ages 4 and up and you can play with 2-4 players at a time.
About the Peanuts Snoopy Flying Ace Game:
The world's most beloved beagle is back! A legend in his own mind. Snoopy takes off as the Flying Ace in constant pursuit of his nemesis; The Red Baron. It's high-flying fast-paced fun around the Eiffel Tower as Woodstock and his team of mechanics lend support from the ground. Pick up the most tiles to win! This game also promotes memory and quick reflexes, encourages physical dexterity and is a fast-action game for kids. It will keep their interest for lots of fun playtime.* Not recommended for children 3 and under due to small parts.
If your family loves games, then you will want to visit Wonderforge's website where you can see ALL of the games that they have! From Frozen to Star Wars, Marvel, Disney, there are really too many to list here. So visit their site to see all that they have to offer.
Disclosure: Some of the links in this post are 'affiliate links.' This means if you click on the link and purchase the item, I will receive an affiliate commission.
Becky
Newly middle-aged wife of 1, Mom of 3, Grandma of 2. A professional blogger who has lived in 3 places since losing her home to a house fire in October 2018 with her husband. Becky appreciates being self-employed which has allowed her to work from 'anywhere'. Life is better when you can laugh. As you can tell by her Facebook page where she keeps the humor memes going daily. Becky looks forward to the upcoming new year. It will be fun to see what 2020 holds.