Sydney Logan – Lessons Learned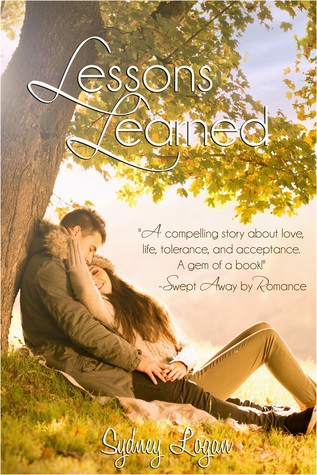 Becky
Newly middle-aged wife of 1, Mom of 3, Grandma of…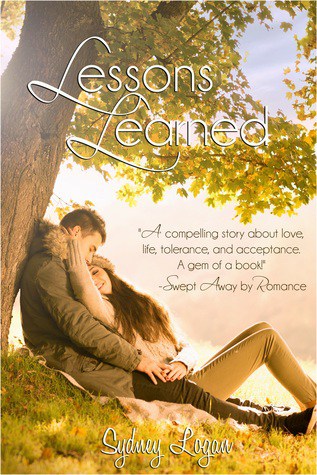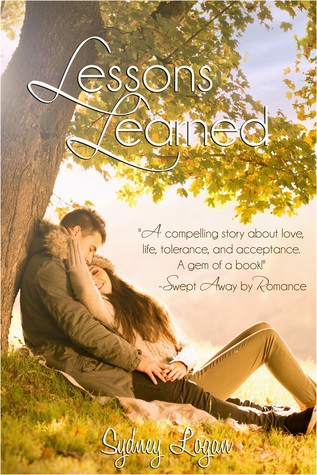 Sydney Logan – Lessons Learned and Giveaway
Title: Lessons Learned
Author: Sydney Logan
Date of Publication: October 17th 2014

About Lessons Learned:
A young girl needs to spread her wings, but a young woman needs roots.
English teacher Sarah Bray never thought she'd return to Sycamore Falls, but a traumatic event at her inner-city school leaves her desperate for the sanctuary of home. By returning to her roots, an older and wiser Sarah hopes to deal with the demons of her present and confront the ghosts of her past.
She discovers a kindred spirit in Lucas Miller, a teacher from New York with demons of his own. As the newest faculty members at Sycamore High School, they quickly become friends – bonding through Lucas's culture shock and their mutual desire to build new lives. When they open their wounded hearts to each other, their friendship effortlessly evolves into romance.
Their love is put to the test when Matt, the quarterback of the football team, shares his deepest secret with Sarah. When the conservative community finds out, Sarah and Lucas – along with the town of Sycamore Falls – are schooled in the lessons of acceptance, tolerance, and love.
NOTE: Sydney will be donating 10% of all sales during the month of October to http://www.pacer.org/bullying/ in honor of October's Bullying Awareness month. In LESSONS LEARNED a secret of the quarterback of the football team sends a small conservative community reeling. Bullying can take on all forms and Sydney would like to give back to this worthy cause.
Buy Links:

Q/A with Sydney Logan
How did you come up with the idea for this story?
They say to write what you know, so for Lessons Learned, I knew I wanted to write about teaching since that's my "day job." Thankfully, I haven't had to deal with the traumas my main character faces. I also knew I wanted to write a love story with a message, and bullying is such an epidemic in our society that I wanted to highlight that in this book.
Is there anything you find particularly challenging in your writing?
The most challenging thing is balancing writing and promotion. I'm not very good at it. It was easier when I only had one book, but the more I write, the harder it gets to juggle it all. I'm not complaining, because I love it, but that's the biggest challenge for me.
What are your current projects?
I'm getting ready to release a holiday collection of short stories titled Once Upon a December. It will include two previously published Kindle short stories along with a new short story. It will release on November 28. I'm also working on my fourth novel.
Tell us about your first book. What would readers find different about the first one and your most recent published work?
Lessons Learned is actually my debut novel, but it was published two years ago with a small indie publisher. I'm now self-publishing it with a new cover. However, my most recently published novel is Soldier On. I think readers would find that my writing style is a little more laid-back now. I don't agonize over every single word like I did with my first book.
I'm much more comfortable and confident in my storytelling.
Is there a message in your novel that you want readers to grasp?
The message I hoped to convey is that is possible to stay true to your convictions and beliefs and still be kind to other people. In the story, Sarah's student reveals he's gay. They live in a very conservative community where this news sets off fireworks. He's shunned by his football team, some of the school faculty, his church, and even his father. I think tolerance is a very timely and important message.
Does music play any type of role in your writing?
I'm heavily inspired by music and lyrics. However, I can only write with instrumental music. I can't listen to lyrics and write at the same time. I have to be careful about the instrumental music I choose because it can really influence the mood and tone of my story. I also create YouTube playlists for all of my stories.
Are experiences based on someone you know, or events in your life?
There are little bits of me in all of my lead characters. In Lessons Learned, Sarah is a teacher like me and struggles with anxiety and panic attacks, both of which I've battled. In Mountain Charm, my second novel, Angelina lives in the mountains and loves bluegrass music. That's me. In Soldier On, Steph loves 80s music. That's totally me. 🙂 Also in Soldier On, Brandon's dad suffers from Alzheimer's. That experience is based on the life of my friend, whose Mom was dealing with the disease at the time. My friend told me I should write a book about it, so I did.
What books have influenced your life most?
Anything by Nicholas Sparks, John Grisham's A Time to Kill, Harry Potter, Twilight, anything by Judy Blume, but especially Forever.
Are there any new authors that have grasped your interest?
He's not so new anymore, but John Green is a new favorite. I love books that rip your heart out and make you think, and The Fault in Our Stars certainly did those things to me. T.M. Franklin is an indie author who writes YA really well. My students love her MORE trilogy.
---
Can you share a little of your current work with us?
I'd love to! Here is the prologue of Lessons Learned:
Voices roar through the high school cafeteria while students navigate their way to the tables. The cliques are easily spotted: the jocks, the geeks, the beauty queens, the slackers . . .

Where will he sit today?

Despite the fact he's a handsome and impeccably dressed young man, he fades into the background. Knowing it's pointless, the girls don't bother to look his way, and the guys deliberately avoid his eyes.

He grips his tray tightly and heads toward the corner table with the rest of the outcasts. They nod hello, but that's the end of any real attempt at conversation. It's an unspoken rule of sorts. This is their refuge—a tiny bit of sanctuary in the hell that is public high school—and they're content to sit in peace.

He takes a seat, and I can see the exhaustion on his face. It's not a weariness that comes from too many sleepless nights. This is a bone-tired fatigue no seventeen-year-old kid should ever feel.

He's giving in.

Giving up.

In my peripheral vision, I see a senior stalk into the cafeteria. He's tall, with deep brown eyes and jet-black hair that won't stay in place. He's good looking, popular, and a little conceited, thanks to his father's wealth and status.

He has a reputation to uphold.

Rumors to squash.

A score to settle.

He pulls the silver gun out of his jacket pocket. Amid the chaos, no one notices.

I notice.

I try to run, but I'm frozen in place.

I try to scream, but there's no sound.

The first shot rings out, and suddenly, everyone's on the cold tile.

Tears, prayers, screams.

Another shot, and for some reason, I'm the only one who can't move. Who can't scream. Who can't do anything but watch as the young man's body slumps over his tray.

Finally, I find my voice and scream his name.
---
Do you have anything specific that you want to say to your readers?
My readers are the best! They're always so excited to read something new from me, and I couldn't be more grateful for their support.
How can readers discover more about you and your work?
My website is www.sydneylogan.com. They can check out my bio, the book trailers, the song playlists, and learn all about my books. I'm also really active on Facebook and love to meet new (and old) readers there! We have a street team/book club called Sydney's Sweethearts. If you join, you get exclusive content and sneak peeks before anyone else. There are also member-only giveaways!
Do you have a special time to write? How is your day structured writing-wise?
I don't have a schedule, really. I write when I get the chance, which is usually at night, on weekends, or during school breaks. My colleagues ask what I'm doing for Spring Break, and my answer is always writing. 🙂
Why did you choose to write Romance stories?
I chose romance because I'm a happy-ever-after kind of girl. I especially love first-love stories, which is why I'm considering a YA novel next. I've written both contemporary romance (Lessons Learned) and New Adult (Mountain Charm and Soldier On).
What is for you the perfect book hero?
My perfect book hero is a man who adores the woman he loves. The "nice guy" is somewhat of a myth in contemporary romance. Most romantic heroes are alpha-males, but I want women (and teens) to know that there are nice guys out there. They really do exist!

When you start a book, do you already have the whole story in your head or is it built progressively?
I always have the beginning, climax, and end mapped out. The rest of the story I fill in as I go along.
When and why did you begin writing?
I've written songs, poems, and short stories since I was a kid, but I only started writing professionally about three years ago. I had posted some stories online when one of my readers contacted me. She just happened to be in acquisitions at a small, indie publisher (the original publisher of Lessons Learned). She encouraged me to submit something, and that's how Lessons Learned was born.

See Also
When did you first consider yourself a writer?
When I was in high school, I had a poem published in one of those Who's Who student journals. I also won 1st runner-up in a local writing contest. I actually considered majoring in journalism in college, but I decided to teach instead.

List three books you have recently read and would recommend.
Sadly, my reading time is limited because all I do is write! But I did recently finish reading The Apartment, an erotic romance by Amanda Black. I don't read a lot of erotica, but I loved it! I would also recommend Puddle Jumping by Amber L. Johnson and Eleanor and Park by Rainbow Rowell.
Tell us something that people would be surprised you know how to do.
I can play Texas Hold 'Em, and I'm pretty good at it!

Will you write more about these characters?
I don't think so. I think I left them in a good place. Everyone got their happy-ever-afters, even if it wasn't quite how they imagined it. That's life. 🙂
Excerpt:
Chapter 1
The piercing chime of my phone jerked me awake. Disoriented and shaking, I grabbed my cell and struggled to focus on the screen.
Congratulations, Sarah. You slept a whole three hours.
Falling asleep had been difficult. My restlessness could easily be blamed on yesterday's long drive or spending the night in a new place, but I hadn't slept well in months, so my fitful sleep wasn't all that surprising.
However, I could do without the nightmares.
It was nearly three in the morning when I'd finally arrived in Sycamore Falls. Exhausted from the drive, I'd collapsed on the couch, but sleeping proved impossible. It was just too quiet. I'd grown accustomed to noisy neighbors and blasting car horns.
A change of scenery could be exactly what I need, my therapist had told me.
Sycamore Falls was definitely a change in scenery.
Stiff and sore from the uncomfortable couch, I groaned as I struggled to sit up. My body trembled when my bare feet hit the hardwood floor. I'd forgotten how cold this house could be, even in the summer, but anything with long sleeves would be in a box, and all the boxes were arranged in a chaotic mess in my living room.
Maybe some sunshine will warm me up.
I wrapped my blanket around me and circled the maze of boxes before shuffling toward the kitchen. It was neat and tidy as ever, with its faded yellow wallpaper. Grandma Grace had always loved wildflowers, and I smiled as I gazed at the collection of daisy canisters lining the wall next to the sink. Mom had been a terrible cook, so grandma had taken it upon herself to teach me. Baking was my favorite, and we'd spent countless nights in this kitchen with my apron covered in flour. Grandma had been fine with making a mess—as long as I cleaned it up—and that freedom had led to many honest discussions throughout the years.
"Sycamore Falls has its issues," Grandma had told me one autumn day while teaching me how to make fried apple pies. "We're too sheltered from the rest of the world. Sometimes that's a good thing. Sometimes it isn't. The world can be a scary place. It's good to know you have a safe place to come home to when the world gets a little crazy. You're one of the lucky ones, Sarah. You will always have a home here. Remember that."
I remember.
I opened the front door and was instantly greeted with cool morning air. Eager to see the house in the daylight, I gingerly walked down the steps and onto the sidewalk. Thankfully, Mr. Johnson had hired someone to mow the grass before I arrived, which allowed me to mark one thing off my to-do list.
As I gazed up at the house, I could see my list would be long.
Growing up, I'd thought my grandmother's home was the most beautiful in Sycamore Falls. Majestic and blue with its white shutters and wrap-around porch, it was the place I'd always felt the most comfortable and safe.
Time hadn't been kind to the house, and that was my fault. Mr. Johnson had done his best, but a house needs tender loving care, and its last two years without an occupant had been rough on the place. The chipped siding needed a coat of paint, the flowerbeds resembled a jungle, and some of the shingles needed to be replaced, but none of that mattered.
I felt a small sense of satisfaction and breathed a sigh of relief.
I was safe.
I was home.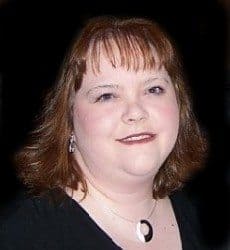 About Sydney Logan:
Amazon bestselling author Sydney Logan holds a Master's degree in Elementary Education. She is the author of three novels – Lessons Learned, Mountain Charm, and Soldier On. Sydney has also penned four short stories and is a contributor to Chicken Soup for the Soul. A native of East Tennessee, Sydney enjoys playing piano and relaxing on her porch with her wonderful husband and their very spoiled cat.
Website | Twitter | Facebook | Goodreads
Disclosure: Some of the links in this post are 'affiliate links.' This means if you click on the link and purchase the item, I will receive an affiliate commission.
Becky
Newly middle-aged wife of 1, Mom of 3, Grandma of 2. A professional blogger who has lived in 3 places since losing her home to a house fire in October 2018 with her husband. Becky appreciates being self-employed which has allowed her to work from 'anywhere'. Life is better when you can laugh. As you can tell by her Facebook page where she keeps the humor memes going daily. Becky looks forward to the upcoming new year. It will be fun to see what 2020 holds.