Wake Up On Time with Rise-n-Shine for Back to School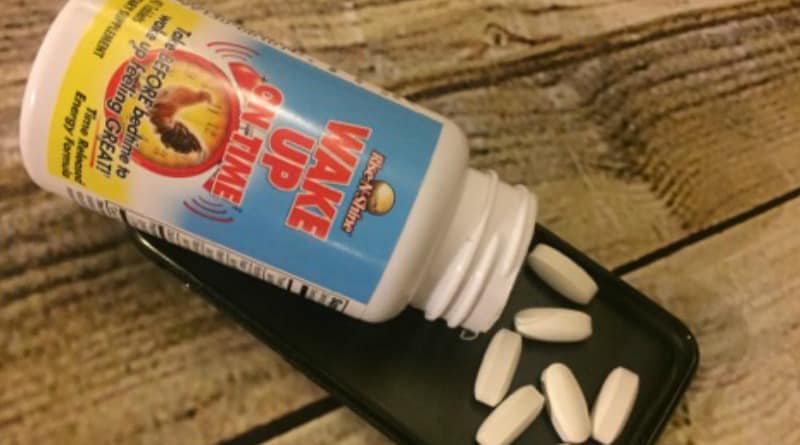 Becky
Newly middle-aged wife of 1, Mom of 3, Grandma of…
When I was first offered to try Wake Up on Time from Rise-n-Shine I will be honest, I was like oh ok.  (Sorry Jennifer).  But I decided it was worth a try.  I mean what could it hurt? I have never been a 'morning' person.  I was always a night owl.  I could stay up until 2 or 3 am working on websites and sometimes I could get myself out of bed by 8, or earlier… but I digress.
My Sleep Issues
Now that I am going on 49 in January, I am tired by 10 or 11 pm and then I struggle to get out of bed.  Part of it is in these past few months I have been having trouble sleeping, or should I say falling asleep.  If it isn't my husband's snoring or grinding his teeth, it was our bed, or the dogs incessantly chewing themselves.  It has to be a habit (the dogs that is) because they do not have fleas.  I even some nights and will myself to go to sleep. Please, please go to sleep.
Well, we fixed the bed issue.  I was lucky enough to win a King size mattress, you know one of those ones that are like sleeping on a cloud? No springs, no noise if I get up off the bed or if I come back to bed and lay down after walking around.  So that is not my issue, I have tried sleeping aids over the counter, and I have come to decide it is my dreams.  That in itself could be its own post.  So what could it hurt to try Wake Up on Time from Rise-n-Shine? Nothing I decided.  I have been using this product for over a week as I wanted to make sure my physician was ok with me taking it with some other medications I was taking and she agreed it was ok to try.  I have been waking up feeling refreshed even if I struggle to get to sleep at night. So I approve!
Disclosure: I received product in exchange for my honest opinion, ALL opinions are my own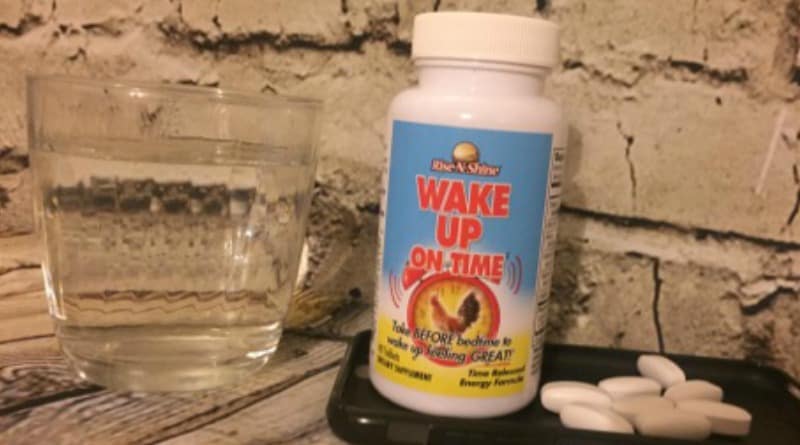 Wake Up on Time
When Wake Up on Time arrived I was a bit nervous.  I couldn't figure out even though it is a time release formula how it would know when it was time for me to wake up.  I did read the ingredients as it is always important to do that whenever you are going to try something new.
What is in Wake Up on Time?
Wake Up On Time contains the highest quality ingredients.
Which include:
Vitamin B6
Vitamin B12
Guarana Seed Extract (100 mg caffeine)
L-Tyrosine, Eleuthero Root extract and more!
Wake Up On Time is designed to help you wake up in the morning feeling great and full of energy. I was a bit unsure the first night so I took just one as it says one to two each night before bed.  Since it is formulated to time release you do not have to worry about it keeping you awake.
Advantages:
SAFE AND RELIABLE: Made with the highest quality ingredients and manufactured in GMP certified and FDA registered facilities.
100% SATISFACTION GUARANTEED: They stand by their products 100%. They never compromise on quality or service, to guarantee excellence in providing you with a superior product. This alone won me over because if a company will not stand behind their product, why should I?
DIRECT FROM THE MANUFACTURER – Don't be fooled by the imitators!
Made in the USA and Non-GMO
This is great for people that struggle with waking up in the morning, college students that find they might have to stay up later but still need to get up in the morning for that early class and the like.  You can purchase one bottle to try, take advantage of their buy 2 get 1 free which is going on right now (as of this post) or get yourself on auto-ship. You can visit their website below.
Website | Facebook | Twitter | YouTube | Pinterest | Instagram
**Also until 9/15 Rise-N-Shine is offering  (1) one  FREE bottle of Wake Up On Time with any purchase the code is Willis
Disclosure: I received product in exchange for my honest opinion, ALL opinions are my own
Becky
Newly middle-aged wife of 1, Mom of 3, Grandma of 2. A professional blogger who has lived in 3 places since losing her home to a house fire in October 2018 with her husband. Becky appreciates being self-employed which has allowed her to work from 'anywhere'. Life is better when you can laugh. As you can tell by her Facebook page where she keeps the humor memes going daily. Becky looks forward to the upcoming new year. It will be fun to see what 2020 holds.