Wake Up on Time, Stay Up All Day, Sleep Tight All Night by Rise-n-Shine
Becky
Newly middle-aged wife of 1, Mom of 3, Grandma of…
Disclosure:  I received the products below from Rise-n-Shine in order to facilitate my review.  All opinions are my own.
A couple months ago I did a review for Wake Up On Time, you can read my review here. Now I would like to introduce you to "Stay Up All Day" and "Sleep Tight All Night".  Maybe it is just me but I seem to have issues all the way around when it comes to being tired.  Either I go to bed at night and just lay there, or midday I get tired and find myself yawning.  Not everyday mind you, but enough that it was creating issues getting my work done.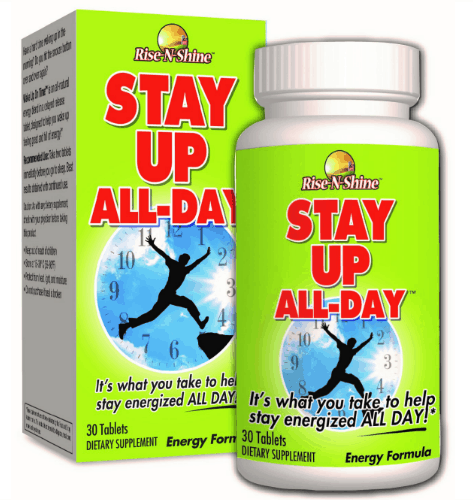 Enter "Stay Up All Day" from Rise-n-Shine
What I love about Stay Up All Day from Rise-n-Shine is that it doesn't take long to go into effect.  The other day I was trying really hard to stay awake and then I thought hey self, let's try that Stay Up All Day.  So I read the directions and it said to take 1.  So I did and within 1/2 hour I felt more focused and awake.  I did not feel jittery like some types of products make you feel that are out there.  I also love that it is 100% natural.
It also did not affect me when it was time to go to bed.  So if you are struggling with the midday yawning and dozing feeling, you will want to try this.
Remember it is a natural, maximum energy blend.  It is designed to energize you throughout the day.  If you are wanting an afternoon pick-me-up or a late night wake up call or even some extra oomph in your workouts.  It will definitely give you that extra boost that everyone who leads a busy life needs.
You won't experience the midday crash, it has no calories or sugar in it.
Rise-N-Shine's Stay Up All Day is a natural, maximum energy blend, designed to help energize you throughout your busy day! Whether you are looking for an afternoon pick-me-up, a late night wake up call, or some "umph" in your workouts, Stay Up All Day will give you the extra boost that everyone so desperately craves!
What is in Stay Up All Day
Stay Up All Day Contains a Synergistic and Proprietary Blend Guarana (36% caffeine), Vitamin B12, Vitamin B6, Siberian Ginseng, Thiamin, Riboflavin, Niacinamide and L-tyrosine. 1 Tablet per serving.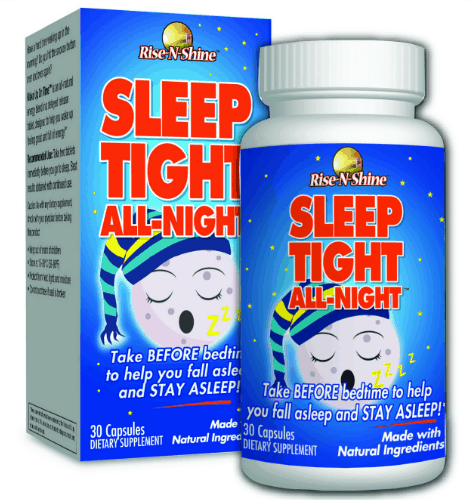 Next Sleep Tight All Night
Honestly, I have issues sleeping more than I do staying up all day, but sometimes they coincide.  Also not because I took the aforementioned product.  This is an issue I have dealt with on and off most of my adult life.  There have been nights I lay there and watch the clock go from 1 am to 2 am then 2:30 am, you get the picture.  So after trying many different over the counter products, I felt I didn't have anything to lose by trying Sleep Tight All Night.
I actually take it right before I go to bed because then I have a half an hour-ish to lay there and do my nightly thinking, relax and I actually fall asleep!  No feeling groggy or sluggish upon waking, and if I have to get up in the middle of the night to answer nature (lol) I don't feel off balance or anything like that.   Since it is natural I don't worry about it hurting me or getting addicted to it. It is only recommended to be taken for occasional sleeplessness so please consult a physician if you have more issues than that.  I mainly like that I don't have to take a prescription sleep pill.
What is in Sleep Tight All Night
Sleep Tight All Night contains 3 mg of Melatonin per serving, plus a Proprietary Blend of Vitamin B6, Magnesium, Valerian Root, Hops Flower Powder, Chamomile Flower Powder, and Passion Flower Powder.
They will make great gifts for under the tree or in someone's stocking.
From now until Friday, Jan 5, 2018, at midnight you can get 50% off your entire order using this code: Willis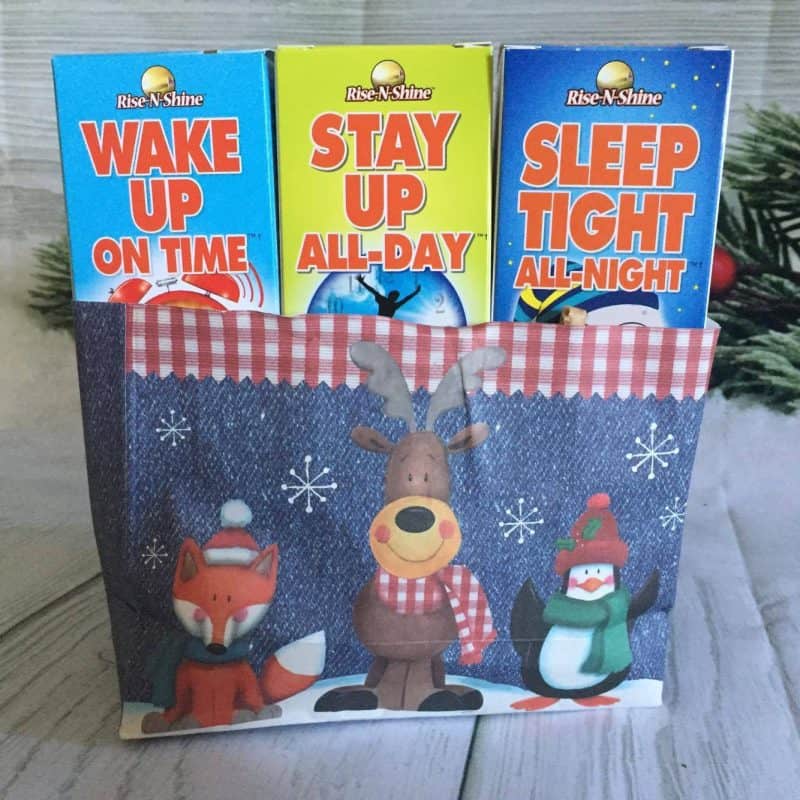 See Also
Website | Facebook | Twitter | YouTube | Pinterest | Instagram
Becky
Newly middle-aged wife of 1, Mom of 3, Grandma of 2. A professional blogger who has lived in 3 places since losing her home to a house fire in October 2018 with her husband. Becky appreciates being self-employed which has allowed her to work from 'anywhere'. Life is better when you can laugh. As you can tell by her Facebook page where she keeps the humor memes going daily. Becky looks forward to the upcoming new year. It will be fun to see what 2020 holds.