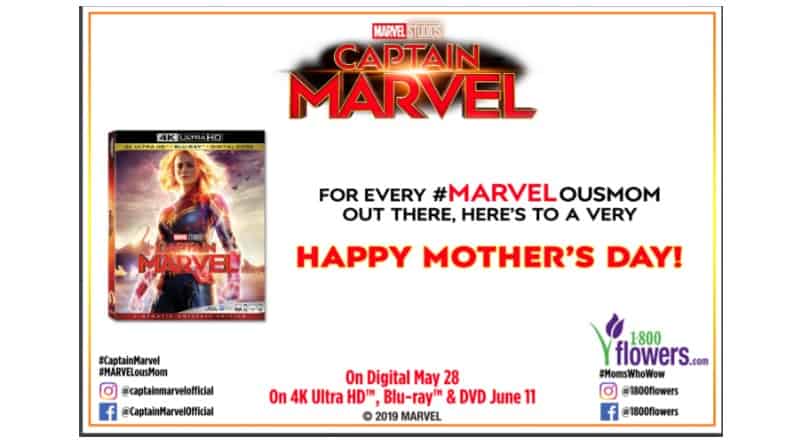 Becky
Newly middle-aged wife of 1, Mom of 3, Grandma of…
Disclosure:  I received 2 dozen red roses from the #CaptainMarvel bouquet, courtesy of 1-800-FLOWERS, inspired by Captain Marvel's launch onto Digital May 28 and Blu-ray June 11! #MomsWhoWow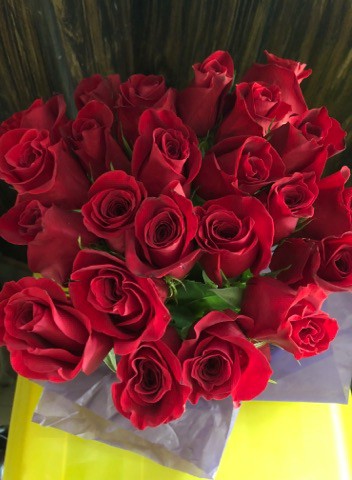 When it comes to being a Mom I think I know the answer to this question quite well.  As I have had a Mom, am a Mom and am now "Mom/Grandma-ing" helping our oldest son with his own 2 kids.
When I was a little girl I always knew I wanted to be a Mommy.  Maybe part of it was because most little girls played with baby dolls and you just figured that someday that is what you would be.  It seemed natural that you grew up, graduated high school, possibly went off to college then got married and had children. (I know some are reading this saying are you serious? how old are ya 80?).  No, I am not but it was just what I thought as a little girl.
Instead of boring you with all of the details of "then" I will say I did 1 year of college, an 8-month business institute school then I got married in August of 1989, had our first son March of 1991, second son in May of 1994, and was left by my ex-husband in June of 1994 when our youngest was 2 weeks old and my oldest was 3 years-old.
You figure being a Mommy was hard enough let alone just having a new baby and a very active 3-year-old, and now no husband to help out.  Were there days I wanted to give up? Yes, there was.  Were there days I questioned my decisions and if I was good enough to do the task that was now my life?  Yes, I did.
Looking back I realize it was my role of being a Mommy.  Possibly it wasn't what I had envisioned when I was a little girl.  It definitely wasn't what I grew up in environment wise.  I had 2 parents that have now (present day) been married for over 50 years. I am blessed to have had a Mom that even though I didn't always agree with her (or her with me for that matter), supported my decisions and was encouraging.
So to me being a Mom is:
 Even when the going gets tough, you keep on going.
Being a Mommy/Mom/Mother is the toughest yet most rewarding task you will ever have to conquer, and believe me I am not sure we ever conquer it but we do not give up.
Even when you feel like you can't do it for 1 day more, you can.
Mommy's uplift and encourage.  They do not put their children down for their shortcomings but instead figure out a way to help that child overcome.
No matter how hard it gets, you don't leave.  (even when you really don't think you can do it anymore).
Some children do not have a choice and may lose their Mommy to a disease or accident.  This child needs to still have someone in their life that can help with the Mommy things.  Dads can do the best possible and I know of a few that have been able to do it really well. But a Mother's love is something a child should always have.  That soft place to land.  There is just something about a Mommy.
What Moms do you know who are #MomsWhoWow ?   
I received this beautiful #CaptainMarvel bouquet from 1800Flowers below.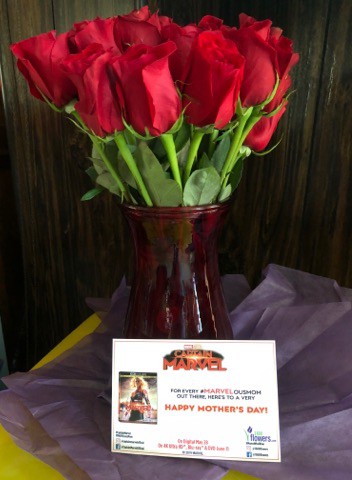 Becky
Newly middle-aged wife of 1, Mom of 3, Grandma of 2. A professional blogger who has lived in 3 places since losing her home to a house fire in October 2018 with her husband. Becky appreciates being self-employed which has allowed her to work from 'anywhere'. Life is better when you can laugh. As you can tell by her Facebook page where she keeps the humor memes going daily. Becky looks forward to the upcoming new year. It will be fun to see what 2020 holds.