10 Things You Might Not Have Known About Lady and the Tramp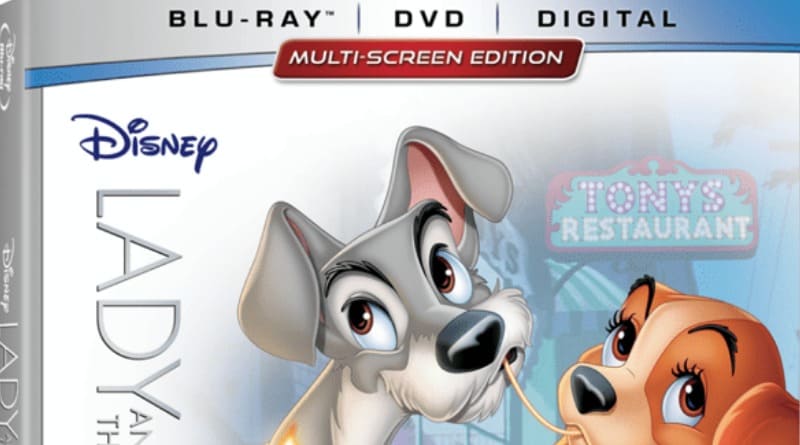 Becky
Newly middle-aged wife of 1, Mom of 3, Grandma of…
"Lady and the Tramp" Wags Its Way into the Walt Disney Signature Collection  on Digital Feb. 20 and on Blu-ray™ Feb. 27
**Disclosure:  I received a copy of Lady and the Tramp in order to facilitate my review, all opinions are my own.
1.Walt Disney personally came up with the name "Tramp."
In early drafts, the scruffy male dog was called Homer, Rags, Bozo, and even just Mutt. Walt himself scratched out "Mutt" in one of the scripts and penciled in "Tramp." Ward Greene and the movie's distributors protested, feeling the name was a little too risque—but Walt Disney usually got his way, and this was no exception. So Tramp is the name that stuck.
2.  The real Tramp was a girl.
There was plenty of inspiration for Lady,  as some of the people that were a part of the film had spaniels they brought in as models.  They did, however, have a more difficult time finding their "Tramp".   After one of the writers had seen a dingy type dog roaming the neighborhood, he failed to get a hold of the dog.  When he didn't see the dog again, the writer happened to check the pound, where he found his perfect Tramp. It was then that Disney adopted the dog, who had apparently been just hours away from "taking the long walk," and let her live in a private area behind Disneyland.
3.  It was inspired by a real dog named Lady.
In 1937, Disney writer Joe Grant showed Walt Disney some sketches he had done of his Springer Spaniel, Lady. Walt was impressed and told Joe to create a full storyboard. Like her fictional counterpart, the real-life Lady was learning how to deal with her owners' new baby, which served as the main inspiration for Grant's plot. In the end, Walt wasn't thrilled with the storyline, and the idea was scrapped. After several years went by, Disney came across a story by Ward Greene in Cosmopolitan titled "Happy Dan, the Whistling Dog." He felt that the two ideas could be combined into one to create a stronger story, and asked Greene to come up with one.
4.  Walt thought the animators lost focus.
It was 1937 when the idea for the story started, and the rights to "Happy Dan" were purchased in the early 1940s, so makes one wonder why it took til 1955 for the movie to come out.   First Disney had switched its focus a little bit during WWII by working on propaganda type films.  At one point Disney felt that his animator team had lost their feel for the characters in Lady and the Tramp.  So what did he do? he removed them from working on Lady and the Tramp and had them switch to Sleeping Beauty for about 6 months. This must have worked as having a change of scenery the writers came back and returned to the dogs with a new enthusiasm.
5.  A gift given to Walt's wife once inspired a scene in the movie.
For Christmas one year, Walt bought his wife, Lillian, a Chow puppy. Instead of just trotting it out, Disney placed the puppy into a hatbox and gave it to his wife with the gift. She was disappointed at first as Lillian preferred to choose her own hats, she did quickly recover when the pup emerged. They named him Sunnee.
6.  The spaghetti scene almost didn't happen.
Although it is one of the most famous scenes ever, the pasta scene between Lady and the Tramp almost didn't happen.  Walt was against it because even though he wanted the dogs to have some human emotions, he just couldn't get his head around two dogs being romantic over sharing a strang of spaghetti.  Disney eventually gave in after animator Frank Thomas put together a rough draft of how it would work.
7.  It was the first animated film to be made in CinemaScope.
The widescreen movie format was brand-new technology at the time. It was meant to help the viewer get a broad scope of landscapes and scenery, not everyone thought the format suited the movie so well. A New York Times critic reported, "The sentimentality is mighty, and the use of the CinemaScope size does not make for any less aware of the thickness of the goo. It also magnifies the animation, so that flaws and poor foreshortening are plainer."
8. Trusty the Bloodhound almost didn't make it.
Toward the end of the movie, Trusty the bloodhound finds himself on the wrong end of the dogcatcher's wagon. Though we later see him enjoying Christmas Day with his friends, it wasn't supposed to end so happily. There are two stories as to why Trusty got a reprieve: one version is that Walt had gotten a lot of criticism for killing Bambi's mother, and he wasn't eager to repeat the experience. The other is that he saw Peggy Lee crying in the studio one day, and when he asked her why, she declared that the scene was just too sad. He argued that the movie needed the drama, but Lee pleaded with him to let Trusty live.
9.  Many of the characters went through name changes.
The sinister Siamese cats had been part of the script since Joe Grant's earliest versions, but instead of Si and Am, they were originally called Nip and Tuck. They belonged to an equally sinister mother-in-law, then called "Mumsie," who later evolved into Aunt Sarah. And Jim Dear and Darling were once known as "Mr. and Mrs. Fred."  Jim Dear and Darling are much more fitting than Mr. and Mrs. Fred but of course, we have never known them any other way.
10. A song called "I'm Free" was taken out.
After the Tramp character was further developed, it was decided that the tune no longer fit his shifty character as well as it once had. It was released as an extra when the movie came out on Blu-ray in 2012.
"Lady and the Tramp" Wags Its Way into the Walt Disney Signature Collection  on Digital Feb. 20 and on Blu-ray™ Feb. 27
Disclosure: The link below is an affiliate link.  This means that if you purchase through it I will get a small commission which does not affect the cost of your purchase. 
Preorder or Order Your Copy today! here
You can read more about the movie in my announcement post here.
Disclosure: Some of the links in this post are 'affiliate links.' This means if you click on the link and purchase the item, I will receive an affiliate commission.
Becky
Newly middle-aged wife of 1, Mom of 3, Grandma of 2. A professional blogger who has lived in 3 places since losing her home to a house fire in October 2018 with her husband. Becky appreciates being self-employed which has allowed her to work from 'anywhere'. Life is better when you can laugh. As you can tell by her Facebook page where she keeps the humor memes going daily. Becky looks forward to the upcoming new year. It will be fun to see what 2020 holds.