April Fool's Forever!: 5 Awesome Gag Gifts for the Ultimate Prankster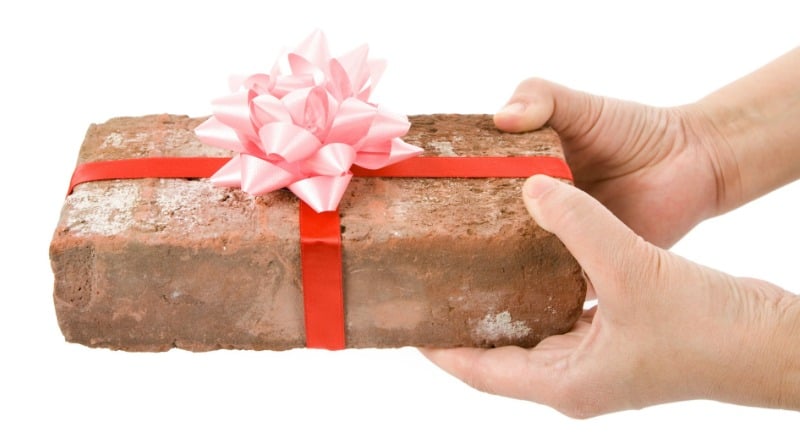 Becky
Newly middle-aged wife of 1, Mom of 3, Grandma of…
Sometimes, you've got to prank the prankster. You can do this perfectly with gag gifts.
They'll appreciate the joke, they can reuse the gift for a prank of their own, and we guarantee that their respect for you will increase significantly. But what are some funny gag gifts that aren't the same old whoopee cushion or a squirting flower?
Keep reading for some of the best gag gifts out there.
1. Giant Spitball Gun
Spitballs are a gateway prank. Remember shooting spitballs at a family dinner at TGIFs or when you were at the mall with your middle school friends? Chances are your prankster friend has fond memories of doing just that when they were a kid (or, knowing them, since they've been an adult, too).
Make their childhood and adulthood dreams come true with this giant spitball gun. This toy uses a full roll of toilet paper to make humungous wet wads of toilet paper shoot up to 30 feet away!
2. Giant Flask
Whether it's a holiday or their birthday, you're going to want to have a celebratory drink. Make it a quick and easy laugh by getting them a giant flask. It comes in a "small chuckle" 12 oz size, a "laugh out loud" 64 oz (half a gallon!) size, and a "tears in your eyes from laughing so hard" 128 oz (a full gallon) size.
However, be sure to drink responsibly.
3. Edible Insects
Yes, these exist. You can literally buy a bag of dried bugs that you can eat.
Not only is this a funny gag gift, but it's the perfect reusable prank too. Imagine this: your friend could make the bag say "chips" or "candy", have someone reach in for a nice snack, and have them freak out when their hand touches a real mealworm instead of a gummy worm.
4. Toilet Monster
If your friend is a fan of scare pranks, this gift is perfect. A toilet monster attaches to the inner lid of the toilet so when they go to lift the lid, they'll be greeted with a scary red and pink monster face.
They'll be able to reuse this one again and again as a prank. If you don't want to get pranked with this one yourself, maybe think of another gift to give them.
5. Squirt Wee Pee Peeing Toys
These funny little toys are definitely no Whizzinator, but they're the next best thing. They're essentially water guns, but in the shape of boys who apparently can't hold in their pee; pull down the shorts and watch the "water" flow.
These make funny trinkets for display, toys for playing with, or just for a funny one-off gag gift.
Are You Prepared to Be Pranked by Your Own Gag Gifts?
The risk with these gag gifts is that your prankster friend is going to be dying to get you back. Not only that, but you've now supplied them with the perfect pranks to get you back with.
Still don't think you've found the perfect present? Check out our other article that goes over gift options for the person who has everything.
Becky
Newly middle-aged wife of 1, Mom of 3, Grandma of 2. A professional blogger who has lived in 3 places since losing her home to a house fire in October 2018 with her husband. Becky appreciates being self-employed which has allowed her to work from 'anywhere'. Life is better when you can laugh. As you can tell by her Facebook page where she keeps the humor memes going daily. Becky looks forward to the upcoming new year. It will be fun to see what 2020 holds.