At the Water's Edge by S. McPerson Excerpt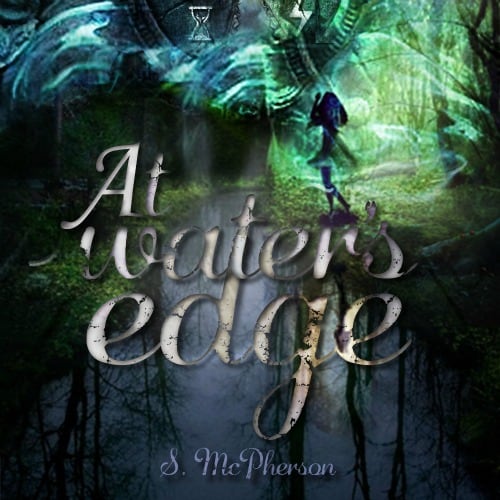 Becky
Newly middle-aged wife of 1, Mom of 3, Grandma of…
At the Water's Edge by S. McPerson Excerpt
I tuck my hands into my coat pockets. It's astonishing how cold open spaces are when it's night time. Milo has transported us to a dusty landscape they tell me is Melaxous and we are making our way to something they describe as 'the sleeping areas'. Milo warned me that teleporting would feel a little strange and he was right. It was colder than I would have thought and my body felt almost elastic. I am only just starting to get over the sensation. 'This is bad,' Yvane says, shaking her head. We have been walking for some time now and they are all still fumbling for a way to change the past but by the sounds of it, that's not something any of them can do. This makes one thing certain: there is no way of trading Lexovia and I back for another fortnight and the Courts of Coldivor; the rulers of all seven empires, must absolutely not find out, and more importantly, neither can the Vildacruz, though they don't tell me why.
I hear them chatter but don't really listen to what they are saying. I am locked in my mind, trying and failing to process everything. I see the truth with my own eyes but still find it difficult to trust, shaking my head as I gaze up at the sky. There are stars; just like Earth; there's a moon; just like Earth but I am acutely aware that I am no longer on Earth; am I? These stars seem larger, brighter and definitely have a golden glow. The moon also seems brighter, with a hint of silver but it is the same half-moon as in Islon. I frown; I don't have a clue about anything anymore.
At Water's Edge by S. McPherson: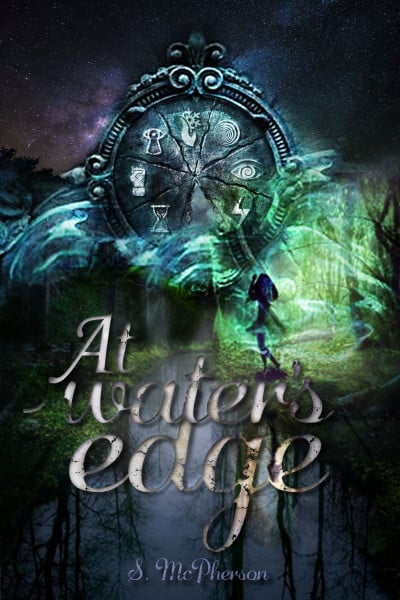 Publisher: by S. McPherson Books (November 10, 2015)
Category: Romance/Fantasy
Tour Dates: October/November, 2015
ISBN: 978-0-993360503
Available in: Print & ebook, 347 Pages
'At Water's Edge', tells the tale of two lovers trapped in two different worlds. One world is Earth, and the other is Coldivor; a dimension full of magic and danger. When Dezaray Storm is mistaken for the most powerful sorceress of this other realm her life changes forever. She finds love in the arms of Milo Thor, but this love can also lead to her death and the destruction of seven empires.
'At Water's Edge' is book one in the 'Water Rushes' series.
Praise for Chapters One-Three of 'At Water's Edge' by S. McPherson:
"Loved the teaser! It pulled me in and made me want to read more. Your writing style is clean, uncluttered and brimming with tension. Well done!"
"You got a lovely and interesting story, hope to read more from you."
"I liked it a lot! While I was reading it, I was able to be drawn into the story easily by your words. A stormy night like you were describing sets the perfect scene for a suspenseful fantasy novel."
"I really enjoyed reading your first chapter. It was gripping. The descriptions are well written."
About S. McPherson:
S. McPherson is a young British expat living in Dubai and working as a Foundation Stage 1 (FS1) teacher. When she was younger S. McPherson traveled a lot with her family, though, no matter how often her surroundings changed, one thing never did. And this was her love of writing and dreaming up the impossible. After combining her two loves of teaching children and writing, S. McPherson self-published her first book; a rhyming verse children's story titled 'Shania Streep wanted to Sleep'. Thus fuelling her love of seeing her work in print and sharing her stories. This is S. McPherson's first novel.
Website: http://www.smcphersonbooks.com/
Facebook: https://www.facebook.com/Smcphersonbooks
Twitter: https://twitter.com/SMcphersonBooks
Pinterest: https://www.pinterest.com/smcphersonbooks/
Follow the 'At Water's Edge' by S. McPherson Tour:
Teddy Rose Book Reviews Oct 5 Tour Kick off & Giveaway
Through Eyes Of A Book Goddess Oct 6 Review, Excerpt & Giveaway
Sunshine Book Promotions Oct 7 Excerpt, Interview, & Giveaway
Cassandra M's Place Oct 9 Review & Giveaway
Infinite House of Books Oct 12 Interview
Tome Tender Oct 13 Review & Giveaway
Binding Addiction Oct 15 Excerpt
Father, Writer, Logistical Wizard Oct 19 Review
Bookishly Me Oct 20 Review & Interview
Buffy's Ramblings Oct 21 Review & Excerpt
Rockin' Book Reviews Oct 22 Review & Excerpt
Pomegranate Radio Oct 23 Review
Books, Authors, Blogs Oct 26 Review
What U Talking Bout Willis? Oct 27 Guest post & Excerpt
Books, Books, & More Books Oct 29 Review
The Writing Desk Oct 30 Guest Post
Little Read Riding Hood Nov 2 Review, Excerpt & Giveaway
Happy Tails and Tales Nov 4 Review & Giveaway
I Can Has Books? Nov 10 Review
Deal Sharing Aunt Nov 11 Review
Avenue Books Nov 12 Interview
Ashley's Bookshelf Nov 18 Review
Alpha Book Club Nov 23 Spotlight
Teatime and Books Nov 24 Interview
A Room Without Books is Empty Nov 25 Review
Self-Taught Cook Nov 27 Excerpt
Universal Creativity Inc. Nov 30 Interview
Becky
Newly middle-aged wife of 1, Mom of 3, Grandma of 2. A professional blogger who has lived in 3 places since losing her home to a house fire in October 2018 with her husband. Becky appreciates being self-employed which has allowed her to work from 'anywhere'. Life is better when you can laugh. As you can tell by her Facebook page where she keeps the humor memes going daily. Becky looks forward to the upcoming new year. It will be fun to see what 2020 holds.