DC Books Holiday Gift Guide for 2019 Must Haves for Under the Tree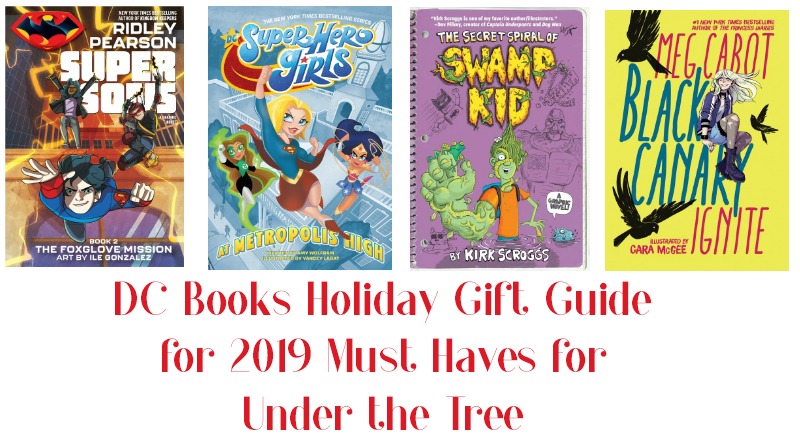 Becky
Newly middle-aged wife of 1, Mom of 3, Grandma of…
Disclosure:  I received the DC Books listed in this post in order to facilitate my review.  All opinions are my own.
DC Books Holiday Gift Guide for 2019
Reading is such an important part of a child's life.  If they can be read to or read themselves they can be transported into another 'world' where they become a part of the story.  Sometimes it gives them a break from everyday life or an escape from their reality.  I would recommend the books below for this holiday as must-read books for Middle School-aged children.
Title: SUPER SONS: THE POLARSHIELD PROJECT
Details: Jon Kent and Damian Wayne are opposites in every way except one—they are the sons of the World's Greatest Heroes! To uncover a global conspiracy, this unlikely dynamic duo will need to learn to trust each other and work together to save the Earth. But who is the mysterious Candace? And what secrets does she hold that could be the key to everything?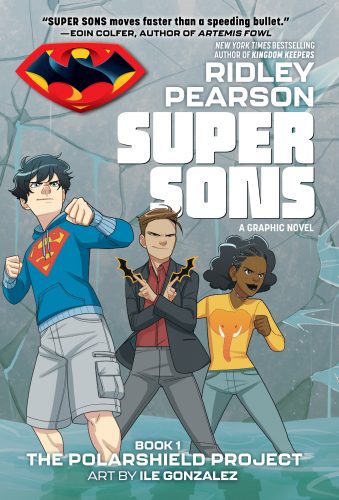 The polar ice caps have nearly melted away, causing devastation to coastal cities. Erratic, deadly weather forces everyone inland, tearing families apart. Earth is facing its greatest crisis—and Superman and Batman are nowhere to be found.
From New York Times, best-selling author Ridley Pearson (Kingdom Keepers) and artist Ile Gonzalez comes the first original graphic novel in an epic three-part series that follows the Super Sons of Superman and Batman as they struggle to find their place in a rapidly changing world!
On-Sale Date: April 2, 2019
Purchase on Amazon (my affiliate link)
Title: DEAR JUSTICE LEAGUE
Details: The greatest heroes in the DC Comics universe, the Justice League, answer mail from their biggest fans–kids!–courtesy of Michael Northrop, New York Times best-selling author of TombQuest, and artist Gustavo Duarte.
Does Superman ever make mistakes? What was Wonder Woman's eleventh birthday like? Does Aquaman smell like fish? In this new middle-grade graphic novel, iconic heroes are asked questions both big and small, and when they are not busy saving the world, the Justice League even finds time to respond. Their honest and humorous answers will surprise and delight readers of any age, as it turns out that being a superhero is not too different from being a kid. 
Full of feats, follies, and colorful illustrations, DEAR JUSTICE LEAGUE gives readers the inside scoop into everyday heroics, no matter who wears the cape!
On-Sale Date: August 6, 2019
Purchase on Amazon
Title: SECRET SPIRAL OF SWAMP KID
Details: Warning! Unless you have express permission from young Russell Weinwright to access his personal journal, do not read any further. This blurb is strictly off-limits! Seriously, we mean it.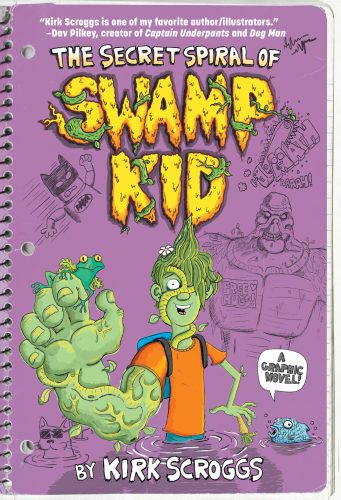 Okay, if you are still with us, here is what we can share: Russell is a middle schooler; he excessively doodles in his spiral notebook; he has two best friends, Charlotte and Preston; he is not-so-great at sports, and he is pond scum. Nicknamed "Swamp Kid" by his classmates, Russell has algae for hair, a tree trunk of a right arm, webbed toes, and parsnip for a thumb. Also, Russell's favorite meal is sunlight. Also, a frog lives in his arm. 
In this notebook, Russell details, in both hilarious text and green-tinted illustrations (complete with ketchup stains!), what it's like to be different, to be comfortable in his own skin (no matter how slimy), to discover his true talents, to avoid the intense stare of Mr. Finneca (his suspicious science teacher), and to find humor in the everyday weird. 
This is THE SECRET SPIRAL OF SWAMP KID by writer and illustrator Kirk Scroggs, and you'll never look at the bayou the same way again.
On-Sale Date: October 1, 2019
Purchase on Amazon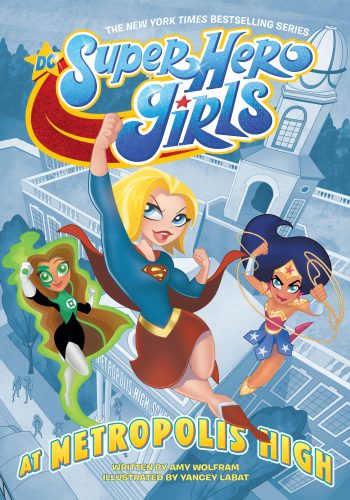 Title: DC SUPER HERO GIRLS: AT METROPOLIS HIGH
Details: A new era of DC Super Hero Girls begins in DC SUPER HERO GIRLS: AT METROPOLIS HIGH! When Batgirl, Wonder Woman, Supergirl, Green Lantern, Bumblebee, and Zatanna are continually late to class because of their crime-fighting, they are sentenced to finding an after-school club for a whole week … or else they'll be suspended!
But finding a club is not as easy as it looks, and when the girls keep finding themselves kicked out of the clubs they like, they must think outside of the box and go outside their comfort zones to avoid suspension. Just when they thought secret identities and balancing school with super-heroics had enough challenges!
DC SUPER HERO GIRLS: AT METROPOLIS HIGH continues to develop the relationships forged throughout the beloved DC Super Hero Girls series. This story is perfect for ages 6-10 and a great entry point into the DC Universe and graphic novels.
On-Sale Date: October 9, 2019
Purchase on Amazon (my affiliate link)
Title: SUPER SONS: THE FOXGLOVE MISSION
Details: New York Times best-selling author Ridley Pearson returns to the world of Super Sons, where the adventure increases and the mystery deepen as the heroes investigate The Foxglove Incident!
In the aftermath of The Polarshield Project, Jon Kent and Damian "Ian" Wayne, the respective sons of Superman and Batman, are on the run with their new teammate, Candace. With their hometown in ruins, and in the absence of their heroic fathers, Jon and Ian have big capes to fill. Meanwhile, Candace follows clues that hold the key to her destiny, and her journey is filled with twists and turns as she unlocks powerful abilities she never knew existed. While their quests threaten to divide the three of them, it's only through teamwork and trust that they can succeed. 
THE FOXGLOVE MISSION is the rare sequel that takes everything readers love about Super Sons and raises the stakes without losing any of the charm or sense of wonder. Join Ridley Pearson and artist Ile Gonzalez as they introduce new settings, new allies and villains, and all-new adventure in this latest action-packed chapter!
On-Sale Date: October 29, 2019
Purchase on Amazon (my affiliate link)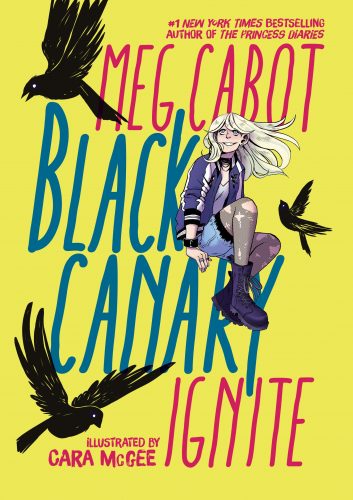 Title: BLACK CANARY: IGNITE
Details: From the #1 New York Times best-selling author of The Princess Diaries comes BLACK CANARY: IGNITE, Meg Cabot's first graphic novel! With expressive and energetic art by Cara McGee to match the trademark attitude and spunk of Meg Cabot's characters and dialogue, this mother-daughter story embraces the highs and lows of growing up without growing out of what makes us unique.
Thirteen-year-old Dinah Lance knows exactly what she wants, who she is, and where she's going. First, she'll win the battle of the bands with her two best friends, then she'll join the Gotham City Junior Police Academy so she can solve crimes just like her dad. Who knows, her rock star group of friends may even save the world, but first they'll need to agree on a band name. 
When a mysterious figure keeps getting in the way of Dinah's goals and threatens her friends and family, she'll learn more about herself, her mother's secret past, and navigating the various power chords of life. 
BLACK CANARY: IGNITE is an inspirational song that encourages readers to find their own special voices to sing along with Black Canary!
On-Sale Date: October 29, 2019
Purchase on Amazon (my affiliate link)
Looking more for young adult or adult titles? I have linked them below for more from the DC Books Holiday Gift Guide.
Please note all links below are my affiliate links.
Young Adult Titles
Adult Titles
Which books from the DC Books Holiday Gift Guide will be under your tree this year?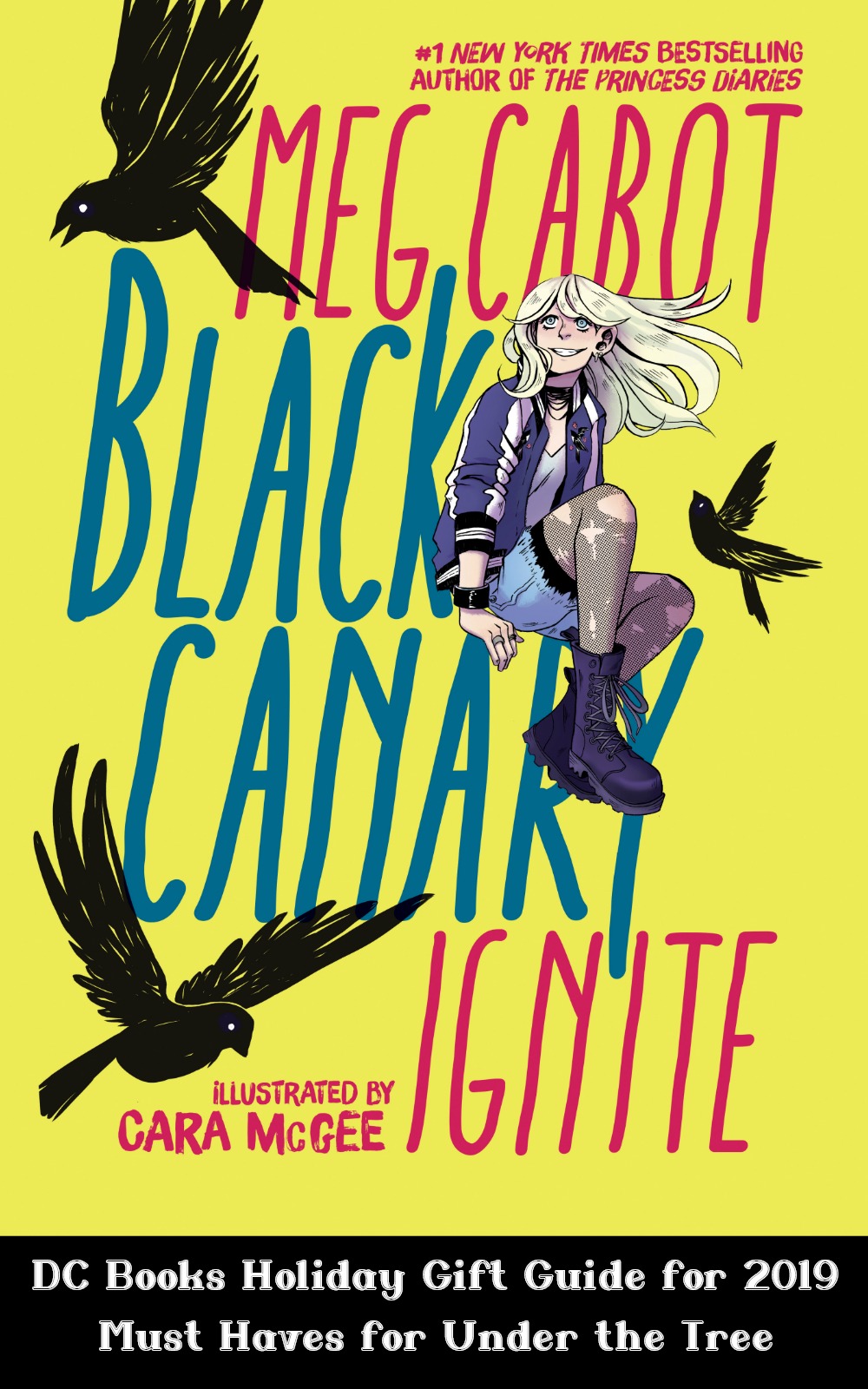 Disclosure: Some of the links in this post are 'affiliate links.' This means if you click on the link and purchase the item, I will receive an affiliate commission.
Becky
Newly middle-aged wife of 1, Mom of 3, Grandma of 2. A professional blogger who has lived in 3 places since losing her home to a house fire in October 2018 with her husband. Becky appreciates being self-employed which has allowed her to work from 'anywhere'. Life is better when you can laugh. As you can tell by her Facebook page where she keeps the humor memes going daily. Becky looks forward to the upcoming new year. It will be fun to see what 2020 holds.