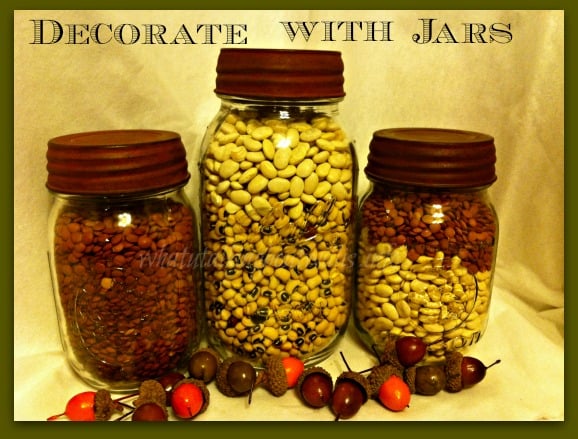 Becky
Wife, mother, grandma, blogger, all wrapped into one person, although…


Decorate with Jars
Do you like to decorate? If not, is it because you can't afford to? Or you don't think you can afford to? When I got married 18 years ago, I had a few decorations but not like I do now. My problem was I didn't have the money and didn't realize how I could really decorate without spending a lot of money. My theme through my house is more primitive/country-which I know may not be to some people's liking. But my ideas aren't limited to the country theme. Also some of my ideas work for a fall-ish theme or for Thanksgiving.
What Will You Need to Create the Above Look.. or something close to it!
I used:
1-Quart Mason Jar and 2-Pint Mason Jars
1 1/2 bags or so of dried split peas (these have aged a bit color wise)
1/2 bag or how many you want dried black eyed-peas
1 bag or so of dried Navy type beans
Lids-these can be from old candle jars or you can usually buy them for cheap at a country or craft store.
Fake acorns that I got through an online craft store.-you could probably get these at Hobby Lobby or Michaels.
Depending on the color combination you are looking for; you can use dried kidney beans, dried black beans, dried lentils, etc.
I have these jars on a nice cupboard shelf and they look nice with my other decorations.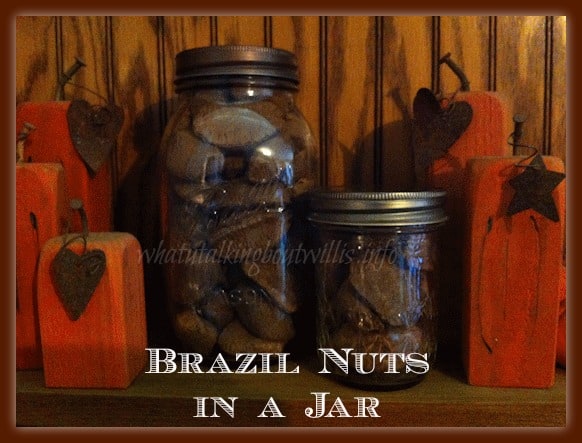 Brazil Nuts in a Jar
The above idea for the jars is somewhat the same, just a different contents. I am not sure about you but at Christmas/Holiday time, we get bulk mixed nuts, but the Brazil nuts are ALWAYS left behind…always! So I hated to waste them because I did pay money for them ( I secretly think grocery stores put them in there to make your nut purchase more expensive. )
See Also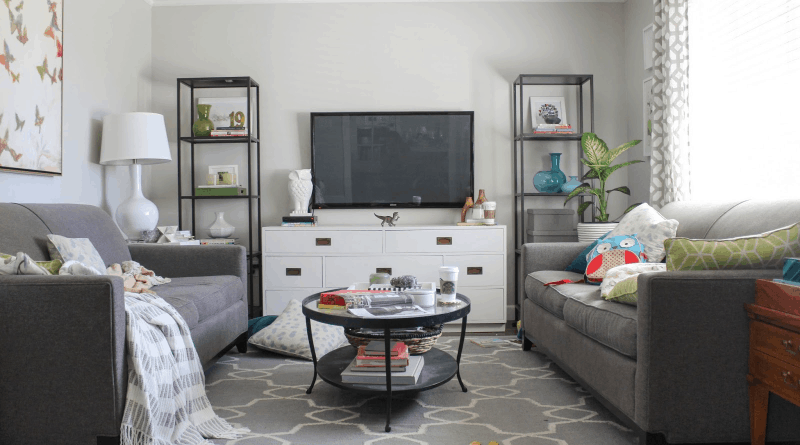 So my answer? Put them in a jar- and up on another shelf they went. You can use really any type of nut with a shell OR do a mixed nut assortment in the shell. You can do Hazelnuts, Almonds, Walnuts, or/and Pistachio nuts. But really for me the best was the ones that didn't get eaten-so I wasn't spending any extra money.
I have some other ideas for items that can go in a jar and help you decorate more without spending more.
Becky
Wife, mother, grandma, blogger, all wrapped into one person, although it does not define her these are roles that are important to her. From empty nesters to living with our oldest and 2 grandchildren while our house is rebuilt after a house fire in 10/2018 my life is something new each day.