Holiday Gift Ideas for the Fashionista in Your Life

Christmas isn't that far away now, and if you enjoy purchasing your gifts early like me, you'll want to start thinking about what to buy for your loved ones.  Fashionistas tend to be easy to buy for, especially if you know their style and the kind of products they love. If you're a bit unsure, though, this list should give you some tips that will be ideal for every fashionista.
Nashelle Zodiac Necklace
If you don't know your favorite fashionista's style, but you do know their star sign, a zodiac necklace from Nashelle could be the ideal gift.  A simple gold pendant, it's personalized without coming across as too cheesy and can be worn as either a statement piece or layered with other pieces of jewelry.  The zodiac necklace currently retails for $52.
Maple Prime Perfume
Most women enjoy wearing perfume, whether they save it for special occasions or wear it every day.  Maple Prime's perfumes for women come in both gift sets and individual bottles and can be picked up for as little as $15.  If you know what your favorite fashionista wears, a simple search will let you know if Maple Prime has the product in stock.  If you're unsure, take a look at the gift sets and pick something you think they'll love. From Ed Hardy to Michael Kors, there are tons of options to choose from.
Tom Ford Boys and Girls Lipstick
Who doesn't love a high-quality lipstick?  If your favorite fashionista enjoys statement lips, check out the Boys and Girls Lipstick by Tom Ford.  Showcased in a sleek gold case, there are 21 amazing colors to choose from, each inspired by the men in Tom Ford's life.  Choose from cream, metallic or matte finish and make sure to let your loved one know the exotic ingredient list (hint, it includes chamomilla flower and Brazilian murumuru butter).  This lipstick is available for $36.
James Allen Diamond Earrings
Earrings are some of the most important accessories to complement an outfit and there are plenty of designs to choose from at James Allen. One of my favorite designs is this pair of contemporary earrings with a diamond-studded leaf design. Made in 14k white gold, this pair of earrings costs $435 and is suitable for everyday wear.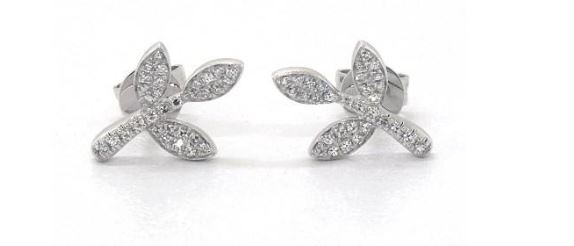 Bloomingdales Fake Faux Eye Mask
If your loved one enjoys spending her nights lighting up the town, it's likely she needs a good sleep to recover from them.  The fake faux eye mask from Bloomingdales is available in both leopard print and charcoal and is an incredibly soft and plush item that will soothe her eyes as she sleeps.  It's part of the Bloomingdales collection and can be picked up for just $25.
The Carry On by Away Travel
Finally, if your favorite fashionista is also a jet-setter, why not get them a new piece of carry on luggage?  The Carry On by Away Travel is a fantastic choice.  It's been thoughtfully designed, is unbreakable, and comes with a lifetime guarantee.  Better yet, it also contains a TSA-approved battery so that you can keep your electronic devices fully charged on the go.  The Carry On is available in ten different colors and costs $225.
All of the above gifts are sure to put a smile on your favorite fashionista's face this holiday season.  Which one will you buy?