Just a Spoon Full of Sugar-Saving Mr. Banks Bluray Review #SavingMrBanksBloggers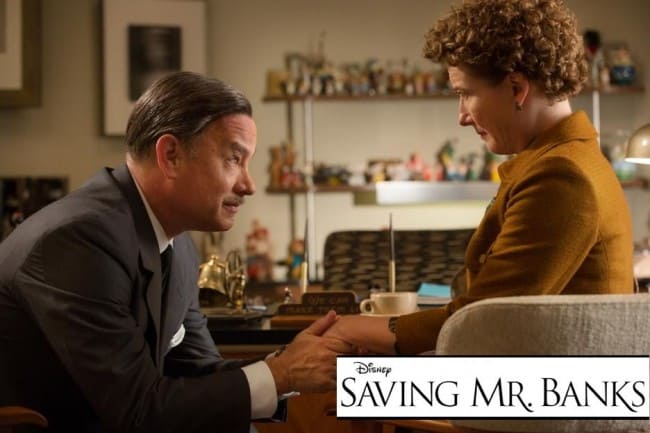 Becky
Newly middle-aged wife of 1, Mom of 3, Grandma of…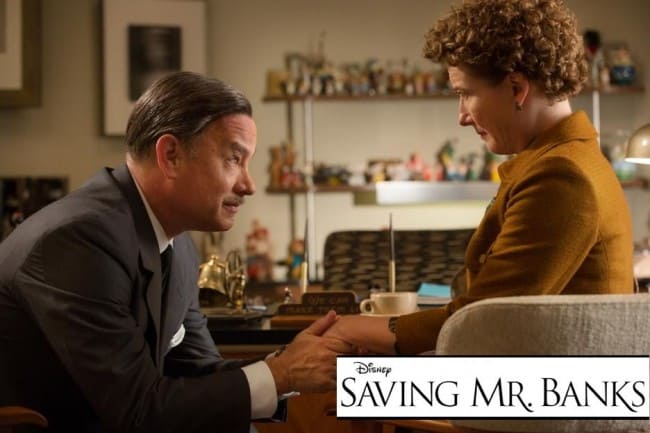 Just a Spoon Full of Sugar-Saving Mr. Banks Bluray Review #SavingMrBanksBloggers
**Disclosure: Disney provided my all expense paid trip to LA to cover this incredible event. Pictures provided by Disney. All opinions are 100% my own.**
'Saving Mr. Banks' is inspired by the stupendous, untold backstory of how Disney's classic "Mary Poppins" made it to the screen. When Mr. Banks promised his daughters to some day bring the tale of 'Mary Poppins' to the screen, he didn't realize it would take 20 long years to complete that promise.
I have always loved Tom Hanks as an actor, and the pairing with Emma Thompson makes it an all around enjoyment to watch. Watching the story unfold, you see that the quarrelsome relationship that the legendary Walt Disney had with author P.L. Travers about the making of Mary Poppins, which could have almost derailed it."
You will want to make sure you have some tissues handy, as although you will laugh; you might find yourself tear up at times. I am including two clips from the movie just in case you haven't seen it yet. This trailer is from when it arrived in theatres but it will have you wanting to get the movie as soon as you can!
Saving Mr. Banks Trailer
Just watching that brings the excitement all back ! If you enjoyed the story of Mary Poppins and wonder how it went from a book to a movie; you will want to get your copy tomorrow March 18th at a store near you. This movie will sit right on your movie shelf next to your copy of Mary Poppins!
When I was just a little girl I always loved the Sunday Disney movie of the week. (I have mentioned this in previous posts). The MAGIC I feel when a Disney movie begins with the big castle and the 'magic' fairy dust with Tink zooming around, takes me right back to that little girl with her popcorn, sitting on the living room carpet. I can remember it like it was yesterday when we got the Mary Poppins LP record. I even remember having to tape a penny to the arm of the record player so that it wouldn't 'bounce' so much. I would sit in my room singing "Just a Spoon Full of Sugar" as many times as I could. This movie took me back to that time and place when life seemed simple and easy. (it wasn't but compared to being an adult-it does). Each time I have been invited to a Disney event. Or receive a Disney press release to post, or a trailer/clip, it makes me remember WHY I love Walt Disney. I love Walt Disney for his wanting to bring joy to each person he could. Memories you can look back on for years to come; because everyone has that child within.
I know I didn't really give you a review of this movie, but I didn't want to spoil anything for you. The story is heartwarming, and shows a father that just wanted to give his daughters the gift of Mary Poppins in the theatre, no matter how long it took
Not only can you purchase a copy of "Saving Mr. Banks" on Tuesday March 18th (again that is tomorrow), you can win a copy on my site open to US and Canada, 18 years and older! Just fill in the Rafflecopter form at the link below, remember the more entries you complete; the more chances you have of winning.
Win a Copy of Saving Mr. Banks on Bluray on What U Talking Bout Willis?
I will end this with one more trailer clip- this one is some behind the scenes in the making of Saving Mr. Banks.
Saving Mr. Banks – "Disney in the '60s"
Like SAVING MR. BANKS on Facebook: https://www.facebook.com/SavingMrBanks
Follow SAVING MR. BANKS on Twitter: https://twitter.com/disneypictures
Follow SAVING MR. BANKS on Pinterest: https://www.pinterest.com/disneystudios/saving-mr-banks/
Visit the official site here: www.disney.com/savingmrbanks
SAVING MR. BANKS is coming to Bluray tomorrow March 18, 2014!
Becky
Newly middle-aged wife of 1, Mom of 3, Grandma of 2. A professional blogger who has lived in 3 places since losing her home to a house fire in October 2018 with her husband. Becky appreciates being self-employed which has allowed her to work from 'anywhere'. Life is better when you can laugh. As you can tell by her Facebook page where she keeps the humor memes going daily. Becky looks forward to the upcoming new year. It will be fun to see what 2020 holds.