Marvel Studios' CAPTAIN MARVEL – Tickets Now On Sale + A New Spot Is Available!!!


Captain Marvel Coming to Theaters March 8, 2019
I have been so excited about Captain Marvel coming out since I first heard it was going to be released.  I love that Brie Larson is the actor behind this great character.
Although little girls aren't necessarily growing up wanting to become a 'superheroes', I think it is important that girls can have role models of women that are strong and tough when they have to be.
Thinking back to Wonder Woman I never thought her to be strong or fierce but more a woman with a big chest and small outfit, like more for men to only see her 'appearance' rather than what she could do.  Not that Brie Larson isn't beautiful, but you can see that she is fierce and not just something to look at.
My fellow friend and blogger Heidi from Life with Heidi asked me if I thought the picture below was another actress and I wasn't sure so I Googled it to see if I could find who she was. Do you know? If not go to Heidi's Captain Marvel post here and find out 1) who she thought it was and 2) who it really is.
Oh, and Samuel L Jackson is in this one too! I have always loved Samuel L Jackson but after interviewing him this past June, I love him even more. So be ready because before you know it March 8, 2019, will be here and you know where I will be…. at the theater!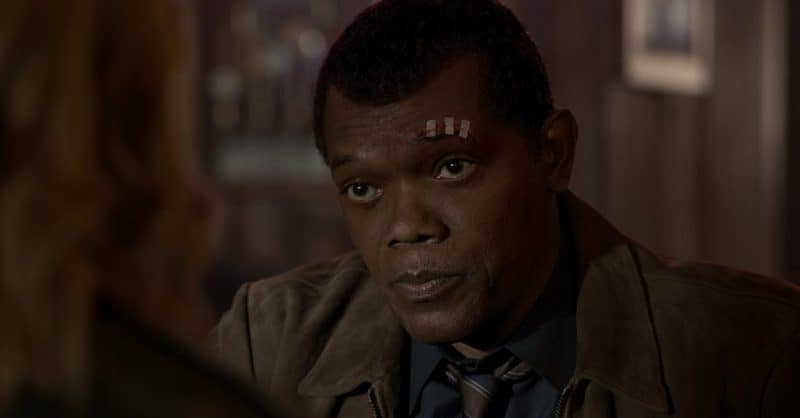 Set in the 1990s, Marvel Studios' CAPTAIN MARVEL is an all-new adventure from a previously unseen period in the history of the Marvel Cinematic Universe that follows the journey of Carol Danvers as she becomes one of the universe's most powerful heroes. While a galactic war between two alien races reaches Earth, Danvers finds herself and a small cadre of allies at the center of the maelstrom. The film stars Brie Larson, Samuel L. Jackson, Ben Mendelsohn, Djimon Hounsou, Lee Pace, Lashana Lynch, Gemma Chan, Rune Temte, Algenis Perez Soto, Mckenna Grace, with Annette Bening, with Clark Gregg, and Jude Law. Marvel Studios' CAPTAIN MARVEL is produced by Kevin Feige and directed by Anna Boden and Ryan Fleck.
Louis D'Esposito, Victoria Alonso, Jonathan Schwartz, Patricia Whitcher, and Stan Lee are the executive producers. The story is by Nicole Perlman and Joe Shrapnel & Anna Waterhouse, and the screenplay is by Anna Boden & Ryan Fleck and Geneva Robertson-Dworet and Jac Schaeffer.
Like CAPTAIN MARVEL on Facebook: https://www.facebook.com/CaptainMarvelOfficial/
Follow CAPTAIN MARVEL on Twitter: https://twitter.com/captainmarvel
Follow CAPTAIN MARVEL on Instagram: https://www.instagram.com/captainmarvelofficial/
Visit the official CAPTAIN MARVEL site here: https://www.marvel.com/movies/captain-marvel
#CaptainMarvel coming to theaters everywhere on March 8, 2019! Be there or…. don't be anywhere!