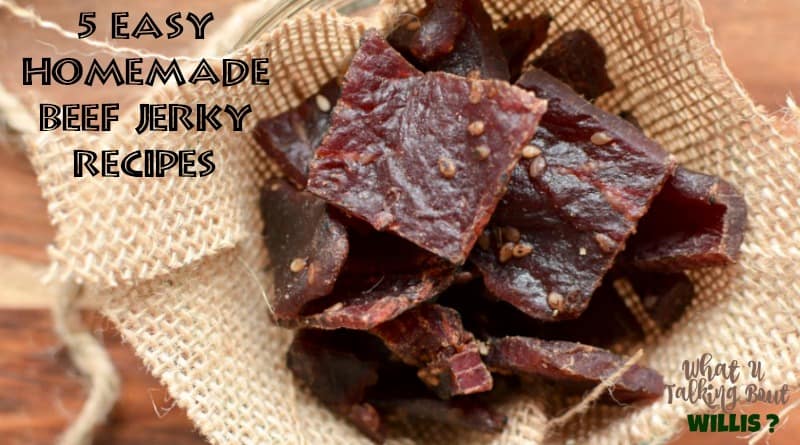 Becky
Wife, mother, grandma, blogger, all wrapped into one person, although…

Jerky is a very popular treat for my family. We have had quite a few different kinds. My son even made duck jerky which my grandson just loved.
Here are 5 Easy Homemade Beef Jerky Recipes.
Prep time:
Cook time:
Total time:
Ingredients
2 lbs round steak (or flank or brisket)
¼ C. soy sauce
1 Tbsp. Worcestershire
¼ tsp. ea. pepper and garlic powder
½ tsp. onion powder
1 tsp. hickory smoke-flavored salt
Instructions
Trim and discard fat from meat.
Cut meat in ⅛ to ¼ thick slices.
In a bowl combine all but meat.
Stir until seasonings dissolve.
Add meat
Mix thoroughly.
Let stand one hour.
Shake off excess liquid and put meat slices on oven racks or shallow baking pan.
Dry meat at lowest possible oven temp (maybe 180 or 200) until it is brown, hard, and dry.
This can take as long as 24 hours.
**You can also use a dehydrator.
Instructions
Select a ½ inch think flank or top round steak.
Trim away all fat then partially freeze until firm.
Slice across the grain in a ¼ to ½ inch wide strips.
Place meat strips in a shallow dish or heavy plastic bag.
Add soy or teriyaki sauce to cover the meat.
If desired onion or garlic powder or Worcestershire sauce may be added.
Toss to coat each piece. Cover and refrigerate several hours or overnight.
Lift meat from marinade.
Drain, then air dry for a couple of hours.
Arrange meat strips in single layer on a fine wire screen or cake cooling rack.
Place in low temp. oven (175 to 200 degrees) or slowly smoke-cook in a smoker until meat is completely dried.
Store in air-tight container. Serve as a snack or appetizer.
Ingredients
½ tsp Pepper (MORE FOR HOT)
½ tsp Garlic Powder
½ tsp Onion Salt
1 lb Beef Roast
½ c Soy sauce
½ tsp Garlic Salt
½ tsp Lemon Pepper
Instructions
Marinate 1 hour or overnight.
Bake in oven 150 to 170, overnight for 10 - 12 hours.
Ingredients
1 Flank Steak Or London Broil
Coarse Black Pepper
½ c Soy Sauce
Garlic Powder
Instructions
Cut flank steak or London broil into ¼" strips.
Sprinkle with garlic powder and coarse ground black pepper.
Marinate in soy sauce for 24 hours.
Bake in 150 degrees F oven for 10 to 12 hours.
DO NOT exceed 150 degrees F.
Ingredients
2 lb London Broil
½ c Soy sauce
2 tbs Worcestershire sauce
2 tsp Garlic powder
2 tsp Onion powder
2 tsp Freshly ground black pepper
2 tsp Red pepper flakes, less for sissies
2 tbs Liquid smoke
Instructions
Freeze the London Broil or other lean roast.
When ready to make jerky, remove the roast from the freezer and let partially thaw.
When just able to slice, first remove all fat and then slice against the grain in thin (1/4 inch or less) slices.
Cover the meat with the marinade, turn from time to time and let marinade overnight.
In the morning line a shallow cookie sheet with a few layers of paper towels.
Place on the lower rack.
Place upper rack in oven in top position and lower rack in lower position.
Hang the beef slices from the upper rack with toothpicks above the paper towels.
hours at 160F average temp is about right.
If your oven is really tight, you might crack open the door a bit to allow the water vapor to escape.
These are just 5 variations that you can make using flank steak, London Broil or any other lean roast. You will find it is much cheaper than buying
beef
jerky
from the store and the taste is phenomenal. You can
find more here
.
Beef Jerky Can Be a Great Snack
After School Snacks
Camping
A treat for car rides
Family picnics
Time spent with the family while making it.
We have many memories of the boys and their sister making venison jerky before the holidays.
Disclosure: Some of the links in this post are 'affiliate links.' This means if you click on the link and purchase the item, I will receive an affiliate commission.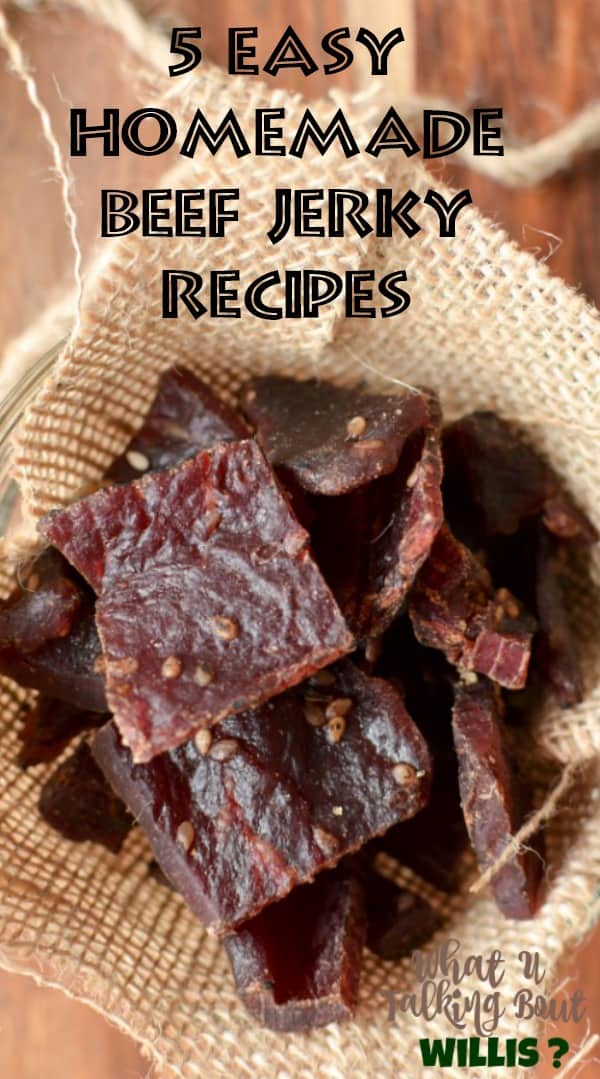 Becky
Wife, mother, grandma, blogger, all wrapped into one person, although it does not define her these are roles that are important to her. From empty nesters to living with our oldest and 2 grandchildren while our house is rebuilt after a house fire in 10/2018 my life is something new each day.