No Bake Peanut Butter Oreo Cheesecake with Grape & Coffee Variations!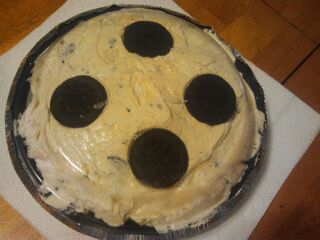 No Bake Peanut Butter Oreo Cheesecake
Every year for my son's birthday he requests a No bake Coffee Cheesecake and then an alternate flavor. One year Grape, but this year he picked Peanut Butter Oreo…not sure why it took me so long to figure out! It was such a hit at my parents that I had to make another one today!
Ingredients:
2 8oz bricks Cream Cheese, softened
1 8oz tub of Cool-Whip
2/3 cup creamy peanut butter (this is an estimate but by eyeing it seems the right size).
1/2 cup sugar
2 tbsp. flour
8 Oreos Crushed
4 Oreos for top
2 tsp. Vanilla
1- Oreo type Pie Crust OR Graham Cracker Crust
Directions:
In a small bowl mix together 2 tbsp flour and 1/2 cup sugar; set aside.
In a mixing bowl, cream together 2 bricks of cream cheese, 2/3 cup peanut butter, 2 tsp vanilla till fluffy.
Gradually add mixture from bowl in Step 1. Beat on medium until mixed.
Put away mixer as you no longer need it.
Fold in 8oz of Cool Whip (lightly mixed til the cream cheese mixture & cool whip seemed mix-do NOT beat).
Crush Oreos in a zip lock bag (8 Oreos) and dump into mixture, fold in til mixed thru.
Spoon cheesecake mixture into the pre-made Oreo crust, lightly smooth to edges.
Top with 4 remaining Oreos (or more to your liking).
Put top from pre-made Oreo crust on and refrigerate over night or 8 hours.**
**I have before in a pinch put it in the freezer for 1 hour, then to the fridge until ready to eat.
Makes 8 slices easy; more if cut smaller, less if cut bigger…
Enjoy!
Grape Cheesecake Version:
1-Graham Cracker Crust
1-4oz package of Grape Jell-0
1-8oz tub Cool-Whip
2-8oz bricks of cream cheese
1/2 cup sugar
2 tbsp. flour
(omit peanut butter, oreos)
Coffee Version
Crust of Choice (Graham Cracker or Oreo)
2 tbsp Instant Coffee
3/4 cup sugar
2 8oz cream cheese
1-8oz Cool Whip