6 Cool Travel Essentials That You Need on Your Next Trip
If you're anything like us, one of the biggest things you must have missed during the pandemic is traveling. Looking back wistfully at old pictures, and remembering the chaos of packing and unpacking, the hassle of booking tickets, the excitement of going on a trip— it all seems like a distant dream these days.
While we all keep our fingers crossed for better times, here is a list of the 10 essentials that you should definitely carry on your next vacation to make it the best one ever!
Also, read Four Travel Essentials for Men
1. Portable Steamer and Iron
Look, the way you dress— be it on a trip or otherwise, tells a lot about you as a person, and turning up someplace with wrinkly clothes is just off-putting and makes you look tardy. It is impractical to carry a full-size iron while traveling, so the best replacement is a portable steamer and iron that is light, uses low power, and does the job perfectly!
2. Smartphone Gimbal
A gimble is basically a pivoted frame for holding your smartphone that will keep it steady and minimize shaking. This is an absolute must-have if you want to vlog your trip, or click the perfect Instagram-worthy pictures and videos of your vacation. Smartphone Gimbal are available across a wide range of prices, from budget-friendly ones to high-end gizmos, so invest in one asap!
3. Collapsible Water Bottle
Tired of carrying those big, bulky sippers and water flasks on your trip? Want an eco-friendly alternative to plastic throwaway bottles? Then getting yourself a collapsible silicone water bottle is the best possible idea for you. They save space while traveling, come in many different sizes to suit your purposes, and can also be found in pretty colors and beautiful patterns.
See Also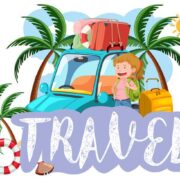 4. Portable Bluetooth Speaker
From road trips to a weekend getaway, no trip feels complete without music that you and your friends can groove and tap your feet to. What better way to do that than to carry your own mini portable Bluetooth speaker? You could choose between quality speakers like the ones from Bose or JBL, or go off-brand with the generic ones— either way, you're bound to have a blast!
5. Packing Cubes
If you are pretty bent on keeping your things organized and tidy, and especially more so on trips, then say hello to travel packing cubes because they're going to become your next best friend. Available in sets of different sizes, colors, and materials, they can be used to neatly organize your luggage into different bags— for clothes, toiletries, makeup, and even shoes!
6. Universal Plug Adapter
Getting yourself a universal plug adapter is truly a lifesaver if you are planning on visiting different places. This technology in this little gadget protects you and your devices from electrical shock. The adapters are designed to work in countries all over the world and they safeguard your devices against voltage or frequency changes.