Temperature Outlook: Midwest Wins the Award for Worst Spring Weather Ever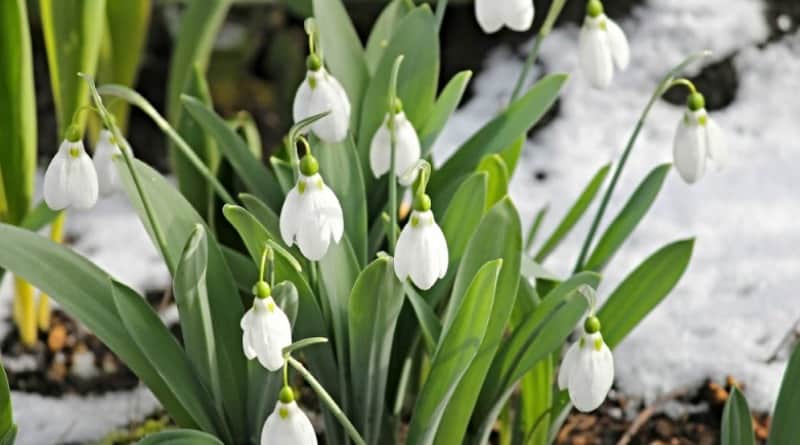 Becky
Newly middle-aged wife of 1, Mom of 3, Grandma of…
Is spring actually happening in the Midwest this year?
The jury is still out. After all, the Midwest experienced one of the worst winters in U.S. history this year. Frigid cold and snow-covered portions of the Midwest as late as April 2019!
The Midwest is accustomed to relatively unpleasant spring weather, but this spring forecast is especially grim.
Will spring finally arrive, or do Midwesterners have to wait until summer for winter to end?
Keep reading for our temperature outlook.
What Happened this Winter in the Midwest?
The Midwest of the United States is home to twelve states: Kansas, Michigan, Missouri, Ohio, North Dakota, South Dakota, Iowa, Indiana, Illinois, Nebraska, Minnesota, and Wisconsin.
These states are used to experiencing relatively intense winters. Some winter seasons begin in the Midwest as early as September! Many hang on until April or May when spring finally decides to emerge.
Most Midwesterners bundle up and tough it out through these winters. But with this last winter, even the hardiest folk struggled to do this.
This winter, the Midwest experienced frigid weather conditions, from record cold to heaps of snow, leaving many begging for spring.
Record Cold
An arctic deep freeze set over the Midwest this January. The cold was so severe that it shut down school systems, businesses, and even postal delivery routes.
When Chicago's temperatures plunged to -19 degrees Fahrenheit, the city officially broke its 1966 record for freezing temperatures. The coldest windchill was recorded in Ponsford, Minnesota, at a horrifying -66 degrees Fahrenheit.
The polar vortex compelled some states, including Wisconsin and Michigan, to declare state-wide emergencies. After all, a wind chill of -25 degrees Fahrenheit has the capacity to freeze skin within just fifteen minutes.
The worst part about the polar vortex? It remained locked over portions of the Midwest for quite some time in February, leaving many homeowners to fend for themselves for weeks.
22 deaths, including the death of a college student in Iowa, were linked to these frigid temperatures. The polar vortex also impacted the East Coast for a spell, carrying biting winds and blowing snow to urban and rural areas alike.
Snow and More Snow
As if the cold wasn't bad enough!
This Midwestern winter brought heaps of the white stuff, and often in quick succession. In January and February, most states in the Midwest didn't even have time to shovel between blizzards.
Icy mixes also interspersed these blizzards, generating slippery and low-visibility road conditions. Some of these storms deposited as many as 24 inches of snow over a short period of time.
This snow, combined with freezing temperatures, grounded many planes, complicating travel plans and keeping most people at home.
Spring So Far in the Midwest
The midwest definitely wins the award for the worst spring weather. Visit this site for more!
March 20th was the first official day of spring in the Northern Hemisphere. But for many Midwesterners, March 20th was still the middle of winter.
March
Remember that February deep freeze? It returned for a short spell this March. In fact, meteorologists called it the coldest March outbreak in years.
Negative temperatures returned again, plunging to -24 F in Brainerd, Minnesota and -25 in North Platte, Nebraska. For most states, this cold held in for days without breaking zero.
Snow appeared off and on again throughout the Midwest. Several surprise snowstorms kept any notion of spring at bay.
April
Old Man Winter just hasn't wanted to let go of the Midwest. A snowstorm swept through portions of the Midwest on April 27th of this year, impacting 16 million residents.
The storm canceled over 400 flights and stretched over 1,200 miles, dumping as many as 10 inches in some locations.
How's that for spring weather?
Luckily, in some regions, the snow that fell was relatively wet, leading to little accumulation and rapid melting. In others, however, flood warnings were in effect soon after, especially in the Central Plains.
Temperature-wise, the Midwest experienced below-average temperatures for April, forcing most to keep those winter coats and snow shovels on hand.
Spring Temperature Outlook for the Midwest
Will spring actually arrive sometime soon? Here's our temperature outlook for the Midwest this 2019.
May
The average temperature for May in the Midwest is 55 degrees Fahrenheit. So far, May has brought an average temperature of 53 degrees F.
While May has begun with below-average temperatures in the Midwest, the rest of the month promises to be somewhat warm.
Northern portions of the midwest, including upper North Dakota and Minnesota, are likely to experience even above-average temperatures for this time of year. Most of the midwest will experience near or slightly above average temperatures.
It's important to note that given such a heavy winter, most Midwest states will have high soil-moisture content. This can lead to cooler temperatures regardless.
Expect a mix of thunderstorms and rain showers in the final two weeks of May in select regions of the Midwest. Already, precipitation is up 1 inch from the month's average.
June
On average, Midwesterners can experience a temperature of 63 degrees Fahrenheit in June.
Part of the midwest will experience slightly cooler than average temperatures this June. Both Dakotas, for example, can expect temperatures reminiscent of early spring.
Early June will likely bring rainy periods to most of the Midwest, including scattered thunderstorms.
However, more central states in the Midwest can expect warmer than average temperatures this June, especially towards the middle of the month. End of June is likely to be relatively hot.
Final Thoughts
The Midwest experienced one of the worst winters in U.S. history this year. Unfortunately, spring has brought Midwesterners a similar mix of cold, snow, and heavy skies.
It may have been the worst spring in Midwest history, but it's not over yet. Our temperature outlook does promise brighter, warmer days in the Midwest, especially beginning in June.
If you suffered through that Midwest winter, you may be wondering how to shake off those winter blues. Spring is in the air, but did you know that your home could be dragging you down?
Learn more about staying happy in the midst of seasonal change here!
Becky
Newly middle-aged wife of 1, Mom of 3, Grandma of 2. A professional blogger who has lived in 3 places since losing her home to a house fire in October 2018 with her husband. Becky appreciates being self-employed which has allowed her to work from 'anywhere'. Life is better when you can laugh. As you can tell by her Facebook page where she keeps the humor memes going daily. Becky looks forward to the upcoming new year. It will be fun to see what 2020 holds.