Disclosure: I received a copy of The Space Between Us in order to facilitate my review. All opinions are my own.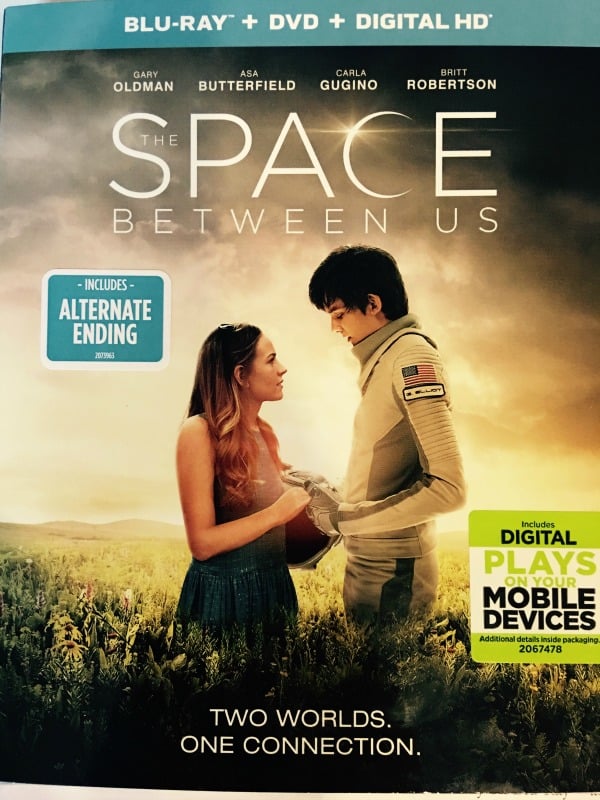 I couldn't wait for this movie to arrive, I'm a real love story junkie! I waited for the kids to go to bed so I could give the movie my undivided attention. I love to cry, to laugh and all the feels along with the characters! My husband laughs at me for this, but oh well. I'm a hopeless romantic, if you are too then you MUST watch this movie.The story of young unrefined love just pulls at my heart. Oh to be young and in love like that again! Plus what love story is based in Mars? This just ups the Annie and makes me want more and more. This is action packed and definitely a race against time. It really is life or death. Which we all know makes an amazing story especially a love story!
The adventure in the Space Between Us just keeps you on your toes the entire time. I don't want to give too much away, just trust me on this! Run out and grab your copy today, put the kids to bed, pour your self a big glass of wine and enjoy this memorable story of love, patience and growing up to discover who you are and where you come from.
I highly recommend The Space Between Us! <3
Star-crossed lovers find their place in the universe together when THE SPACE BETWEEN US lands on Digital HD May 2, and on Blu-ray™, DVD, and On Demand May 16 from Universal Pictures Home Entertainment. Discover young romance and the beauty of Earth, starring Asa Butterfield(Ender's Game; Hugo), Britt Robertson (Tomorrowland; The Longest Ride), Gary Oldman (The Dark Knight trilogy; the Harry Potter franchise), and Carla Gugino (Sin City; San Andreas).
The Space Between Us
He's a romantic….but from Mars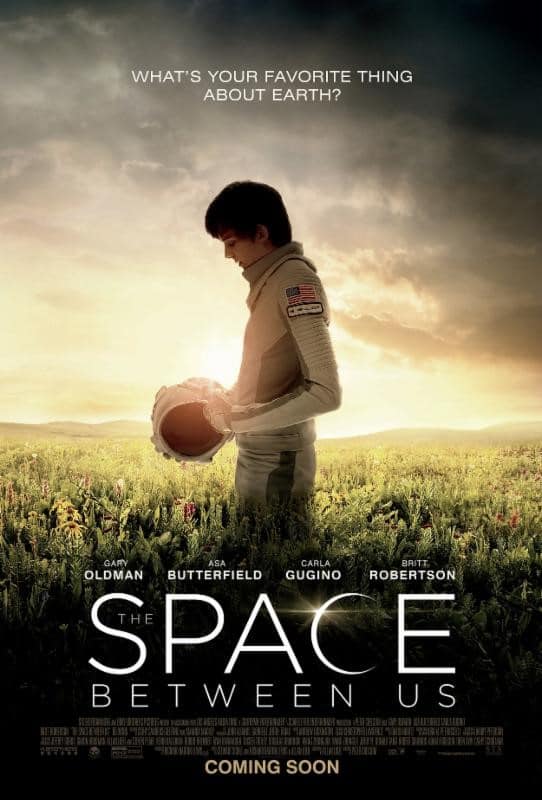 In this interplanetary adventure, a space shuttle embarks on the first mission to colonize Mars, only to discover after takeoff that one of the astronauts is pregnant. Shortly after landing, she dies from complications while giving birth to the first human born on the red planet – never revealing who the father is. Thus begins the extraordinary life of Gardner Elliot – an inquisitive, highly intelligent boy who reaches the age of 16 having only met 14 people in his very unconventional upbringing.
While searching for clues about his father, and the home planet he's never known, Gardner begins an online friendship with a street smart girl in Colorado named Tulsa. When he finally gets a chance to go to Earth, he's eager to experience all of the wonders he could only read about on Mars – from the most simple to the extraordinary. But once his explorations begin, scientists discover that Gardner's organs can't withstand Earth's atmosphere.
Eager to find his father, Gardner escapes the team of scientists and joins with Tulsa on a race against time to unravel the mysteries of how he came to be, and where he belongs in the universe.
The Space Between Us in Theaters February 3, 2017! Be sure to follow along with the adventures on Facebook, Twitter and Instagram. #TheSpaceBetweenUs
Starring: Brit Robertson you can read my review here when she was in Tomorrowland. Gary Oldman, Asa Butterfield, and Carla Gugino.
I cannot wait to see "The Space Between Us"
Emily Harmon
Emily - Mom of a cute 1 year old, loves to entertain, and save a few bucks. She runs a business, all while trying to keep her sanity.