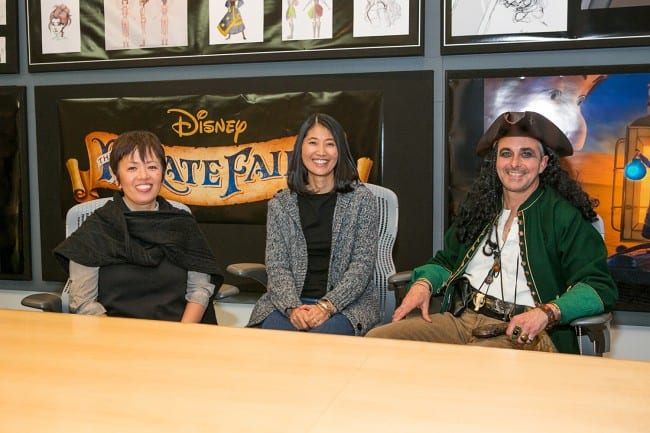 Becky
Newly middle-aged wife of 1, Mom of 3, Grandma of…


This is Fairy Exciting: Q&A with THE PIRATE FAIRY Animation Team
I have to say this last post is kinda sad for me. This is my last post from our trip to LA in February. We were able to witness some very exciting things from FROZEN, Pirate Fairy and Saving Mr. Banks. I have to say it was a great trip packed into a very short time. With Disney, you never know what is next and that is the greatest part about it. I was able to hang out with my favorite PR Reps along with making some awesome new friends, and hanging out with some friends from previous trips.
One of the neat things we were able to do was interview the animation team from The "Pirate Fairy". As you see above Raymond Shenusay-the Head of Story came all decked out in his wonderful pirate attire. We also met Ritsuko Notani who is the Character Designer and Yuriko Senoo who is the Animation Supervisor for Pirate Fairy.
So you wonder what goes into the making of an animation film such as "Pirate Fairy"? Raymond Shenusay told us that: "I work as head of story on the pirate fairy movie. What that means is basically I'm a story artist, I'm an artist myself and I lead the team of story artists as we put together the story reel. The way we create these things is we basically build a rough movie first out of thousands and thousands of drawings like this, they don't necessarily look exactly the movie does but the idea is to get the acting moments and the performance and we work rough so we can do a lot of different versions we do all these drawings and they're sent to editorial and there are voices, music and sound effects are added then, we have a screening, which will give us a full length rough movie.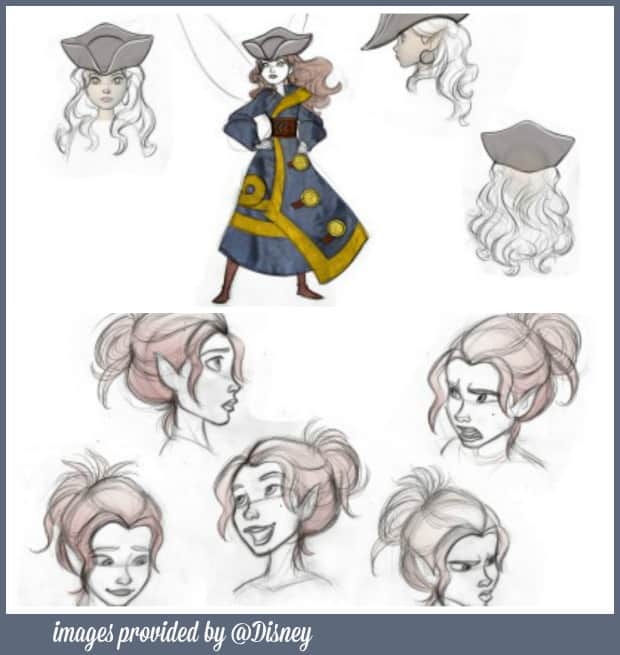 First we have a screening for John Lassiter and other people who are making decisions about the film. We get a lot of notes. Even at a good screening you get tons and tons of notes about what's working, what's not working, what could be funnier or more dramatic or more emotional. Then we go back and we get some rewriting done and there is re-boarding done we take it all apart. We put it back together and do another screening. Then we do a number of these screenings before the movie gets put into production. Then pieces of it as people feel confident and say " hey this is working pretty well" that is when we take those pieces and we send them off into production to be animated."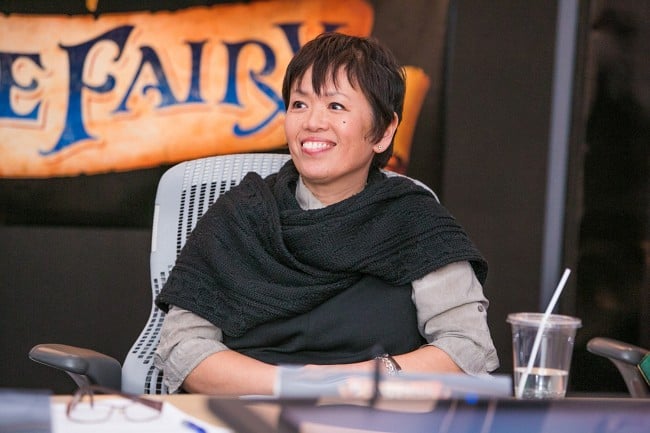 Ritsuko Notani is the fabulous character designer. "Zarina, she has two sides, one is a dust keeper fairy another one is pirate fairy. This is an early version of Zarina, she is shorter than Tink, she has a rounded shape, John Lassiter said "she looks too sweet." This is the final design of Zarina as the dust keeper, her facial shape in angular and sharp. She has an athletic figure and is a little bit taller than the other fairies. Her hair is different, looking messy and tangled because she is mischievous. You can see her personality. The first time we see the Zarina pirate version in the movie she's wearing a long coat, she has to be mysterious looking. This coat is made from the cuff of a man's coat, I wanted to show her scale she is a six inch fairy, her pirates costume is made of manmade materials."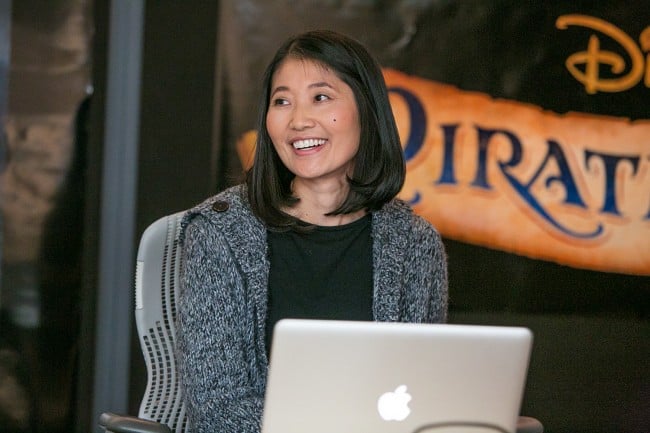 Yuriko Senoo , the Animation Supervisor took the time to show us the stages that they take to bring Zarina to life. " The first step in the modeling stage we work with the modelers to make a 3D model of Zarina we try to capture the spirit of Ritsuko Notani's design to make her an appealing character. Zarina is both as she said both a dust keeper and a pirate fairy so it was important that she stick within both worlds. Even though she is a new fairy, we wanted to makes sure that she looked like she was born in Pixie Hollow and lived there for a long time. The next step is the facial stage. We work with the modelers again to develop the facial shapes so that Zarina can express emotion and have the ability to talk . Like you see below.
If you would like more information, please visit Susan's Disney Family's post. She did an awesome job with even more information than I have given. I appreciate her help as I have been under the weather this past week or so. Thank you Susan!
She has more interview questions and a nice picture of herself with Pirate Fairy Crew.
I am hoping to be able to share more Disney posts in the future, but for now I hope you enjoyed my most recent trip provided by Disney.
If you would like to follow Pirate Fairies on the Social Media area you can below:
Becky
Newly middle-aged wife of 1, Mom of 3, Grandma of 2. A professional blogger who has lived in 3 places since losing her home to a house fire in October 2018 with her husband. Becky appreciates being self-employed which has allowed her to work from 'anywhere'. Life is better when you can laugh. As you can tell by her Facebook page where she keeps the humor memes going daily. Becky looks forward to the upcoming new year. It will be fun to see what 2020 holds.