The Walt Disney Studios announces Disney Movies Anywhere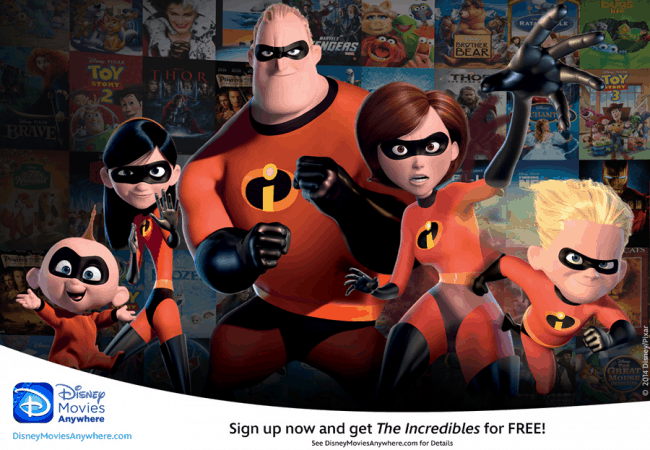 Becky
Newly middle-aged wife of 1, Mom of 3, Grandma of…

The Walt Disney Studios announces Disney Movies Anywhere
This whole idea is so incredibly neat!
Planning to snap up this winter's hit film Frozen as it becomes available on Digital HD today? Head over to the iTunes app store and add another download to your queue, because Disney Movies Anywhere, Disney's all-new digital movie service and app, is here, and it's free!
Debuting with iTunes as its exclusive launch provider, Disney Movies Anywhere is a simple, streamlined way to manage and enjoy your digital collection of Disney, Pixar, and Marvel movies on multiple devices. Plus, for a limited time, you'll receive a free digital copy of Disney•Pixar's The Incredibles when you sign up and connect your iTunes account.
Why will this make your life easier?
It collects all your eligible Disney digital entitlements – whether you redeemed them from a Digital Copy code or purchased them in iTunes – so you can have access to them on your iPhone, iPad, iPod touch, and Apple TV, as well as on your personal computer (Mac and Windows machines).
Download the App: http://di.sn/qS4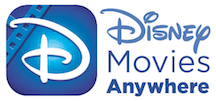 "About Disney Movies Anywhere" pod
YouTube
http://youtu.be/PHIPSmRupUE
Disney Movies Anywhere is the only place to see exclusive content, including these featurettes from Frozen and Thor The Dark World
"The Making of the Making of Frozen"
YouTube
http://youtu.be/RB0f619N7L4
"The Battle of Vanaheim"
YouTube
http://youtu.be/hCG2jkq-3LY
ABOUT DISNEY MOVIES ANYWHERE
FOR IMMEDIATE RELEASE
WATCH DISNEY, PIXAR, AND MARVEL MOVIES
WITH DISNEY MOVIES ANYWHERE
New Digital Movie Service And App for iPhone, iPad And iPod touch Debuts With iTunes
Free Digital Copy of Disney•Pixar's "The Incredibles" Available For A Limited Time Through Disney Movies Anywhere
BURBANK, Calif. – February 25, 2014 – The Walt Disney Studios today unveiled its exclusive cloud-based digital movie service, Disney Movies Anywhere. This all-new app for iPhone, iPad, and iPod touch and Web experience enables consumers to discover, purchase, manage, and watch movies from Disney, Pixar, and Marvel at home and on the go. iTunes is the premier digital movie provider for Disney Movies Anywhere.
The debut of Disney Movies Anywhere coincides with the digital release of Disney's hit film "Frozen" and features Disney's library of over 400 active digital titles. In addition, for a limited time, Disney Movies Anywhere users who activate and connect their Disney Movies Anywhere account to their iTunes account will receive a free digital copy of Disney•Pixar's animated classic "The Incredibles."
"Disney Movies Anywhere offers an exceptional consumer experience built around some of the most beloved and popular entertainment brands in the world," said Alan Bergman, President, The Walt Disney Studios. "This unique technology underscores Disney's commitment to meeting our consumers where they are with the content they want, and we're thrilled to debut with iTunes, the #1 digital media retailer in the world."
As a trusted creator of premium entertainment experiences for the whole family, Disney is committed to making it easier than ever for consumers to dive in and grow their digital movie libraries. In a seamless and family-friendly experience, Disney Movies Anywhere unlocks digital content across platforms and devices, enabling access to user-owned Disney digital content and movies in the Disney Movies Anywhere ecosystem and through iTunes.
With an easy-to-use interface, consumers can explore live-action and animated films from Disney, Pixar, and Marvel; watch exclusive content and bonus features; preview upcoming offerings; and more. Users can simply connect their iTunes account to their Disney Movies Anywhere account to begin populating their Disney digital movie locker and watch movies online and on their devices. Featuring simultaneous access on multiple devices, Disney Movies Anywhere enables consumers to stream and download Disney movies on their iPhone, iPad, and iPod touch and Apple TV (through iCloud or using AirPlay). In addition, Disney Movies Anywhere functions as a streaming movie service when users log in to the website on their desktop or laptop computers (Mac or PC).
"Disney Movies Anywhere is an adaptable digital ecosystem designed to help consumers consolidate their Disney movie collections and enjoy them for years to come," said Jamie Voris, Chief Technology Officer, The Walt Disney Studios. "The beauty of this technology is that it enables us to work with iTunes and future provider partners to ensure movie lovers have streamlined access to all of their favorite Disney titles no matter which device they are on. The intuitive layout of the website and app creates an easy and enjoyable browsing environment for the whole family."
Since 2008, Disney has included codes in select DVD and Blu-ray products redeemable for digital copies of Disney, Pixar, and Marvel films. Users can now redeemthese codes through Disney Movies Anywhere, and Digital Copy titles previously redeemed in Disney Movie Rewards or via iTunes will automatically be active in both Disney Movies Anywhere and iTunes once a user logs into Disney Movies Anywhere and connects their iTunes account. Additionally, for the first time, consumers can now earn Disney Movie Rewards points for their digital purchases through Disney Movies Anywhere going forward.
Disney Movies Anywhere's functionality is built upon Disney's proprietary digital rights locker, KeyChest.
The Disney Movies Anywhere App is available for free from the App Store on iPhone, iPad and iPod touch or at www.appstore.com/disney. Sign up is also available through the Disney Movies Anywhere website.
About The Walt Disney Studios
For 90 years, The Walt Disney Studios has been the foundation on which The WaltDisney Company was built. Today, the Studio brings quality movies, music andstage plays to consumers throughout the world. Feature films are released under the following banners: Disney, including Walt Disney Animation Studios and Pixar Animation Studios; Disneynature; Marvel Studios; Lucasfilm; and Touchstone Pictures, the banner under which live-action films from DreamWorks Studios are distributed. The Disney Music Group encompasses the Walt Disney Records and Hollywood Records labels, as well as Disney Music Publishing. The Disney Theatrical Group produces and licenses live events, including Disney on Broadway, Disney On Ice and Disney Live!.
Becky
Newly middle-aged wife of 1, Mom of 3, Grandma of 2. A professional blogger who has lived in 3 places since losing her home to a house fire in October 2018 with her husband. Becky appreciates being self-employed which has allowed her to work from 'anywhere'. Life is better when you can laugh. As you can tell by her Facebook page where she keeps the humor memes going daily. Becky looks forward to the upcoming new year. It will be fun to see what 2020 holds.