Brothers Shane and Chris Houghton Bring Big City Greens to Disney Channel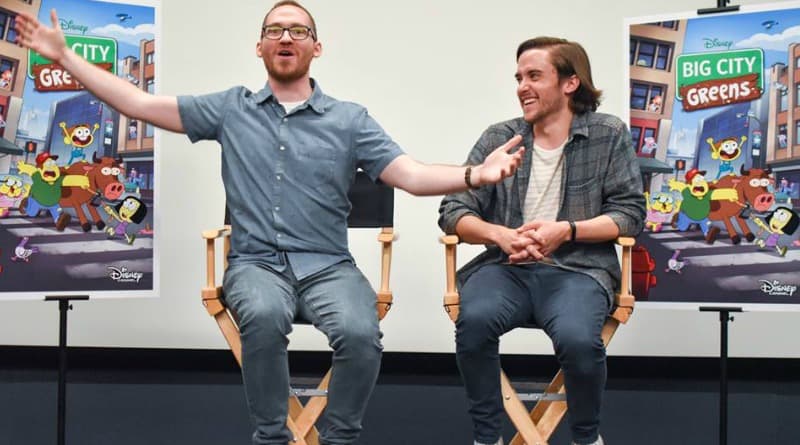 Becky
Newly middle-aged wife of 1, Mom of 3, Grandma of…
[video src="https://youtu.be/bbwvm7Gp5Mw"]
Disclosure: I went to LA to help cover the #Incredibles2Event, #BigCityGreensEvent, and #PixarFest with 24 other bloggers. This is an all expensed paid trip by Disney to cover this press event. All opinions are my own.
Another one of the fun things we get to do when we go to LA to cover an event is visit with producers of new shows coming to the Disney Channel.  This time we had the opportunity to sit and talk with brothers Shane and Chris Houghton.  They are behind the new show "Big City Greens" which is coming to the Disney Channel on June 18th! I thought you might be interested in what we learned about this upcoming show.
Facts that are Fun from Shane & Chris Houghton
The shows theme song is voiced by Chris Houghton (actually all 3 parts).
Chris and Shane have worked professionally together for 10 years.  The fact that they are brothers makes this even more interesting because ya know…family doesn't always work together that well.
It took 2 years of development to crank out the first 11 minutes for the first episode.
They started doing comic strips together when they were in 4th and 5th grade.
When they went to college they both went to big cities and it was a culture shock in many ways. You don't know anyone and it's all new, but they saved those memories for an amazing show.
We were the first group outside of Disney to see the episodes
The old garage at the Green's is that iconic "old" garage that Shane and Chris enjoyed growing up. While we all know some buildings in our childhood are special, the Old Garage is special because of its character, and it's leaning is something you could see on any farm.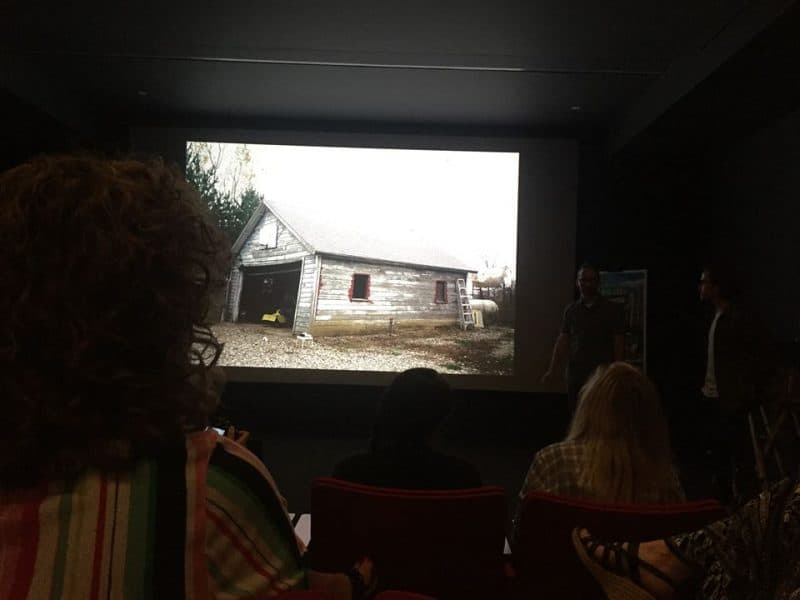 Grandma Alice resembles their own Sweet Grandma Alice who would sneak them $5, but then fuss at them to put it into their pocket as kids.
This show is 2 parts fun and 1 part love so make sure you watch it and see what it is all about.
Cricket Green resembles Chris and this picture they showed us proves the point of incorporating things they did as kids, that now enter into their episodes.
Big City Greens Debuting on June 18th only on the Disney Channel
Big City Greens is debuting for its first season on June 18, 2018, but has already been renewed for a second season! This animated comedy-adventure is about based on Shane and Chris Houghton's adventures of their lives as they went from living in the country to living in the city. Big City Greens" follows the offbeat adventures of 10-year-old Cricket Green, whose natural curiosity and enthusiasm lead him and his family – older sister Tilly, father Bill and Gramma Alice – on epic journeys and into the hearts of his new neighbors.
Meet the Characters of Big City Greens
Cricket Green-Main character-Skimpy rebellious boy who has misadventures but it is curiosity that drives him which makes him a lot like other kids. All kids are hungry for knowledge and exploring new things, so he is always exploring the city especially if it says do not enter. *Chris in real life and joy rides the lawnmower often because as kids they could do this and it was a right of passage if you will.
Tilly Green is the slightly older sister and is a little odd but she is very sweet. She marches to the beat of her own drum and has a very strong opinion but they refer to her as confidently quiet and really fun. Tilly, of course, gets into lots trouble right alongside Cricket and they pull each other out of trouble when their adventures go wrong. Tilly is Voiced by Marieve Herington from (How I Met Your Mother).
Grandma Alice who is sweet and sour, she loves her grandkids and her son, but she is feisty and won't let anyone get away with anything.  Grandma Alice is voiced by Artemis Pebdani (ABC's Scandal).
Grandma Alice's son is Bill Green is Cricket and Tilly's parent who is part of the show. He is a single parent and is a bit overwhelmed at the whole situation, which is a lot like the farmers they watched growing up. They do their best when things are out of your control, but Bill is doing his best and that's all you can ask. (Which resembles life in lots of ways!) Bill Green is voiced by Bob Joles from (Puss in Boots).
Remy is Crickets best friend he meets in the big city and oddly enough he is everything the Green's are not. Remy comes from a wealthy family, lives in the city, has to lead a very sheltered life full of routines and scheduled activities. Remy is also an old child who becomes a surrogate of the Green family and tags along on lots of fun adventures. Remy is voiced by Zeno Robinson (Marvel's "Spider-Man").
Meet the Green's Pets
Phoenix the dog and Lucy the cat were Shane and Chris' pets growing up and they had Lucy for who lived for 21 years.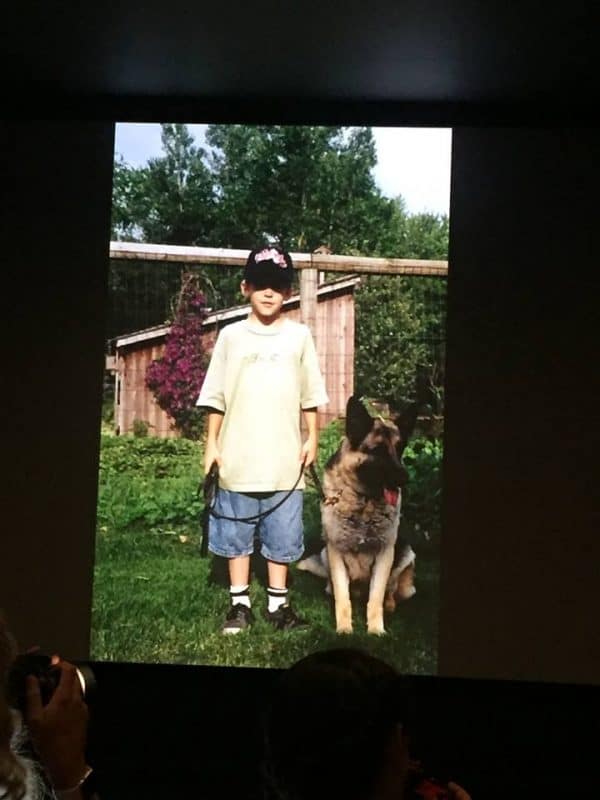 So it was fitting that the Green's had both a dog and a cat in their new found home in the city. But that isn't all they included, the Green's have an oasis of sorts with animals, a coffee shop and more in their "neighborhood". Making it the perfect scene for some of the exciting adventures.
Sometimes you have to be yourself to make the best impression.
Follow Disney Channel on their website
About the Houghton Brothers
The Houghton brothers serve as executive producers alongside Emmy Award-winning Rob Renzetti ("Gravity Falls"), and Monica Ray ("Harvey Beaks") and Natasha Kline ("South Park") as directors. "Big City Greens" is a production of Disney Television Animation and carries a TV-Y7 parental guideline.
Becky
Newly middle-aged wife of 1, Mom of 3, Grandma of 2. A professional blogger who has lived in 3 places since losing her home to a house fire in October 2018 with her husband. Becky appreciates being self-employed which has allowed her to work from 'anywhere'. Life is better when you can laugh. As you can tell by her Facebook page where she keeps the humor memes going daily. Becky looks forward to the upcoming new year. It will be fun to see what 2020 holds.