Disney unveils first poster for The BFG, directed by Steven Spielberg!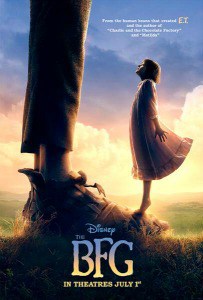 Becky
Newly middle-aged wife of 1, Mom of 3, Grandma of…
The BFG from Dreamworks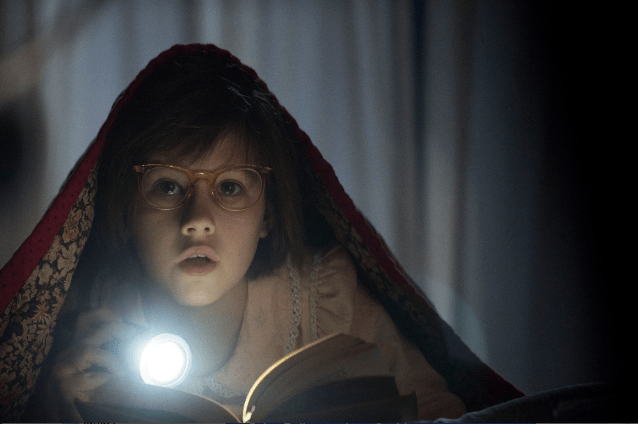 The talents of three of the world's greatest storytellers – Roald Dahl, Walt Disney and Steven Spielberg –finally unite to bring Dahl's beloved classic "The BFG" to life. Directed by Spielberg, Disney's "The BFG" tells the imaginative story of a young girl and the Giant who introduces her to the wonders and perils of Giant Country.
"I think it was kind of genius of Roald Dahl to be able to empower the children. It was very, very brave of him to introduce that combination of darkness and light which was so much Disney's original signature in a lot of their earlier works like in 'Dumbo,' 'Fantasia,' 'Snow White' and 'Cinderella,' and being able to do scary, but also be redemptive at the same time and teach a lesson, an enduring lesson, to everyone, it was a wonderful thing for Dahl to have done, and it was one of the things that attracted me to want to direct this Dahl book," says Spielberg.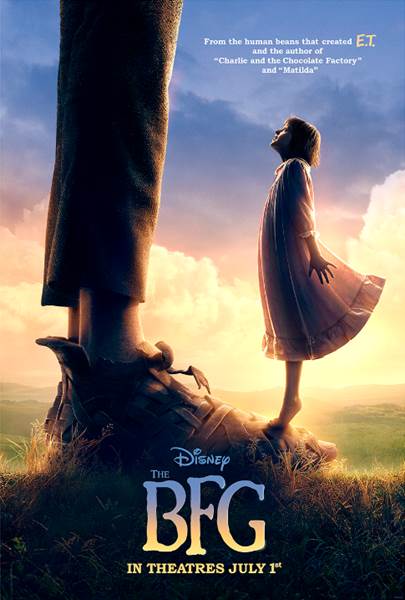 The BFG (Mark Rylance), while a giant himself, is a Big Friendly Giant and nothing like the other inhabitants of Giant Country. Standing 24-feet tall with enormous ears and a keen sense of smell, he is endearingly dim-witted and keeps to himself for the most part. Giants like Bloodbottler (Bill Hader) and Fleshlumpeater (Jemaine Clement) on the other hand, are twice as big and at least twice as scary and have been known to eat humans while the BFG prefers Snozzcumber and Frobscottle. Upon her arrival in Giant Country, Sophie, a precocious 10-year-old girl from London, is initially frightened of the mysterious giant who has brought her to his cave, but soon comes to realize that the BFG is actually quite gentle and charming, and, having never met a giant before, has many questions. The BFG brings Sophie to Dream Country where he collects dreams and sends them to children, teaching her all about the magic and mystery of dreams.

Having both been on their own in the world up until now, their affection for one another quickly grows. But Sophie's presence in Giant Country has attracted the unwanted attention of the other giants, who have become increasingly more bothersome. Says Spielberg, "It's a story about friendship, it's a story about loyalty and protecting your friends and it's a story that shows that even a little girl can help a big giant solve his biggest problems." Sophie and the BFG soon depart for London to see the Queen (Penelope Wilton) and warn her of the precarious giant situation, but they must first convince the Queen and her maid, Mary (Rebecca Hall), that giants do indeed exist. Together, they come up with a plan to get rid of the giants once and for all.
Directed by three-time Academy Award® winner Steven Spielberg ("Bridge of Spies," "Schindler's List," "Saving Private Ryan") from a screenplay by Melissa Mathison ("E.T.: The Extra-Terrestrial," "The Black Stallion") based on the best-selling novel by Roald Dahl, "The BFG" stars three-time Tony Award® and two-time Olivier Award winner Mark Rylance ("Bridge of Spies," "Wolf Hall"), newcomer Ruby Barnhill, Penelope Wilton ("The Best Exotic Marigold Hotel," "Downton Abbey"), Jemaine Clement ("Rio 2," "The Flight of the Conchords"), Rebecca Hall ("The Gift," "Iron Man 3"), Rafe Spall ("The Big Short," "Prometheus") and Bill Hader ("Inside Out," "Trainwreck"). The film is produced by Spielberg, Frank Marshall ("Jurassic World," "The Bourne Ultimatum") and Sam Mercer ("Snow White and the Huntsman," "The Sixth Sense") with Kathleen Kennedy ("Star Wars: The Force Awakens," "Lincoln"), John Madden ("The Best Exotic Marigold Hotel," "Shakespeare in Love"), Kristie Macosko Krieger ("Bridge of Spies," "Lincoln"), Michael Siegel ("Charlie and the Chocolate Factory," "Rise of the Guardians"), Frank Smith and Naia Cucukov serving as executive producers.
Roald Dahl's "The BFG" (Big Friendly Giant) was first published in 1982 and has been enchanting readers of all ages ever since. Dahl's books, which also include "Charlie and the Chocolate Factory," "James and the Giant Peach" and "Matilda," are currently available in 58 languages and have sold over 200 million copies worldwide. Originally created as a bedtime story, "The BFG" was Dahl's own favorite of all his stories. "It was very important for us to be loyal to the language," says Spielberg, "and the great writer Melissa Mathison, who also wrote 'E.T.: The Extra-Terrestrial,' wrote "The BFG."
"The BFG" opens in U.S. theaters on July 1, 2016, the year that marks the 100th anniversary of Dahl's birth.
"The BFG" will be 10-year-old Ruby Barnhill's first feature film role. She has been acting for two years and will appear in the upcoming BBC BAFTA award-winning children's drama "Four O'Clock Club." Ruby lives in Cheshire with her parents, younger sister and Tom the cat and is a member of her local youth theatre.
"I feel incredibly lucky and I'm so happy," said Ruby Barnhill. "Sophie gets to go on this wonderful adventure and I'm so excited that I get to play her."
"After a lengthy search, I feel Roald Dahl himself would have found Ruby every bit as marvelous as we do," said Steven Spielberg. "We have discovered a wonderful Sophie in Ruby Barnhill."
Luke Kelly, Managing Director of the Roald Dahl Literary Estate and Roald Dahl's grandson, said, "The character of Sophie is one of the most endearing young heroes in Roald Dahl's stories. She is as brave as she is curious and has an innate sense of wonder. Many congratulations to Ruby on landing the role. We hope that making 'The BFG' proves an utterly magical adventure for her."
DreamWorks acquired the rights to the book in 2010 after Kathleen Kennedy brought it to the company. Melissa Mathison, who last teamed with Spielberg and Kennedy on "E.T.," has written the screenplay. Spielberg, Frank Marshall and Sam Mercer will produce while Kennedy, John Madden and Michael Siegel are on board as Executive Producers. Kristie Macosko Krieger and Adam Somner are Co-Producers.
Spielberg will begin production on "The BFG" in early 2015 and it will open in U.S. theaters on July 1, 2016. The Walt Disney Company is distributing the film in the U.S. and select international territories while Mister Smith Entertainment is handling distribution in Europe, Africa and the Middle East. DreamWorks' partner, Reliance, will distribute the film in India.
About DreamWorks Studios
DreamWorks Studios is a motion picture company formed in 2009 and led by Steven Spielberg in partnership with The Reliance Anil Dhirubhai Ambani Group. The company's recent releases include Spielberg's "Lincoln," starring Daniel Day-Lewis, Sally Field and Tommy Lee Jones. The film has grossed over $180 million at the U.S. box office and was nominated for twelve Academy Awards® with Daniel Day-Lewis winning for Best Actor. Other releases include "The Hundred-Foot Journey," starring Helen Mirren, Steven Spielberg's "War Horse," based on Michael Morpurgo's award-winning book and was nominated for six Academy Awards® including Best Picture, and "The Help," which resonated with audiences around the country and earned over $200 million at the box office and received four Academy Award® nominations with Octavia Spencer winning for Best Supporting Actress.
DreamWorks Studios can be found on Facebook and on Twitter.
About "The BFG"
First published in 1982, "The BFG" was Roald Dahl's own favorite of his stories. Today, the book is published in 38 foreign languages, including Vietnamese, Korean, Ukrainian, Indonesian, Albanian, Estonian, Hebrew and Welsh.
"The BFG" will be the latest Roald Dahl title to be adapted for stage and screen, following major films including "Willy Wonka and the Chocolate Factory" (1971), "James and the Giant Peach" (1996), "Matilda" (1996), "Charlie and the Chocolate Factory" (2005) and "Fantastic Mr Fox" (2009). The phenomenally successful award-winning "Roald Dahl's Matilda The Musical" continues playing to packed audiences in the West End and on Broadway. In 2015, the show is set to open in Sydney and begin touring the USA. Additionally, over a million people have seen the West End musical production of "Charlie and the Chocolate Factory" since its opening in June 2013.
About Roald Dahl and his legacy
Roald Dahl (1916–1990) was one of the world's most inventive, mischievous and successful storytellers. His stories are currently available in 58 languages, and, by conservative estimate, he has sold more than 200 million books. Ten percent of all the Roald Dahl royalties are donated to the two Roald Dahl charities – Roald Dahl's Marvellous Children's Charity and The Roald Dahl Museum and Story Centre. Roald Dahl Day is marked annually all over the world on Roald Dahl's birthday, September 13th, and in 2016 there will be global celebrations for the Centenary of his birth, which will coincide with the release of "The BFG" movie.
For further information on "The BFG" and the wonderful world of Roald Dahl's website, follow him on Facebook and Twitter too!
Becky
Newly middle-aged wife of 1, Mom of 3, Grandma of 2. A professional blogger who has lived in 3 places since losing her home to a house fire in October 2018 with her husband. Becky appreciates being self-employed which has allowed her to work from 'anywhere'. Life is better when you can laugh. As you can tell by her Facebook page where she keeps the humor memes going daily. Becky looks forward to the upcoming new year. It will be fun to see what 2020 holds.