Disney's Goldie & Bear: Best Fairytale Friends|DVD 4/19 New Activity Sheets
Becky
Newly middle-aged wife of 1, Mom of 3, Grandma of…
Magical Greetings!
Disney's Goldie & Bear: Best Fairytale Friends is on DVD Tomorrow!
To celebrate here's an activity button with downloadable activities and some clips I wanted to share with you!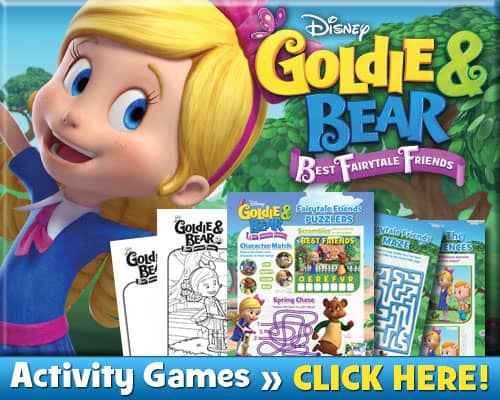 Join Best Friends Goldie & Bear on their adventures through Fairy Tale Forest in Disney Junior's hit series Goldie & Bear: Best Fairytale Friends on DVD TOMORROW! It includes 7 episodes for over 2 hours of classic fairytales with a twist! Plus FREE Exclusive Playtime Fun Activity Kit with re-usable stickers, games and more!
Available for the First Time on Disney DVD April 19th!
GOLDIE & BEAR: BEST FAIRYTALE FRIENDS
Join Best Friends Goldie and Bear on Their Adventures Through
Fairy Tale Forest in Disney Junior's Hit Series "Goldie & Bear!"
Includes 7 Episodes for Over 2 hours of Classic Fairytales with a Twist!
Plus FREE Exclusive Playtime Fun Activity Kit with Re-Usable Stickers, Games and More!
Synopsis: ONCE UPON A STORY, IN A FOREST FAR AWAY…
Everyone knows "Goldilocks and the Three Bears," but after that story ended, a remarkable friendship began! Team up with newfound best friends Goldie and Bear on amazing adventures as they laugh, play and learn important life lessons in the wondrous Fairy Tale Forest.
Climb a beanstalk with Jack, try on Little Red's famous hood, outsmart the tricky Big Bad Wolf, and much more. Join Goldie and Bear – and your favorite fairytale and nursery rhyme characters – for magical, song-filled fun you'll treasure today and ever after!
Voice Cast: Natalie Lander (ABC's "The Middle") as Goldie; Georgie Kidder (Disney XD's "Star Wars: The Clone Wars") as Bear; Jim Cummings (Disney Junior's "Mickey Mouse Clubhouse") as Big Bad Wolf; Mitchell Whitfield ("Winx Club: Beyond Believix") as Humpty Dumpty and Woodsman; David Kaufman ("Avengers: Earth's Mightiest Heroes") as Jack and Brix; Mary Birdsong (Disney XD's "Crash & Bernstein") as Mother Bear, Mother Good and Jack's Mom; Barry Wiggins ("Dog & Me") as Father Bear
Executive Producer/Director Chris Gilligan ("Frankenweenie")
Developed for Television/Co-Executive
Produced By: Jorge Aguirre ("Giants Beware!" graphic novel series)
Release Date: April 19, 2016
Packaging: 1-Disc DVD with exclusive FREE Playtime Fun Activity Kit
Episodes: The Birthday Chair/ Big Bear
Fee Fi Fo Shoe/ Little Gold Riding Hood
Bear's Red Shoes/ Goose Sitters
Moon Jump/ Big Good Wolf
Pinocchio-itis/ The Clubhouse That Jack Built
The Egg/ Golden Kickball
Thumbelina's Wild Ride/ Big Bad Houseguest
Ratings: TV-Y (US), G (CE), G (CF)
Aspect Ratio: 1.78:1 Widescreen (Enhanced for 16×9 Televisions)
Audio: 2.0 Dolby Digital
Languages: English, French & Spanish
ABOUT "GOLDIE & BEAR":
"Goldie & Bear" is a fairytale-inspired Disney Junior animated series that premiered in September 2015. The series follows the adventures of Goldie and her newfound best friend Bear following the renowned porridge incident of "Goldilocks and The Three Bears." Well-known characters from fairy tales, folk tales and nursery rhymes can be seen in the series, including Humpty Dumpty, Little Red Riding Hood, the Three Little Pigs and the Big Bad Wolf, who is often referred to simply as "Big Bad." Goldie and Bear seek out opportunities for fun with their friends, having adventures that often feature a touch of magic.
Disclosure: Some of the links in this post are 'affiliate links.' This means if you click on the link and purchase the item, I will receive an affiliate commission.
Becky
Newly middle-aged wife of 1, Mom of 3, Grandma of 2. A professional blogger who has lived in 3 places since losing her home to a house fire in October 2018 with her husband. Becky appreciates being self-employed which has allowed her to work from 'anywhere'. Life is better when you can laugh. As you can tell by her Facebook page where she keeps the humor memes going daily. Becky looks forward to the upcoming new year. It will be fun to see what 2020 holds.