Becky
Wife, mother, grandma, blogger, all wrapped into one person, although…
Going on vacation as a family can be a fun experience, but at times it can also be stressful as there are a number of other people to think about, aside from yourself.

Traveling with the family does get easier the more times you do it, as you'll become used to what's expected, but do be aware you're likely to face challenges along the way. Being prepared and knowing how you can make the experience much more enjoyable are two of the best things you can do to make your family vacation run smoothly with minimal stress.

Here's how you can go on your first stress-free vacation with the kids:
Although you may be used to booking hotel rooms as a couple, this probably isn't the most suitable choice for vacating as a family. Kids will need to feel a sense of comfort in their new environment, so they relax into the new routine and sleep well through the night. Therefore, instead of booking a hotel room, consider a large family villa or cottage instead. If you're planning your next family trip to England, look into last-minute holiday cottages Cornwall has to offer. You'll find that because you're taking double or even triple the amount of stuff with you, you're going to need a lot more extra space than usual and a cottage can help you in this regard. Situated near the coast, you and your kids will love waking up in a traditional and luxurious setting.
Taking the kids on vacation means you're going to have to leave plenty of extra time for unexpected issues at the airport. You may be used to leaving home at the very last minute, race through security and hop onto the plane in a short space of time, but that just isn't realistic when you have kids to think about. Everything will take longer than usual, especially when it comes to:
Checking in

Going through security

Buying food, drinks and other forms of entertainment for the journey

Boarding the plane (do you have a stroller to disassemble upon reaching the plane?)
You also need to think about planning for extra time once you arrive at the resort. While you may be used to squeezing an array of attractions and activities into one day, the kids are likely to want to take it easy and go at a much slower pace. Take into consideration the time spent on regular bathroom stops and grabbing a snack every now and again.
See Also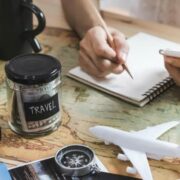 Parents tend to pack absolutely everything for the kids, so they have everything they need while away, however, when you think realistically, this may not be the best idea. After a long day of traveling to or from the airport, you'll probably end of carrying one of the kids and have to lug around double the luggage. Pack the essentials, but aim to pack light. If you do happen to run out of anything, you can always purchase it once you arrive. Most family-friendly destinations should have an array of shops on your doorstep.
Becky
Wife, mother, grandma, blogger, all wrapped into one person, although it does not define her these are roles that are important to her. From empty nesters to living with our oldest and 2 grandchildren while our house is rebuilt after a house fire in 10/2018 my life is something new each day.