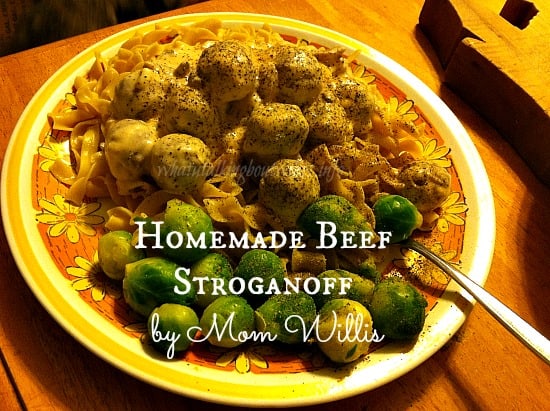 Becky
Wife, mother, grandma, blogger, all wrapped into one person, although…


Homemade Beef Stroganoff by Mom Willis, ala Roger Willis! Yummy.
If you visit my site you will notice that many of my recipe pictures are the same type of plate. When I was little my Grandma Ryan always served us breakfast, lunch and dinner on these plates as far back as I can remember. I always raved how special these were to me and so my Grandma told my Aunt to give them to me when she no longer could live on her own. It is kinda odd sometimes what things bring you right back to being a little kid-but these place settings? Bring back memories that I will always have!

Homemade
Beef
Stroganoff by Mom Willis
We double the sauce part of the recipe just because we enjoy it that way and it makes it go farther (ie leftovers ). Before my mother-in-law gave us this recipe I do not remember having
Beef
Stroganoff unless it was hamburger helper. After having homemade I can't go back to the box stuff. This recipe is so good!
Ingredients
Meatball Version:
1# ground beef (or instead of homemade meatballs you can buy the packaged type) if so you can eliminate the beef, egg, salt milk and bread crumbs.
1 egg
½ tsp salt
¼ cup milk
1 cup soft bread crumbs
½ cup chopped onions
¼ cup chopped bell pepper
1 10.5 oz can of cream of mushroom soup
⅔ cup of milk
2 tbsp. ketchup
¼ tsp garlic powder
¼ tsp thyme
4oz can of mushrooms
1 cup sour cream
1 bag of egg noodles
Alternative meat option:
Round Steak version:
1# Round steak, sprinkle with unseasoned tenderizer, cut into bit size strips and brown in the 2 tbsp. of oil. (this can be substituted for meatballs.
Instructions
Mix the 1# ground beef, with egg, salt, milk & bread crumbs together and form into small balls.
Brown in 2 tablespoons of oil.
Remove and set aside.
In the same skillet saute ½ cup chopped onions, and ¼ cup chopped bell pepper. Blend in the cream of mushroom soup, milk, ketchup, garlic powder, thyme, and the can of mushrooms. Mix thoroughly on medium heat until done.Now add the meat into the gravy mixture. Simmer covered for 15-20 minutes, while stirring occasionally. Stir in your sour cream, heat through but DO NOT boil.
Serve over hot, cooked noodles.
Becky
Wife, mother, grandma, blogger, all wrapped into one person, although it does not define her these are roles that are important to her. From empty nesters to living with our oldest and 2 grandchildren while our house is rebuilt after a house fire in 10/2018 my life is something new each day.