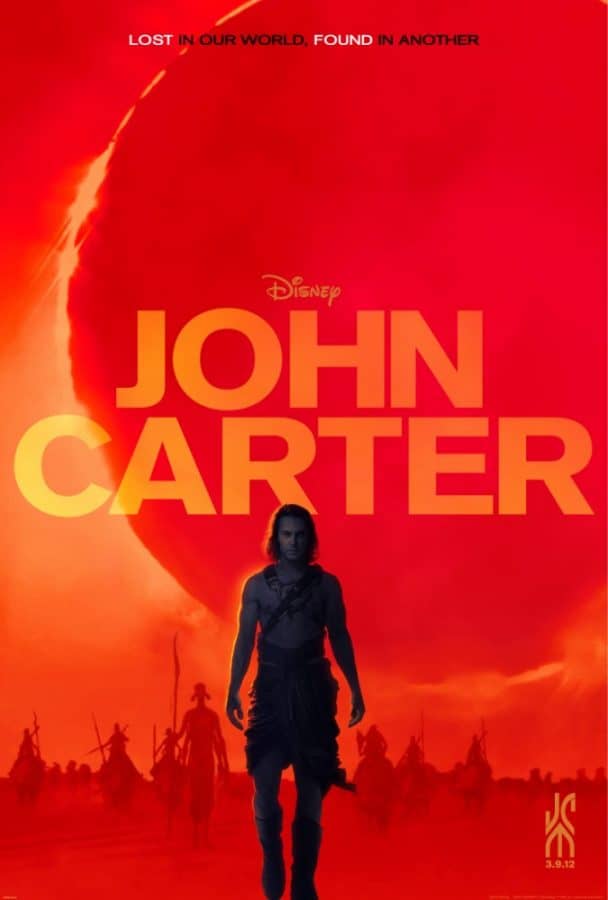 Becky
Wife, mother, grandma, blogger, all wrapped into one person, although…

Are you into action-adventure? What about movies that are based on another planet like Mars? This movie may be something you will be interested in then. It is coming to theaters March 9th, 2012. I am not as familiar with this movie but it does sound like it could be an enjoyable movie with your children ages 13 and above. You might even find it would a great Dad-Son night out, or Mom-Son, although I am sure your daughter(s) would enjoy it also. The writer is Andrew Stanton, best known for writing & creating Tarzan. He is also known for "Finding Nemo", "Wall.e" among many other popular titles. JOHN CARTER is based upon the story "A Princess of Mars" by: Edgar Rice Burroughs.
Genre: Action-Adventure
Rating: PG-13
Release Date: March 9, 2012
Running Time: 131 minutes
Cast: Taylor Kitsch, Lynn Collins, Samantha Morton, Mark Strong, Ciaran Hinds, Dominic West, James Purefoy, Bryan Cranston, Polly Walker, Daryl Sabara, with Thomas Haden Church and Willem Dafoe
Director: Andrew Stanton
Producers: Jim Morris, Lindsey Collins, Colin Wilson
Screenplay by: Andrew Stanton & Mark Andrews and Michael Chabon
Based on the story "A Princess of Mars" by: Edgar Rice Burroughs
From Academy Award®–winning filmmaker Andrew Stanton comes "John Carter"—a sweeping action-adventure set on the mysterious and exotic planet of Barsoom (Mars). "John Carter" is based on a classic novel by Edgar Rice Burroughs, whose highly imaginative adventures served as inspiration for many filmmakers, both past and present. The film tells the story of war-weary, former military captain John Carter (Taylor Kitsch), who is inexplicably transported to Mars where he becomes reluctantly embroiled in a conflict of epic proportions amongst the inhabitants of the planet, including Tars Tarkas (Willem Dafoe) and the captivating Princess Dejah Thoris (Lynn Collins). In a world on the brink of collapse, Carter rediscovers his humanity when he realizes that the survival of Barsoom and its people rests in his hands.
Notes:
Edgar Rice Burroughs was born in Chicago and is best known for writing and creating Tarzan—still one of the most successful and iconic fictional creations of all time. "John Carter" is based on Burroughs' first novel, "A Princess of Mars."
Academy Award®–winning director/writer Andrew Stanton directed and co-wrote the screenplay for "WALL•E," which earned the Academy Award® and Golden Globe Award® for Best Animated Feature of 2008. He was Oscar® nominated for the screenplay. He made his directorial debut with "Finding Nemo," garnering an Academy Award nomination for Best Original Screenplay and winning the Oscar for Best Animated Feature Film of 2003. He was one of the four screenwriters to receive an Oscar nomination in 1996 for his contribution to "Toy Story," and went on to receive credit as a screenwriter on subsequent Pixar films "A Bug's Life," "Toy Story 2," "Monsters, Inc.," "Finding Nemo" and "WALL•E."
The award-winning below-the-line team includes Production Designer Nathan Crowley, Oscar®- nominated for both "Dark Knight" and "The Prestige," and Costume Designer Mayes Rubeo, whose work is showcased in "Avatar" and "Apocalypto."
Michael Chabon, who won the Pulitzer Prize in Literature for his novel "The Amazing Adventures of Kavalier and Clay," is a co-writer on the screenplay.
Award-winning composer Michael Giacchino has received numerous accolades for his work on previous Disney•Pixar films "Up" (Oscar® winner, Best Original Score; BAFTA winner, Best Music; Golden Globe® winner, Best Original Score for a Motion Picture; GRAMMY® Award winner, Best Score Soundtrack Album), "Ratatouille" (GRAMMY Award winner, Best Score Soundtrack Album; Annie Award winner, Best Music in an Animated Feature Production; Oscarn omination, Best Original Score) and "The Incredibles" (Annie Award winner, Best Music in an Animated Feature Production; GRAMMY nomination, Best Score Soundtrack Album).
"Like" JOHN CARTER on Facebook:
http://www.facebook.com/JohnCarterMovie
and visit the official site:
http://www.disney.com/johncarter
Becky
Wife, mother, grandma, blogger, all wrapped into one person, although it does not define her these are roles that are important to her. From empty nesters to living with our oldest and 2 grandchildren while our house is rebuilt after a house fire in 10/2018 my life is something new each day.