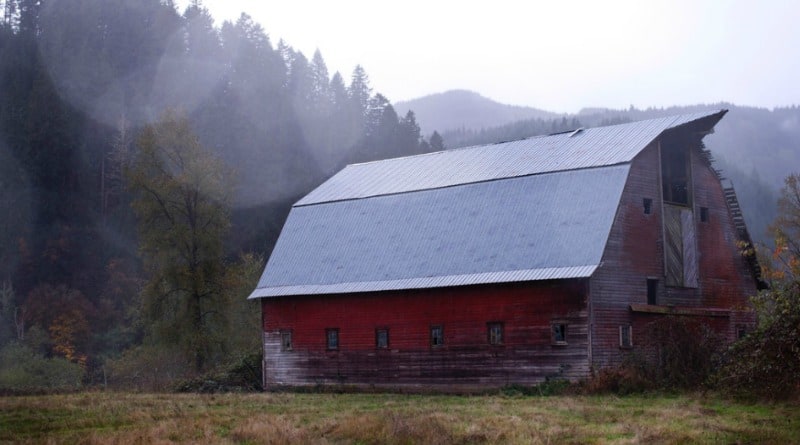 Becky
Newly middle-aged wife of 1, Mom of 3, Grandma of…
Studies have shown that where you live can drastically change the overall quality of your life for the better. However, choosing the right place to settle in can depend on many important factors that add up to keep you satisfied. And most times we disregard these factors because of things such as money or other people.
One of the first things to consider is whether you prefer to live in the city or the country setting. They both have their pros and cons but it really comes down to your personal preference and lifestyle. Keep reading to check out a guideline on the pros and cons of country vs city living.
Country Living
This is where vivid sunsets meet campfires and outdoor trails. If you're into more landscape views and quiet nights, then country vs city living may be right for you. First, check out this list of pros and cons mapped out for you to decide if heading to the country is the right choice for you.
Beautiful Landscapes & Scenery
Like we've mentioned before, picking country vs city living is a perfect opportunity to get reconnected with nature and enjoy some really beautiful views. This may be a great choice for you if you're the type of person who enjoys the great outdoors.
You could be surrounded by majestic mountains, open fields, and long rocky roads. Do consider that this could mean more animals and wildlife living near your home. Take a second thought if this is something that you wouldn't be able to live with.
Lower Cost of Living
This is definitely one of the best perks of country vs city living. You'll be able to find housing at more affordable prices and usually, they're a lot more spacious. Check out this blog to learn how to make extra money with your extra space.
The overall cost of living will be lower as well. You won't have to worry about paying city taxes or running into a ton of price inflation. It could definitely be a much more comfortable lifestyle here.
Smaller Community
Country vs city living can actually offer a more intimate experience with socializing and a sense of community in some cases. You may benefit from this if you like smaller settings and crowds.
It could also be easier for you to manage if you're more introverted. There probably won't be as many people around to make you feel overwhelmed or cluttered. However, if you're a social person it may be difficult to adjust to having fewer people around to engage with.
Peace & Quiet
Since there are usually fewer people, that means there will also be less noise pollution. You won't be bombarded with as much chaos and commotion if you decide to choose country vs city living.
The country can surely offer a comfy and cozy feeling. However, some people might think it gets a little too quiet. You should consider this if you like to have more activity happening around you.
City Living
Here's where the script gets flipped and the party gets started. You might not find many beautiful landscapes but you'll probably stumble across some amazing street fashion and cool hangout spots. Check out what else you should consider if you're thinking about living life in the city.
Great Social Settings & Nightlife
Country vs city living might be more beneficial for introverts and people who enjoy their space. But choosing urban life is definitely a plus for people who identify as social butterflies. It won't take much time or effort to find interesting activities to do and events to attend on a weekly basis.
There are also plenty of others who want to go out frequently and have a good time just like you. You'll have a larger selection of cool bars and nightclubs to choose from.
Lots of Professional Opportunities
Working professionals will be met with lots more opportunities to find work or move up in their current fields in the city rather than living in the countryside. Settling into a city life could be better for you if you're more career oriented and ambitious.
You could also potentially make more money living in the city and switching careers is a lot easier. However, the cost of living is typically higher so be prepared.
Accessibility & Convenience
The city is the place for you if you don't prefer to go out of your way for anything. Choosing country vs city living will definitely decrease the amount of convenience you have access to. Cities are filled with a variety of stores, restaurants, supermarkets, etc.
There are also more modes of public transportation so it's still easy to commute if you don't own a car. And this is usually a more affordable way of traveling around the city. You'll pretty much be able to find everything that you need in close proximity of your home.
More Diversity
Country vs city living can often leave you stuck with seeing the same faces over and over again. But in the city, there are all types of different people to mix and mingle with. This makes the city very unique because there's such a huge variety of personalities, faces, stories, and lifestyles to run across.
Some people may think that having a lot of different people around all the time could make it kind of difficult to find new friends. But it can actually open your horizons to new perspectives. You'll also never have a dull day if you're always finding someone new and interesting to spark a conversation with- at the least.
Ready to Choose Between Country vs City Living?
At this point, you have more information on what each setting could offer you when settling there. It's important to take into account the type of person you are and the type of lifestyle you live. You should also consider your budget and work field compatibility.
Check out this article if you're looking for more guidance and tips on choosing a move between country vs city living.
Becky
Newly middle-aged wife of 1, Mom of 3, Grandma of 2. A professional blogger who has lived in 3 places since losing her home to a house fire in October 2018 with her husband. Becky appreciates being self-employed which has allowed her to work from 'anywhere'. Life is better when you can laugh. As you can tell by her Facebook page where she keeps the humor memes going daily. Becky looks forward to the upcoming new year. It will be fun to see what 2020 holds.