Visiting Walt Disney World This Holiday Season? 10 Must Sees!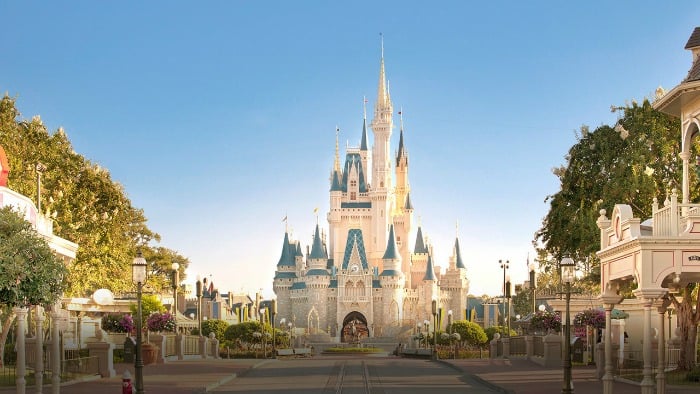 Becky
Newly middle-aged wife of 1, Mom of 3, Grandma of…
The holiday season is one of the most magical times of the year, so it only makes sense to spend this time at the most magical place on Earth, Walt Disney World! While the Disney Parks will be especially crowded thanks to the holiday break that children and parents alike receive from school and work, they will also be especially wonderful, magical, and fun-filled for the season! Because everything is so exciting and magical, it's important to know what places you must see before your trip comes to an end. Prioritizing these places helps to make things much less stressful and much easier to plan out for the limited time you have to explore Disney.
1. Jingle Cruise
The Jingle Cruise is a holiday overlay version of the Jungle Cruise that is in the Magic Kingdom during all seasons, not just the holidays. If you're a fan of the ride as it is, you'll love the Christmas twist that the Imagineers have thought up. Your guides will be homesick and wanting to get back to their families and the familiarity of their homes for Christmas, and you'll experience tons of adventure and excitement along with many reinvented names and "hidden mickey Easter eggs" to connect you to your favorite Disney films, characters, and memories as you enjoy the experience!
2. Illuminations
Illuminations is one of the many fireworks shows that happen throughout Disney regularly throughout all seasons, and it happens in the center of Epcot. But when it's Christmas, there are different kinds of tags and themes for the shows, always having something to do with the holidays. No matter when you travel to Disney, the fireworks show at Epcot is a must, and Christmastime is no exception.
3. The Osborne Family Spectacle of Dancing Lights
In Hollywood Studios, they're not fooling around when it comes to Christmas lights. In the downtown area as you enter the park, Disney has lined the buildings and streets with Christmas lights. As you walk through, it seems that there are Christmas lights everywhere, even suspended above the buildings. This is a lot of fun to walk through and see, but it's also a great chance to get photos of little ones exploring the light up world!
4. Mickey's Very Merry Christmas Party
Mickey's A Very Merry Christmas Party is an incredibly central part of the entire Christmas at Disney idea. It is an after-hours party in the Magic Kingdom, and while it costs a bit extra to get back in for this party, it is totally worth it. There is a parade, shows on stage, meet and greets, yummy snacks, and fireworks to go along with music and lots of dancing. It's a fun experience for the whole family, and Disney works very hard to make sure that it is magical and engaging for children of all ages. It is also a very popular part of the Disney Christmas experience, so it's advised to try and go on school nights because those shows are typically less crowded. There are also parts of the Christmas Party that you can see in normal park hours without having to pay extra for the ticket to the party itself. The parade and Holiday Wishes! are two examples.
5. Holidays Around The World
Holidays around the world is a tradition at Epcot that is an experience worth having, both for adults and for children.
When you're in Epcot normally, you get the chance to see some of the clothing and practices of different cultures, and you even get to try some of the food and drink native to their areas. But during the holidays, you get to see how all of the different cultures represented celebrate. You see different traditions and symbols of the holidays from across the globe, and it's a fun and interactive way to learn about different cultures and the way they celebrate and come together much like we do in the United States.
6. Animal Kingdom Safari
Regardless of when you go to Disney, the safari in Animal Kingdom is something that you have to do.
The safari is fun because it feels like a real safari in the middle of the wild. It's hot and usually, the sun is beating down on you, you ride in giant cars with animal print on them, and you experience what it's like to interact with animals in a simulated wild habitat.
If you're lucky, there will be animals close to your car, and you might even be able to get close enough to interact a little bit more than just by observing. But remember to keep your hands inside the car, and to let the animals come to you.
7. Holiday Wishes!
Holiday Wishes! is the firework show that, in full, accompanies Mickey's A Very Merry Christmas Party. However, you can also see parts of the show during regular park hours at the end of the day just before the park closes during the week before and the week after Christmas.
In addition to being an incredible fireworks show, Holiday Wishes! incorporates beautiful music and lyrics that really set this firework's show apart from all the other wonderful shows that Disney does year round.
8. Candlelight Processional
The Candlelight Processional is one of the parts of Disney that can be fully appreciated by both children and adults alive as truly engaging and entertaining. Every year, celebrity guests comes to the show and retells the Christmas story with the help of a 50-piece orchestra and a massive choir that performs Christmas songs. This is one of the more somber events that Disney has to offer for the Holiday season, but it is beautiful and extremely moving to witness.
9. All Things Frozen
Although Frozen isn't necessarily a Christmas story, it is a winter tale. For this reason, the loveable characters such as Olaf, Ana, and Elsa will be making appearances throughout the Disney parks during the holiday season. Frozen is such a fun story, and children love the different activates and the chances to meet the characters and step into an imaginary world that they had only hoped existed
10. Character Meet And Greets
Disney is notorious for its character meet and greets and getting all of your favorite characters' signatures in a little autograph book.
When kids see their favorite characters, they're more than likely to freak out and really believe that they're real. Those are precious memories that you and your children will cherish forever, and they shouldn't be ignored. Take a camera, get an autograph book, and make memories with your favorite Disney characters!
But more than anything, while you're in Disney, don't forget to take lots of pictures and videos. A small camera like the Polaroid Cube+ is perfect for the job. With those captured moments, you preserve the most magical memories you'll ever make forever and ever.
Becky
Newly middle-aged wife of 1, Mom of 3, Grandma of 2. A professional blogger who has lived in 3 places since losing her home to a house fire in October 2018 with her husband. Becky appreciates being self-employed which has allowed her to work from 'anywhere'. Life is better when you can laugh. As you can tell by her Facebook page where she keeps the humor memes going daily. Becky looks forward to the upcoming new year. It will be fun to see what 2020 holds.