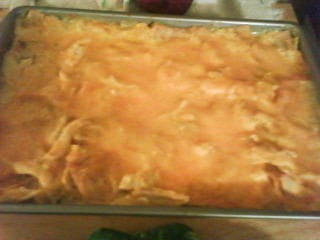 Becky
Wife, mother, grandma, blogger, all wrapped into one person, although…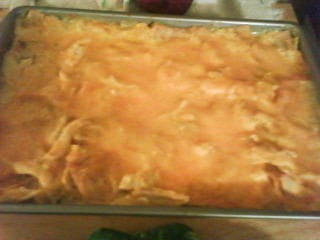 Chicken Enchiladas~Casserole Style by Bea

Chicken Enchiladas~Casserole Style by Bea
Prep time:
Cook time:
Total time:
This is a really easy recipe and yet tastes like you have done something truly complicated.
Ingredients
A whole chicken OR 4 good size boneless, skinless chicken breasts
3 tsp minced garlic
1-Medium yellow onion diced (we use our food processor)
8oz or more Velveeta with jalapenos ( or plain)
2 cans chopped green chilies
¼ tsp pepper
½ tsp salt
Family size can of Cream of Mushroom soup
Regular size can of Cream of Chicken soup
1-2 bags of Tortilla chips (we use Santinas)
Jalepenos (optional)
Shredded Cheese (chedder,taco blend-your choice).
Instructions
Boil chicken in enough water to cover, adding diced or minced garlic to season.
I use about 3 pounds of chicken breasts and about 3 tsp. of minced garlic.
While chicken is cooking, dice an onion and cut Velveeta cheese into chunks.
I use a yellow onion and about 8 ounces (or more) of Velveeta with jalapenos!
Preheat oven 350°.
Remove cooked chicken from broth; add onion, 2 cans chopped green chilies, Velveeta, salt,
pepper, and garlic salt to taste, family size can of cream of mushroom soup plus a small can of cream of chicken soup.
Cook this on medium, stirring often until Velveeta melts.
Add chicken to broth mixture once Velveeta has melted. Mix well, simmer, and let the flavor get into the chicken real well.
X 9 pan: spray with Pam. Line bottom with tortilla chips. Layer chicken mixture (Be sure to add enough broth with the chicken for moisture. Don't want no dry chick)
then shredded cheese. Repeat layers of chips, chix, and shredded cheese one more time.
Place on mid rack of oven. May want cookie sheet on bottom rack for spills. Cook until a delicious tint.
I like to decorate with whole jalapeno peppers before baking.
Becky
Wife, mother, grandma, blogger, all wrapped into one person, although it does not define her these are roles that are important to her. From empty nesters to living with our oldest and 2 grandchildren while our house is rebuilt after a house fire in 10/2018 my life is something new each day.