20 Things I learned about Huck Milner (Dash Parr) and Sarah Vowell (Violet Parr)

Disclosure: I went to LA to help cover the #Incredibles2Event, #BigCityGreensEvent, and #PixarFest with 24 other bloggers.  This was an all expensed paid trip by Disney to cover this press event. All opinions are my own.
While we were in LA we had the opportunity to interview the voices of Dash and Violet Parr from "Incredibles 2".  It was interesting to hear their thoughts on their parts in the movie and I have been excited to share this with my readers.
What I Learned from  Huck Milner (voice of Dash Parr) and  Sarah Vowell (voice of Violet Parr)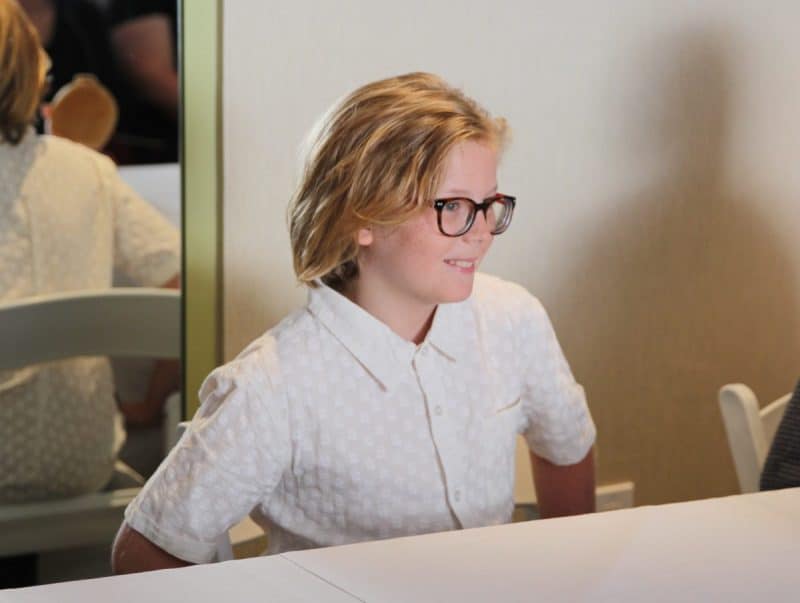 If Huck could have a superpower in real life it would be the same as Dash's which is speed. In real life, he is the slowest of his siblings, cousins, and friends so he would really benefit he felt with this superpower. 

He wants to be able to go somewhere and then just come back and be like I was here the whole time.

Huck's favorite superhero is Dash, and then Flash because again he loves the thought of people that have that type of speed.
Huck is from NY state, and while he has been in LA this time all he has done is interviews.  The last time he was in LA he did go to Disneyland while at D23.
He never decided to become an actor but when he was four his sisters were in plays, then introduced him to plays.  He really enjoyed /loved the theater and then he got an agent and auditions.  So he feels he just really lucked out.
Before the movie, Huck didn't own any "Dash" products but now he owns one that has his voice and he has played it like 100 times.  So he thinks it is really neat.
Huck's favorite part of the movie as his part is when he is pushing all of the buttons and when "Dash" was crushing a couch inside of a water feeder.
One time before he went into the sound booth he (Huck)

 put on the Incredibles suit and ran around the entire Pixar Studios.  Then he was having issues with laughing naturally so he had someone tickle him.

Huck and Sarah never were in the recording booth together and didn't meat until D23, and "that" is when he said he discovered their sibling rivalry.
Incredibles 2 was Huck's first movie premiere, and he found it overwhelming. He also enjoyed hearing everyone's reactions during the movie.

He found it a little annoying to see himself in the movie, but it's his favorite movie. Then in the same breath said it's like the most dreadful movie that I'm gonna watch, because all of his friends are sometimes gonna make fun of him, or they're gonna congratulate him.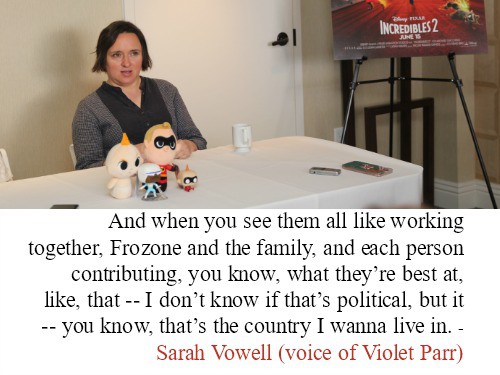 Image credit: Louise Bishop MomStart.com
Ever since the first Incredibles Sarah (voice of Violet) has felt that Brad Bird is excellent to work with.  She also has a deep trust in him ever since the first movie.

Brad Bird is the voice of Edna Mode. Since he is an exceptional voice actor himself, he does all the other parts when you are reading your part so you have someone to do the lines with.

Violet's sarcasm is a lot like Sarah's sarcasm, Violet is kind of a wise guy and so is Sarah. So she has been able to relate to her character.
Sarah is going to be 49 in December of this year so I found it really interesting that she plays the voice of a teenager.
If Sarah could have a real-life superpower it would be to have super strength because at the 'young age' of 48 she is finding that she needs rubber jar opener thingy to open her jars.
Sarah found Brad Bird to be very helpful with the emotional scenes as she was brought up to hide her feelings.  She mentioned that she loves being in the room with Brad because he takes his time with her and allows her to get into that part of herself in order to do the scene correctly.

When you get older, you know like the number of people who really believe in you and know what to do with you, it's a pretty small number. He (Brad Bird) has definitely been that for me.

Sarah told us how Brad Bird found her as she had never acted before.  Brad was in his car listening to the radio and heard one of my public radio documentaries and was so taken with the gravitas and maturity of my voice that he made me into a junior high school student who becomes a superhero in that.  People who are actors are like how do I become a voice actor. So I said go into journalism.
Once Sarah became Violet she will "always" be Violet.  It just stays with you.
Her (Sarah's) favorite part of her character as Violet is when 

Violet says " I don't know if I can do this," and her mother says you've gotta step up. Then she decides, okay, I'm gonna try. So she goes out of the cave, and like she stands up and, you know, almost does the superhero pose and puts her mask on.

The difference between radio and being a character is you have to make sounds so for instance: 

I had to make a sound where Violet was being punched by her brother.  So I was like you're gonna have to come over here and punch me. So, I would stand at the microphone. He would stand next to me and like hit me in the arms. (but again I asked him to).  OR 

there's a scene where Violet does a spit take and I had to like make the sound that I was spitting. I had literally like poured water down my throat to do that and we got the take, but then I vomited all over the studio.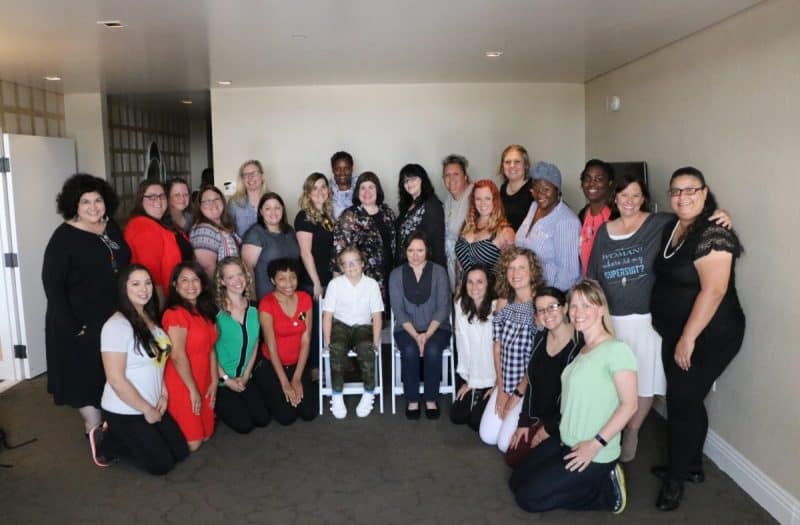 You will find that during the movie with Dash's 'speed' mimics a lot of what a boy that age would have is a lot of energy.  Whereas Violet's character is a teenager so the 'ability to disappear' or put up 'force' fields fits her character. It was very interesting to spend this time with these 2 great actors to hear about their experience on Incredibles 2.
You can also read about my time at PixarFest at Disneyland here. Also our interview with Craig T. Nelson and Holly Hunter.  Also, enjoy our interview with Samuel L. Jackson (Frozone) and the director and producer of Bao (the Pixar short that comes on before the movie).
In INCREDIBLES 2, Helen (voice of Holly Hunter) is called on to lead a campaign to bring Supers back, while Bob (voice of Craig T. Nelson) navigates the day-to-day heroics of "normal" life at home with Violet (voice of Sarah Vowell), Dash (voice of Huck Milner) and baby Jack-Jack—whose superpowers are about to be discovered. Their mission is derailed, however, when a new villain emerges with a brilliant and dangerous plot that threatens everything. But the Parrs don't shy away from a challenge, especially with Frozone (voice of Samuel L. Jackson) by their side.
That's what makes this family so Incredible.
Like INCREDIBLES 2 on Facebook
Follow INCREDIBLES 2 on Twitter
Follow INCREDIBLES 2 on Instagram
Visit the official INCREDIBLES 2 website here